New York officials have decided to all but shutter houses of worship in zip codes in Brooklyn and Queens with elevated COVID rates. Whether as a cause or an effect of the disappointment in containing coronavirus, communication between local and state governments and a segment of the population has broken down, spawning public outbursts bordering on riots.
Among the guidelines issued was the restriction of any assembly in houses of worship to a maximum of ten, regardless of size of the sanctuary. This goes far beyond restrictions on secular activities, and clearly targets religious practice—something that unfortunately has happened in other parts of the country, most notably California. The targeted New York neighborhoods are, in fact, Orthodox strongholds, but also happen to be far from exclusively Jewish. All are densely populated with large families, which ups the rate of infection regardless of whatever safety measures are in place. Not generally reported is that the average number of people tested in these Brooklyn zip codes is less than half the number among Manhattanites, further skewing the data that feed both policy and public perception.
The majority of citizens and institutions in these areas have complied, and continue to comply, with government rules about masking and social distancing. Nonetheless, the new edict punishes the majority for the sins of a minority. It also paints a picture of a large community based on the misbehavior of some of its members—precisely the kind of reaction that America is trying to move away from after the killing of George Floyd. This is disturbing. It is not the way governments should deal with their citizens.
While places of worship for all religions—including Christian churches—are impacted within these neighborhoods, Orthodox Jews particularly feel the crunch, as they near the final days of the biblical holiday of Tabernacles (Sukkot), with a plethora of religious rituals that can only be fulfilled in a synagogue. Religious requirements will not allow traditional Jews, unlike others, to travel by car outside of their neighborhoods to find open synagogues on these days or to stitch together a Zoom service. Thus the edict pits religious conscience against civic responsibility. That is not supposed to happen in America.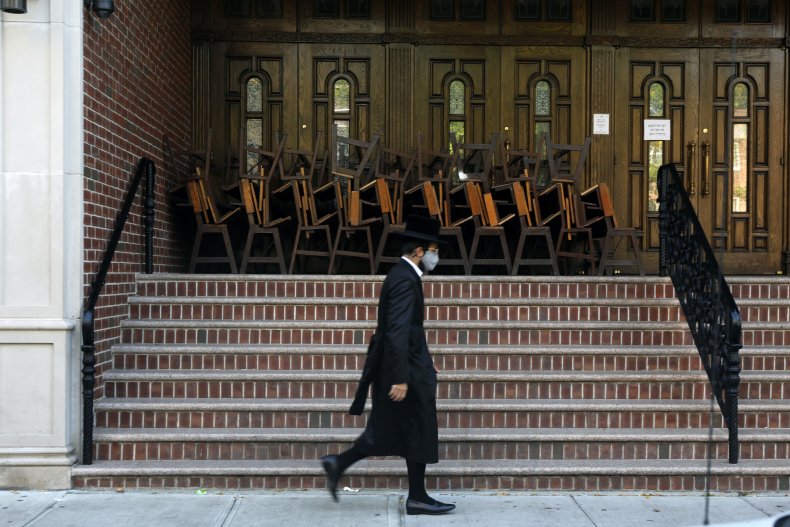 This slow-motion train wreck, however, is not the main source of our anger. We are appalled by the blatant disregard shown by some of our own coreligionists for the age-old requirements of our own Torah, as well as the dictates of common sense. We watch in horror as some segments of the community conduct large weddings and pack synagogues and places of study with those who too often disregard masking and social-distancing requirements. We are mortified by street demonstrators who have burnt garbage, engaged in crude rhetoric and even physically targeted dissenting ultra-Orthodox Jews.
Five-plus months into this pandemic, we offer no excuses. There are none. We can assure our neighbors that this behavior runs fully contrary to both the spirit and letter of Jewish law, as understood by the majority of Orthodox Jewry in the U.S. and around the world. It hurts to say it, but "they" are not "us." It was Jewish tradition thousands of years ago that gave the world the dictum that saving a single life is the equivalent of saving the world. Protection of human life has always been a tremendously important factor in determining how we act as Jews. Responsible luminaries in the community have exhorted us from the early days of the pandemic to protect the lives of ourselves and our neighbors. We—not they—are the majority.
We are also appalled by the lack of leadership in some parts of the community that has allowed the misbehavior to continue. It is true that scapegoating by politicians, as well as some in the media and on social media, has made things worse. But none of that excuses such irrational and reckless behavior by fellow Jews. We assure our neighbors that we have appealed, cajoled and pressured all we could, and we will continue to do so. However, at the end of the day, we are our brothers' keepers, but not their puppet-masters.
A story is told about a man who buys a ticket for a ferry ride across a river. Halfway, he begins boring a hole under his seat. To the shocked admonitions of his fellow passengers he responds: "I bought my ticket, this is my seat and I am free to do whatever I want on this spot." The cruel coronavirus that has robbed us of our loved ones, friends, teachers and mentors still poses a threat. Until that threat passes, we are all in this boat together. If we are to maintain our G-d-given and constitutional rights we must all care for each other or one morning we will wake up bereft of rights and threatened with another deadly virus—humankind's oldest: the scourge of hate.
Rabbi Abraham Cooper is associate dean and director of Global Social Action for the Simon Wiesenthal Center. Rabbi Yitzchok Adlerstein is director of Interfaith Affairs of the Simon Wiesenthal Center.
The views expressed in this article are the writers' own.