Asylum seekers traveling toward the U.S. border as part of the migrant caravan may bring diseases into country, Fox host Laura Ingraham said Tuesday.
Speaking during a segment on The Ingraham Angle, the host suggested that American officials were running out of time to stop the 7,000-strong collective of Central American citizens from reaching the U.S. Ingraham claimed, without evidence, that the situation had become a health issue.
"We really don't have time to do anything before this midterm election," Ingraham told Fox viewers. "This is a national security issue, an economic issue, costs taxpayers billions of dollars to take all of these people in, public schools, health care, all of it we know. It's a health issue too, because we don't know what people have coming in here. We have diseases in this country we haven't had for decades."
Ingraham's comments were first highlighted by Media Matters for America.
The U.S. Centers for Disease Control and Prevention has a recommended screening process for migrants entering into the U.S., according to its website. A full checklist of guidelines includes screening for hepatitis, HIV, parasites, malaria, tuberculosis, mental health and more.
The agency said that U.S. law required that "all immigrants and refugees undergo a medical screening examination to identify inadmissible health conditions."
The examination is "performed by authorized physicians in the applicants' countries of origin or in the United States for applicants adjusting their status after arrival," the CDC said. The CDC did not immediately respond to a request for comment.
It remains unclear when the mass of asylum seekers—mostly from Honduras, Guatemala and El Salvador—will reach the U.S. The journey has claimed the lives of some participants. Adrian Edwards, spokesman for the United Nations HIgh Commissioner for Refugees, warned that some of the asylum seekers might face "kidnapping and security risks." He said the agency was concerned about the "humanitarian situation."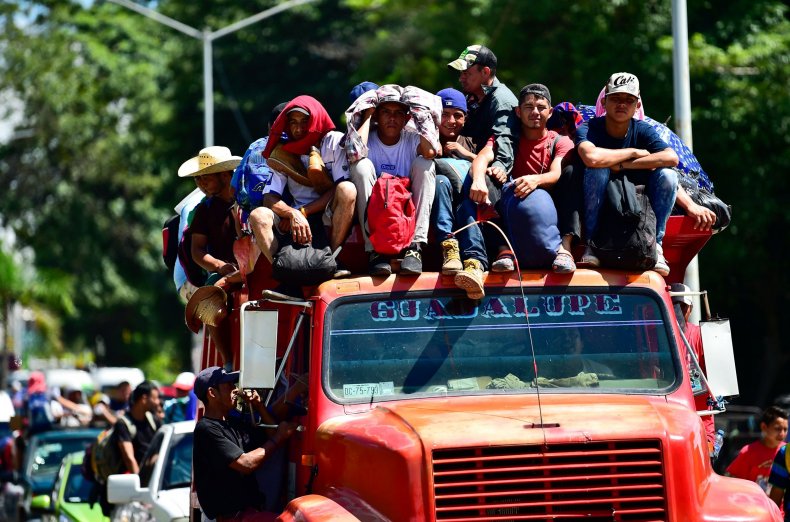 The Fox host voiced frustration that the movement had not already been halted. Ingraham said: "Why is this not getting traction? This is a national emergency. I would pull everyone back from midterm campaigning to deal with this, frankly. It's that important.
"When we have thousands of people coming in—maybe most of them are unarmed, all of them are unarmed for all we know, we don't know—this is an invasion into this country. And the American people are seeing this play out and they are like 'this is like the phone is ringing but no one is home.' No one is answering the phone here, what's going on?"
Ingraham's rhetoric mirrored language from President Donald Trump, who this week called the migrant caravan's slow approach a "national emergency." He claimed, without any evidence, that citizens from the Middle East were in the crowd. He said aid would be reduced to central American countries in retaliation for their not preventing the caravan of people from reaching the U.S.
He wrote: "It looks like Mexico's Police and Military are unable to stop the Caravan heading to the Southern Border of the United States. Criminals and unknown Middle Easterners are mixed in. I have alerted Border Patrol and Military that this is a National Emergy [sic]. Must change laws!"
"Guatemala, Honduras and El Salvador were not able to do the job of stopping people from leaving their country and coming illegally to the U.S." the president added. "We will now begin cutting off, or substantially reducing, the massive foreign aid routinely given to them."
The president, who is currently back in election campaign mode ahead of the November 6 midterms, also tried to deflect attention to the Democratic Party in his Twitter updates.
"Every time you see…people illegally coming, or attempting to come, into our Country illegally, think of and blame the Democrats for not giving us the votes to change our pathetic Immigration Laws!" he wrote. "Remember the Midterms! So unfair to those who come in legally.
Currently, the Republican Party enjoys a majority in both the House and Senate.