We Finally Know Who Tayshia Adams Is Engaged to After 'The Bachelorette'
The spoilers are locked in. They're confirmed. And... they're somewhat shocking. Tayshia Adams is engaged after The Bachelorette and apparently, her season isn't as messy as we previously thought. After months of speculation, spoilers that have changed and more than a few unanswered questions, it turns out that Adams will reportedly get engaged on Tuesday night's finale, and she's apparently still in a relationship.
Adams reportedly choose Zac Clark, and the pair are still engaged, Reality Steve revealed on Tuesday morning. "She picks him, as originally reported, and I'm pretty sure they're engaged and still together. Whew," he wrote on Twitter hours before the finale. "Go to bed Tayshia's season. You're drunk."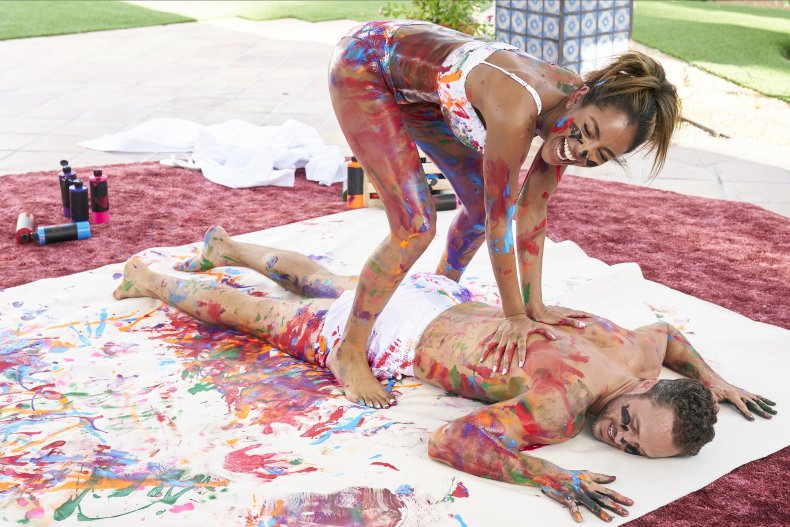 This reveal comes after Reality Steve initially reported that Adams would leave the show with Clark, but later end the relationship. More recently, he reported that Adams was pursuing a relationship outside of the show with Brendan Morais, her third runner-up, who left the show on his own Monday night.
Now, it seems that Adams' ending isn't quite as alarming. It may end with a peaceful, loving engagement, and a reveal that Adams and Clark are still happily engaged.
Before the ending, though, things will apparently get a little weird. Monday night's episode showed Ben Smith returning. A cliffhanger episode left fans wondering if Smith would be welcomed back to the show after Adams previously sent him home. It looks like he will be. Smith will reportedly replace Ivan Hall and get to meet Adams' parents on Tuesday night.
"Had a hard time believing she'd keep Ben over Ivan, only to eliminate him just days later, but that's what she did. Ben and Zac both meet her family," Reality Steve wrote.
His tweet continued to explain that Smith reportedly wouldn't be invited to the finale day, though. At the start of her possible engagement day, Adams seemed to know that Clark was the one she wanted to choose. "She eliminates Ben after the family meeting. Zac is the only one who is there final rose ceremony day."
So, Bachelor Nation, there's your answer. Adams is engaged and happy, and apparently, her pick didn't change at all. That's the final finale word ahead of the episode.
It wouldn't be totally shocking if there was a slight change to the spoilers, given the rollercoaster nature of Adams' season in terms of behind-the-scenes information. But we're confident in Reality Steve's words—enough so to bet that this is how Adams' season ends.
Not ready to give up The Bachelorette? Even though it's ending, The Bachelor returns on January 4.