We Own This City tackles the difficult subject of police brutality and violence in the city of Baltimore through the Gun Trace Task Force (GTTF) scandal, told against the backdrop of Freddie Gray's death at the hands of police in 2015.
A two-year federal investigation into the GTTF found officers stole money, planted evidence, and even resold the drugs they'd seized on the streets.
The negative impact the GTTF had on citizens of Baltimore and the sensitive issues raised in the show made it a "tough" experience for the cast, but they were given access to a counsellor who helped them decompress, Josh Charles told Newsweek.
Charles portrays former GTTF Detective Daniel Hersl, who would often resort to violence when questioning people, as shown in We Own This City.
The actor admitted it was "challenging" to play a character like Hersl, but he found it helpful to have a counsellor on set to talk to.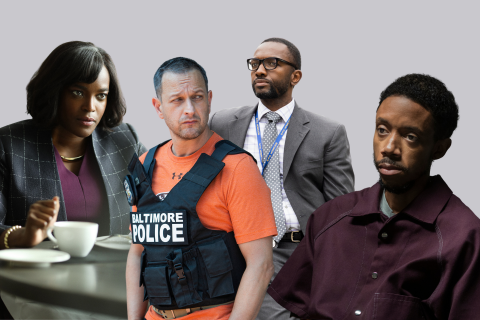 'We Own This City' Cast Had A Counsellor on Set
"We're dealing with really sensitive material, we're playing real people, [re-enacting] real events that happen, and these people have families," Charles said. "The people that they've affected in these communities are the sort of silent part of this show... you feel that sort of reverberated in the communities we're filming in.
"So I found that challenging, I just found doing the scenes and portraying such a time so accurately, like physical violence, it takes a toll on you."
He went on: "We did have somebody to talk to, all of us, and I never had that experience on a show, someone who's just there to talk about the material and how it may be triggering for some people.
"That I thought was a lovely thing that they did, because as someone who's very pro-therapy in my life I just love knowing that I had that. Our work always, for me, it always can kind of come home a little bit, even though you'd like to put it away it always sort of seeps in somehow.
"And there was times where seeing how scenes would affect people, or an actor who worked on one scene who had been shot earlier in the year, and here we are doing a scene where he's my partner and he's watching somebody beat someone up and there's blood, and that triggered something for him.
"That was intense to realize that when you're telling stories that have any kind of violence to it, it can just touch on that with people.
"I'm sort of losing my train of thought, forgive me, but I think that it was important to have [the counsellor] because before we started, I thought, 'Oh I've never done this is this really necessary?' Then I thought you know what, no, it is, it's nice to know that that's there."
The Impact the Show's Subject Had on the Cast
Jamie Hector concurred with his co-star, saying that it "was intense" to make the show and star as homicide detective Sean Suiter, who died in 2017 one day before testifying in court in the GTTF case.
"It was challenging in the way of everything Josh said, and thank God for the young lady that they provided the entire cast to speak to, listen to her speak on ways to decompress," Hector said.
"For me, it was sitting at home... I'd be on a laptop looking at Sean Suiter and his life, and all of the footage and information that was given to me, and listening to his voice, and you know what? You don't know if it affects you.
"I know that it affects me but sometimes you forget, but then you realise at night time you're hearing his voice. This guy is no longer here, you're looking at the five babies that he's raised and you're like, 'Wow, oh man, he's gone.' And you're listening to how his wife spoke about him... all of those things, it is taking its toll on you, It's affecting you.
"Sometimes you don't even realise it affected you until you have a conversation with the young lady they put in place for us and she said, 'Listen, this can be happening to you. You can be experiencing this, this is what you should do in order to decompress.'"
Darrell Britt-Gibson admitted he found it incredibly difficult to be in the show because of his own personal experience with police brutality, as his uncle Darrell was shot and killed by two white police officers.
The actor portrays Jemell Rayam, a former GTTF detective who shot three people —one fatally— while on the Baltimore police force.
Reflecting on playing Rayam, Britt-Gibson shared: "Everything, for me was tough. I tried everything in my power to not even be a part of this show because I just felt like I couldn't bring myself to play such a terrible person who has inflicted such pain in a beautiful community like Baltimore.
"I had to speak to my mother and ask her for permission to even do the role. I'm named after a man who was shot and killed by the police and so I took a very long, long time to decide that I could actually do this, and I had to sort of get permission, and I sought counsel from some people in my circle and I needed their permission.
"If it wasn't George [Pelecanos] and David [Simon, the show's co-creators], and had it not been Rei[naldo Marcus Green, the director], I just wouldn't have done it. It had to be that group of people for me to feel like I could do it, because it leaves you with scars that will never go away."
The Importance of Telling this Story
Wunmi Mosaku, who portrays Civil Rights Division of the Department of Justice attorney Nicole Steele, spoke about the important subject matters touched on in the show, and how it was the reason she wanted to be a part of it.
"I felt like it was an urgent topic, I felt like it was something that is being spoken about here in America, police brutality and defund the police, and then in Nigeria and then also in the UK," Mosaku, who is a a Nigerian-born British actress, said.
"We have so much we're talking about, even just recently, like last month with Child Q [a 15-year-old black girl who was strip-searched by police officers at her school in the UK]. I'm just [thinking about] this conversation about who are these people who are in charge of our safety, our dignity, our lives?
"You know, who are these people and what do they think the job is? And why haven't we [done something]? Something needs to change, we know that, something needs to change."
Mosaku also said she feels fictional character Steele represents the audience, as she asks the same questions they are likely to be left with.
"I just felt like she was this moral compass in the middle of it, and this perspective of trying to change things from the inside out. Inside the system," she added.
"I loved how strong she was in her conviction and moral compass. And that if she thought that something was wrong, she would pivot and she had no shame about that."
How the Show Could Have An Impact in the Future
Going on to speak about the impact the show might have Mosaku added that she hoped, at the very least, it would make people think of doing things differently.
"My only hope for any project is that someone is changed and moved by it. Changed enough to do something different, to act in a different way, to advocate, to join us as we march and protest," the Loki star explained.
"My only hope is that, especially the people who feel safe and protected by the police, that they might watch this and understand that it's this whole system that is benefiting them, and that they have the luxury of feeling safe.
"And I hope that someone feels like, we should have that luxury, me, Darrell, people who look like us, should have that freedom of feeling safe and protected by those who were meant to keep us safe and protected, and that person will do something to help us all feel safe."
Hector told Newsweek that he felt We Own This City would certainly help bring closure to the people impacted by the GTTF.
"It is definitely going to have an impact on Baltimore, police in Baltimore, and I think it will bring some level of closure to some people, and it might spark questions, and anger, and more wanting policy changes from other people.
"I think it will definitely have an effect on the people that see a group of people can actually take absolute power and run with it in a corrupt way.
"The goal is going to be to not let that happen again. The other goal is going to be to be able to see, outside of that work, what could possibly be done that's positive."
We Own This City airs Mondays at 9 p.m. ET on HBO.