On Tuesday, 50 prominent women CEOs and celebrities took out a full-page ad in The New York Times calling for the Biden administration to create a "Marshall Plan for Moms," in which the government would pay mothers $2,400 a month for "their unseen, unpaid labor." We are all in agreement with the problem: mothers bear the brunt of the pandemic's damage. We are also in agreement on the need for paid family leave, affordable childcare and pay equity. But an economic recovery plan to pay for mothering, which might have been a suitable idea in 1950, has no place in 2021. On its face, this may seem like a smart idea: "Finally! Women would be seen and paid for doing endless loads of laundry!" It isn't. Paying women—and only women—for raising kids and running a home is precisely the wrong way to show a woman her worth and address gender inequity. So what should we do? We have an idea.
First, we need to think about language. We all know that there is no equality at work without equality at home. But words matter. Although women are still doing two hours more housework a day than men, we have made great strides in getting fathers to participate in household labor and succeeded in changing the language around parenting. We finally have corporations and government officials embracing the idea of "parental leave" rather than "maternity leave" (albeit not yet doing enough to make either a reality). We've even lobbied private companies to stop this sexist terminology. In 2015, a group of fathers successfully pushed Amazon into this brave new world with a rebrand of its "Amazon Mom" program to "Amazon Family."
When you encourage legislation that prioritizes parenting by one gender, you encourage an indivision of labor. Think of all the men who will feel vindicated telling their wives: "You do the laundry because you are getting paid for it!" On top of this, this plan for "moms" excludes households in which there are two dads, single fathers, grandparents as primary caregivers, or any other of the myriad configurations of the modern American family that come together to raise a child, many of whom have also been forced to leave the workforce or work multiple jobs while overseeing virtual learning and household responsibilities.
Ruth Bader Ginsburg's 1977 argument in Califano v. Goldfarb led the Supreme Court to reject language in the Social Security Act denying survivor's benefits to a widower because he hadn't been receiving half his support from his wife at the time of her death, while women were entitled to survivor's benefits without limitation. The Court held that the language in the statute was "archaic and overbroad" in its generalizations that a woman is more likely to depend on her spouse than a husband on his spouse. The Marshall Plan for Moms uses precisely the language—and gender-based ideas—we have worked so hard to eliminate. Why return to a battlefield Justice Ginsburg conquered decades ago?
Second, we need to think about the money. You can't ask for gender equity on one hand and then compensate moms, but not dads, for staying home. We know that women, and particularly women of color, lost four times as many jobs as men last September alone. We also know they need to go back to work—and fast. This isn't just about the months or years of this global health crisis. This is about the future of every woman in America. Off-ramping for just a year can mean a loss of 18 percent of future earnings.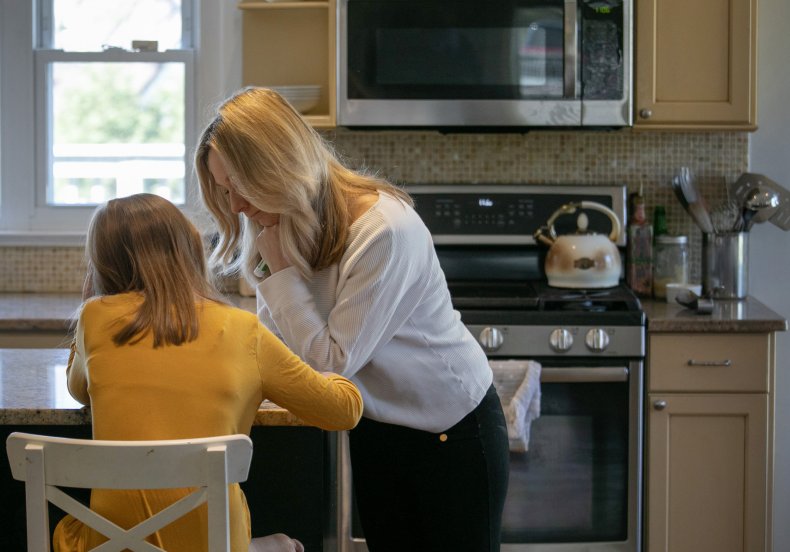 Rather than what amounts to a paycheck as compensation for the rampant sexism that led us here, we propose a solution that will help women go back to work: A monthly stimulus check to provide childcare providers—regardless of their gender—with critical funds to survive. This is a win on all sides of the equation, as women and disproportionately women of color and immigrants make up nearly 95 percent of the childcare workforce, and 89 percent of child care businesses are women-owned. Melinda Gates recently tweeted: "Our caregiving crisis is not a symptom of the pandemic; it was a preexisting condition." The economic recovery plan we propose tackles this long-standing barrier to women's work once and for all.
Finally, money is power. And in times of economic instability, financial abuse rises. When we think about women's economic value, we need to consider their future economic lives. The Marshall Plan for Moms incentivizes families to make the choice of having a mom stay home, a decision that can have dire long-term financial implications. When a mom wants to go back to the workforce after time off, there is 38 percent chance she will ever get a full-time position again for the rest of her life. When women lose control of their finances, they lose control over their lives. A policy that financially encourages moms to stay on the sidelines disempowers them. Conversely, a child care stipend will aid women's participation in the economy, freeing them from the tethers of pandemic schooling, childcare and housework.
Maybe the smartest place to end is where this all began. The original Marshall Plan was crafted by Secretary of State George Marshall after World War II. It was built to aid in the economic recovery of European nations decimated by war. Marshall explained then that the "modern system of the division of labor" was "in danger of breaking down" and urged that the purpose of any economic recovery plan "should be the revival of a working economy in the world." In a world decimated by COVID-19, the "division of labor" at risk of breaking down today is the one inside the home, which is, in turn, reflected in the workplace. The goal of an economic recovery is not to compensate women for their unfair burdens at home. It is to address the underlying issues that got us here and put American women back to work.
Samantha Ettus is the founder and CEO of Park Place Payments. Amy Nelson is the founder and CEO of The Riveter. They are co-hosts of the iHeartMedia podcast, What's Her Story With Sam & Amy.
The views expressed in this article are the writers' own.