'We Should Send Her Back,' Democrat Says of Education Secretary Betsy DeVos
Senator Debbie Stabenow took a page from the president's political playbook on Monday, repeating a controversial phrase used by Donald Trump to say that Education Secretary Betsy DeVos should be sent back to her home state of Michigan, a suggestion that she should be removed from her post in Donald Trump's cabinet.
"I really wish she was not from Michigan," Stabenow, a Michigan Democrat, said of DeVos while discussing the state's school system at the NAACP Convention in Detroit on Monday. "I think we should send her back."
Stabenow's use of Trump's words was met with cheers from the audience and came as the president has continued to double down and defend his racist tweet that said four minority members of Congress should "go back" to the "totally broken and crime infested places from which they came."
"We know that far too many workers can't find jobs to support their families, too many of our children languish in inadequate, ill-equipped schools," Stabenow continued. "Thank you, Betsy DeVos."
DeVos has drawn the ire of Democrats ever since the secretary was confirmed in February 2017 for her lack of experience in education, her advocacy for school choice and charter schools over public schools and her family's wealthy history.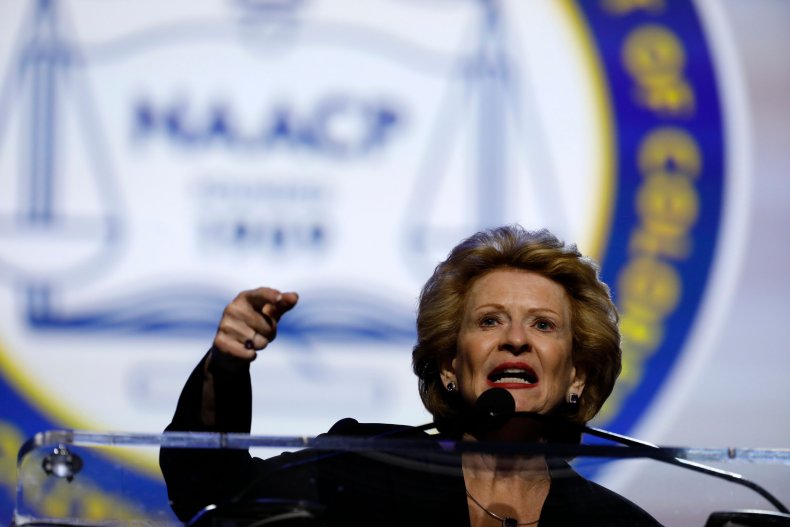 Michigan Representative Rashida Tlaib, one of the four freshmen lawmakers who was the target of Trump's racist tweet sent on July 14, also spoke at the NAACP convention, vowing to continue pushing back and fighting politically until the president is removed from office.
"I'm not going nowhere, not until I impeach this president," Tlaib said.
Earlier Monday, Trump again ridiculed "The Squad," the progressive newcomers who Trump targeted in his tweet that is comprised of Alexandria Ocasio Cortez of New York, Ayanna Pressley of Massachusetts, Ilhan Omar of Minnesota and Tlaib. All four women are U.S. citizens, and everyone except Omar, who was a Somali refugee and a naturalized citizen, was born in the U.S. In a Monday morning tweet, Trump labeled them as "a very Racist group of troublemakers who are young, inexperienced, and not very smart."
But on Monday, the Michigan congresswoman pushed back on the idea that their progressive ideas were backed by just herself and her three colleagues.
"It's beyond just the four of us," Tlaib said. "You are all the squad, trust me."
The House has formally condemned Trump for his racist tweet. Still, members of his own party have largely balked at offering condemnation while Trump continues to deny any wrongdoing.

"I think they're very bad for our country. I think they must hate our country," Trump told reporters in the Oval Office on Monday. "There's no racial tension. We have fantastic relationships with the African American community, and I think you'll see that in 2020."