'We Will Adopt Your Baby' Signs Spark Memes, Backlash
Among the many celebrating the end of Roe v. Wade in Washington D.C. in the aftermath of the Supreme Court's ruling on Friday, were couples proudly holding signs that read: "We will adopt your baby."
Similar signs have appeared in the social media profiles of anti-abortion activists across the country, a supposedly generous offer seemingly aimed at appeasing the anxiety of those wanting an abortion and now barred from having one.
The unlikely offers did not go unnoticed—or uncriticized—on social media.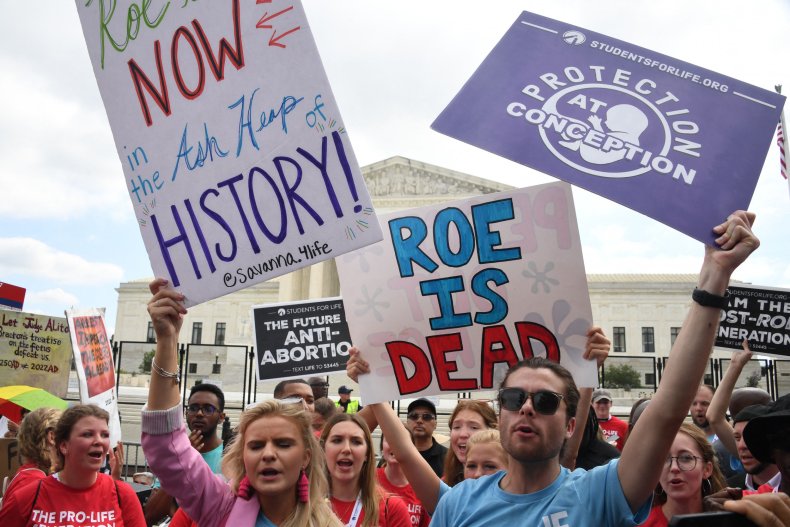 "I hate those signs held by smiling couples saying 'we will adopt your baby.' In my crisis pregnancy, knowing that people would gladly take the baby away from me but not help me keep it was worse than the pressure to abort," wrote Twitter user Rebecca LaMonte from Maine.
"Women in crisis are not your way to skip the line with the shortage of the "domestic supply of infants." Acting like the child deserves a good life if you give them away but deserves poverty if you keep them is disgusting. That is the message heard loud and clear," she added.
"Hundreds of thousands of kids could use families in the U.S. right now, why haven't you done it already?" asked one Twitter user, sharing images of couples holding "We will adopt your baby" signs.
"The 'we will adopt your baby' signs are so disingenuous. I *am* a foster mom and can tell you the system is overloaded with more children than it can bear. If you cared you would be doing something NOW, but you just want the glory of 'saving kids' with none of the responsibility," wrote another Twitter user.
In 2019, more than 672,000 children in the U.S. spent time in foster care. According to non-profit Children's Rights, on any given day there are almost 424,000 children in foster care in the country. On average, most children remain in state care for over a year and a half, while five percent languish in the system for five years or more.
Social media users highlighted the many hidden issues behind the signs: the absence of empathy and understanding, the lack of consideration of the strict credentials necessary to adopt a baby in the U.S. and the way adopting children resulting from unwanted pregnancies is not a viable solution to problems such as inadequate child support for low-income parents.
Critics also wondered if these predominantly white couples would want a child who is not white, not Christian or not straight.
Some have mocked the anti-abortion activists in memes, with the "We will adopt your baby" statement paired with pictures of couples who don't look like the most nurturing parents —such as the St. Louis couple who brandished guns at Black Lives Matter protesters in 2020.
Ivanka Trump and Jared Kushner also appear looking out of a window in one meme, as well as the fictional Dursleys who adopted Harry Potter only to underfeed him and make him live under the stairs.
Since the Supreme Court overturned Roe v. Wade last week, nine states have already banned abortion from the moment of conception. Six of the nine do not make exceptions in cases of rape or incest.
It is estimated that a total of 26 states are certain or likely to ban abortions now that Roe v. Wade has been overruled, according to the Guttmacher Institute. That could result in tens of thousands of additional unwanted pregnancies and births each year.
According to the Adoption Network, some 135,000 children are adopted in the U.S. each year, though Creating a Family reports that the number of adoptions dropped during the COVID-19 pandemic, falling from 115,353 in 2019 to 95,306 in the U.S. in 2020.
The process of adoption is a lengthy, complicated one in the U.S., and if done through a private agency, is also very expensive.