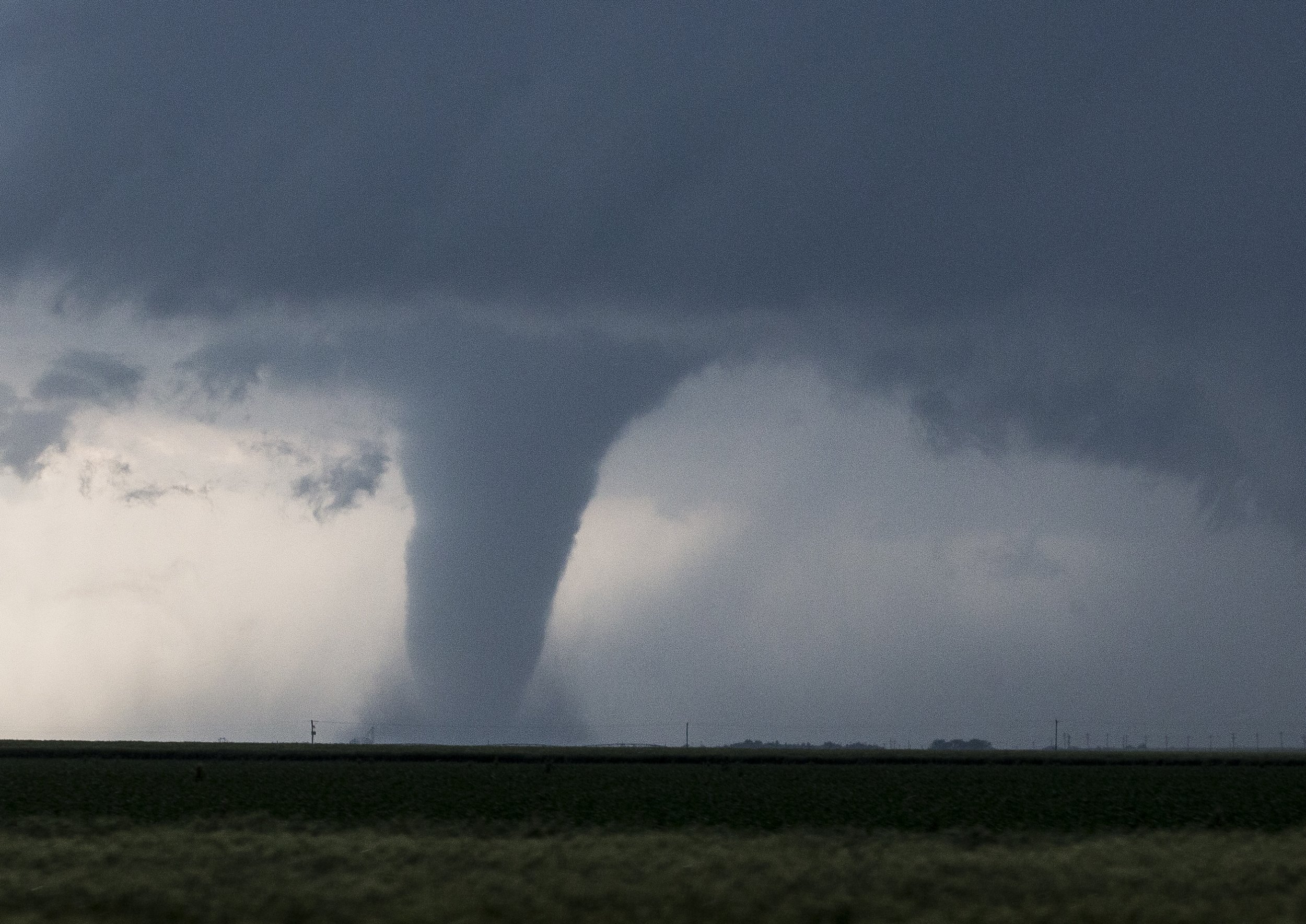 After days of deadly weather in the Plains and Midwest, meteorologists have warned that severe thunderstorms and flash flooding are expected to continue today.
The National Weather Service (NWS) says tornado warnings remain in effect for several regions in Kansas, Oklahoma and Pennsylvania. The latest forecast comes after multiple people were confirmed to have died as a result of devastating conditions in Missouri and Oklahoma.
Experts believe areas still at risk include Chicago, Milwaukee, Oklahoma City, Kansas City and Tulsa. "Strong to severe storms will be possible today from western portions of Texas to southern portions of the Upper Great Lakes region," the most recent advisory said.
"Severe thunderstorms and flash flooding will again be possible from the Southern Plains into the Midwest on Friday. Temperatures across much of the East to the south of New England will run above normal where they will hold into the Memorial Day weekend," it added.
The forecasting has suggested that severe thunderstorms will be possible from the Ohio Valley to the Mid-Atlantic and Northeast through this afternoon and into this evening. It said that flash flooding will also be a "significant concern" tonight across central and southern Kansas.
The Storm Prediction Center (SPC) has said large hail and damaging winds remain two of the main risks. Iowa, Southern Wisconsin and Northern Illinois are at risk of tornadoes, it said.
Looking ahead, another advisory explained: "A corridor of enhanced rainfall along with severe weather is likely from the Texas Panhandle to northern Illinois over the next couple of days.
"Flash flooding is likely across portions of the central plains and Midwest during this time, and SPC has a slight to enhanced risk of severe storms from western Texas to southern Michigan."
Videos of the violent storms swarmed social media platforms yesterday, with shocking footage showing what happened moments before one massive tornado ripped into areas of Missouri at about 11:45 p.m. local time. Weather officials confirmed that it had caused "extensive damage" as images posted online showed houses and power lines toppled, and trees left overturned.
Missouri Governor Mike Parson confirmed yesterday that three people had died as a result of the conditions and said others were injured or trapped inside their homes. President Donald Trump later replied on Twitter, describing the citizens of the state as "strong and resilient."
The victims were identified as Kenneth Harris, 86, Opal Harris, 83 and Betty Berg, 56. According to the Associated Press, there have been seven deaths in total linked to this week's storms.
Oklahoma government officials have said at least 74 people were injured in storms. CBS News reported some citizens had been asked to abandon their homes as rivers and streams rose.
The chief medical examiner confirmed one person had died in Payne County. The victim was named as 53-year-old Laura Renee Moorman. Officials said her vehicle had become submerged in up to 10 feet of water after being carried from the roadway.
"We are not out of the woods for bad weather," Oklahoma's governor Kevin Stitt tweeted. "Please listen to warnings from your local meteorologists, local leaders and first responders. The state is deploying our resources to support local communities... we need you and your loved ones to stay weather aware."