'Inappropriate': Internet Split Over Color of Wedding Guest's Dress
One wedding guest's outfit choice caused a stir online, after the frilly number seemingly left a sour taste in the mouths of internet users.
The dress was purchased by an online retailer but the wedding guest was left disappointed by her boyfriend's reaction who said "he thinks this dress isn't appropriate for a wedding because it's red."
"This is new to me?" she noted in a popular thought-provoking Mumsnet post which gained over 800 responses. "The last two weddings we've been to I've worn red and he didn't say anything. So I'm just wondering what people's thoughts are: is this appropriate?"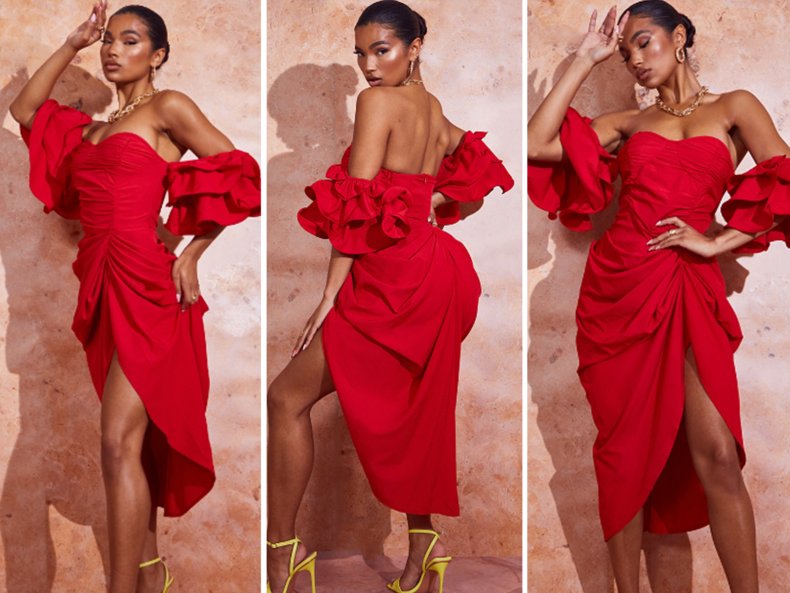 According to data from The Know, almost 2.6 million couples will walk down the aisle in 2022, meaning far more guests and far more guest outfit choices. Brides.com ranks just five colors as avoidable for wedding guests, noting that white, beige, denim, glitter and the same color of the bridesmaids dresses, should all be heavily avoided.
This dress choice, however, has split views from users online. The dress itself was red with a large frill across the top.
"If I saw you in this I would ABSOLUTELY think you were trying to upstage the bride," wrote one user. They were one of many agreeing that it would likely take the shine away from the bride and her gown.
"It's certainly going to turn heads and draw attention to you when the bride should be the center of attention," added another.
"It's not remotely appropriate for a wedding. Guests shouldn't be trying to compete with the bride for attention or dominate photos, which is what a bright red, off-the-shoulder, slashed to the thigh dress does," expressed a user on the forum.
One user noted that "it's inappropriate for a wedding, day or night. It's screaming 'I want to be the center of attention.'"
Others, despite having the same views, took a far more polite approach to it all, with one writing: "I rather love it and don't have particularly conservative tastes but I do agree, save it for a fab night out."
While some were actually in favor of the out-there dress. One user wrote: "At weddings I go to people typically make a big effort, with hats etc, very glam. This definitely wouldn't look out of place."
"I think it's great," shared another. "It shows you have made an effort to dress up and celebrate. As long as it will be in keeping with the other guests, meaning the dress code etc."
Despite the split reviews, the wedding guest decided to purchase the dress, and ultimately changed the mind of her boyfriend at the same time.
"When he saw it in person [he] said he really likes it and has changed his mind," she wrote in an update comment to the popular thread.
"I can't believe how many women find it hard to believe a woman wants to look and feel nice in something she really likes for herself."