Planner's Insights Into What Wedding Guests 'Don't Care About' Stirs Debate
Planning a wedding may be expensive, but one wedding planner discussed three things that can save a couple some money while not negatively affecting guests.
Posted by Claire Roche to the TikTok account @gritandgraceeventsco, the now-viral video was viewed nearly two million times as she discussed repurposing floral arrangements, not handing out wedding favors and not serving top-shelf liquor.
"These are the things your guests don't care about at your wedding," Roche said as she opened the video. "Which means this is how you can save some money."
Gabriella Rello, editorial director of Brides confirmed to Newsweek that Roche was correct: There are ways that couples can cut costs and save money for their wedding that would not negatively impact their guests. She not only agreed with Roche but also added a few tips of her own.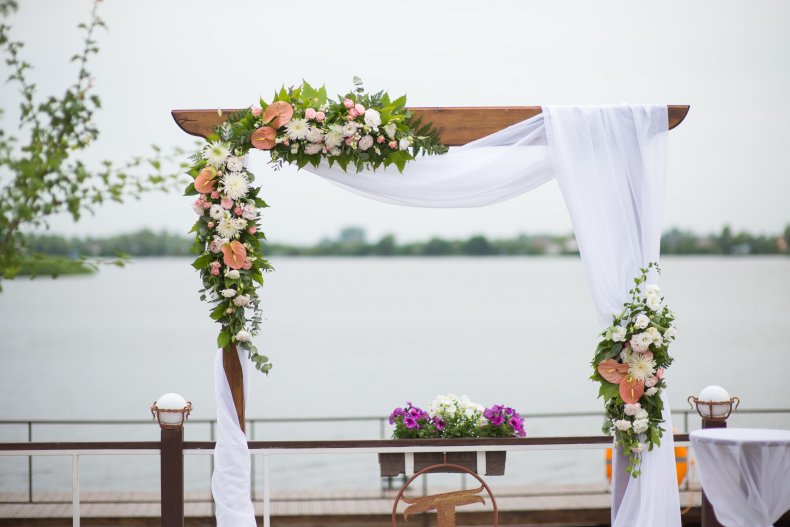 According to The Knot, couples will likely spend the most money on the venue, catering and a band.
"Catering is another big-ticket item, taking up about 23 [percent] of the average wedding budget," the piece published by The Knot said. "Depending on packages offered by your venue, this element may include alcohol and a cake."
One money-saving tip provided to Newsweek by Rello is to consider booking their vendors on their lowest minimum and add services if it is necessary.
Cost-Cutting Tips for Weddings
No Top-Shelf Booze
Rello agreed there is no need to serve top-shelf liquor as long as guests are provided with different drink options.
"People just want free alcohol," Roche said in her video, "so you're in the clear."
No Wedding Favors
Roche also said that guests will not be upset if they don't receive wedding favors from the ceremony.
Rello added that many couples have begun moving away from wedding favors.
"We're seeing more couples doing one of two things," she said. "One is providing guests with a late night snack and the other is providing some sort of experience."
Rello said that renting a photo booth for guests to take pictures with friends and loved ones is an experience that they may appreciate.
Rethink Floral Arrangements
And, Rello said that repurposing floral arrangements is an "acceptable and smart" way to save money.
"Use the same ones for the ceremony as for the reception," Roche said. "Your bridesmaids' bouquets for the reception."
In addition to the tips outlined in Roche's video, Rello said couples can save money by going with local and seasonal flowers as opposed to importing flowers that are out of season.
Roche told Newsweek in an email that in her experience as a wedding planner, a couple's biggest expense is typically the venue or catering.
"It is highly contingent on your guest count, though," she said. "If you have a high guest count, catering and bar will be high costs simply because you're accommodating for more people."
Viewers React
Many viewers said they found Roche's video helpful.
"I never cared about favors, flowers, anything but having good food and [a] good time," a viewer wrote.
"I'm a bridal attendant and these are so true," another shared. "Especially favors I always end up giving so many back to bride & groom."
"Favors!! Every wedding I've worked half the time they forget to pass them out n half the guests have left when they do," one viewer commented.
Some, however, did not agree with all of Roche's suggestions.
"Not to be *that* person, but am I the only one who looooves wedding favours??" a TikTok viewer asked.
A few said they believed having top-shelf liquor was important to the celebration.
"Top shelf liquor is a must," another viewer said. "Have to disagree on that one."
"If I had a wedding they care about the liquor," one viewer wrote. "Just threw my sister a yacht party and even tho it was open bar they cared."
While Roche gave a few examples of ways that couples can save money without compromising their guests' experiences, she said she knew there were bound to be some people who disagreed with her.
She explained that weddings are personal and what may be considered acceptable at these celebrations is based on each person's own life experience.
"I get it, I think it's valuable to have different perspectives and believe that people should do what's best for them on their wedding day—that's all that matters," Roche said.
Other Wedding Tips
This is not the first time Roche shared tips and insight for engaged couples in a now-viral video.
She previously revealed how couples can ensure they will have an unplugged ceremony.
Other wedding planners have also gone to TikTok to share advice, including one planner who showed how couples can save money on their seating charts and another who revealed the top tips for brides.
Update: 08/23/22 2:19 p.m. ET: This article was updated with comment from Claire Roche.