'Wedding Season' Release Date, Cast, Trailer, Plot
If you like Killing Eve, Mr. and Mrs. Smith, and Date Night you will not want to miss Wedding Season on Disney+ and Hulu.
Not only is Wedding Season the first ever British original for Disney+, but it's also a genre-busting show, taking in elements of romance, comedy, high-action thriller, and more.
The series follows the wild romance of hopeless romantics Stefan (played by Gavin Drea) and Katie (Rosa Salazar), who also find themselves at the center of a murder investigation.
Newsweek has everything you need to know about Wedding Season including release date, cast, trailer, plot, and more so you do not miss a thing.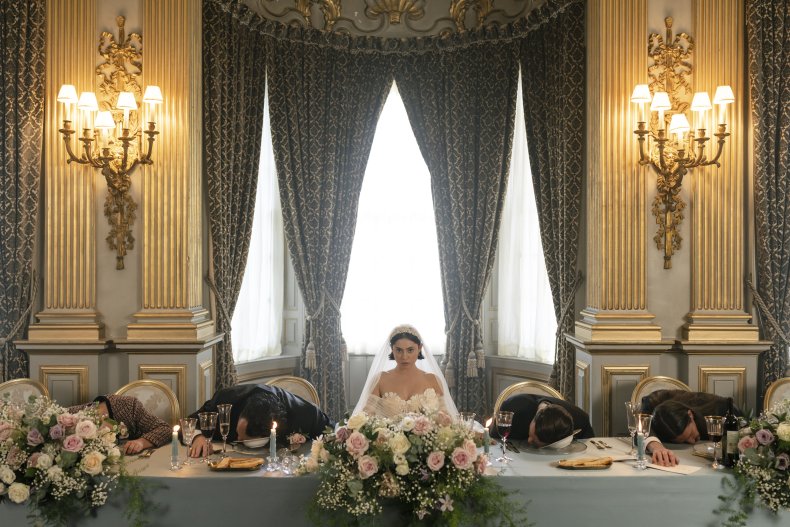 When Is Wedding Season Out?
Wedding Season's big day is not too far away.
The eight-part series will premiere on Thursday, September 8 on Disney+ and Hulu and audiences will be able to watch the hilarious new series all in one go.
To watch Wedding Season, you must be a Hulu or Disney+ customer. You can sign up to Disney+ now for £7.99 per month and Hulu for $6.99 per month now.
Wedding Season will also be available to watch globally on Disney+ and Star+ in Latin America.
What Is Wedding Season About?
Wedding Season follows the complicated love story of Stefan and Katie.
The pair first met at another wedding and hit it off almost instantly—the same night Stefan proposed to his girlfriend was rejected in front of all of the wedding guests.
Katie decides to sleep with Stefan, despite being engaged to Hugo Delaney, the son of one of the most powerful (and corrupt) families in the United Kingdom.
For the next three months, Stefan and Katie continue to cross paths at other people's weddings and Stefan even goes as far as to stop Katie from marrying Hugo, much to his failure.
But maybe Stefan will get his happy ending after all when the Delaney family is found poisoned and dead at Katie's wedding reception?
The official synopsis per Disney+ teases: "The genre-busting series tells the story of Katie and Stefan who fall for each other at a wedding and begin an affair, despite Katie already having a fiancé. Two months later at Katie's wedding, her new husband and his entire family are murdered. The police think Stefan did it. Stefan thinks Katie did it. And no one knows for sure what the truth is...
"The series is an action-packed romp across the UK and the US as Katie and Stefan go on the run, all while trying to prove their innocence."
Who Is in the Cast of Wedding Season?
Wedding Season stars Rosa Salazar and Gavin Drea as Stefan and Katie.
Salazar is well known for playing Alma Winograd-Diaz in Undone, Lucy in Bird Box, Brenda in The Maze Runner film series, and Lynn in the Divergent series.
Audiences may recognize Drea from his role as Sergeant Cooper in Valerian and the City of a Thousand Planets, and Eadric in Vikings: Valhalla.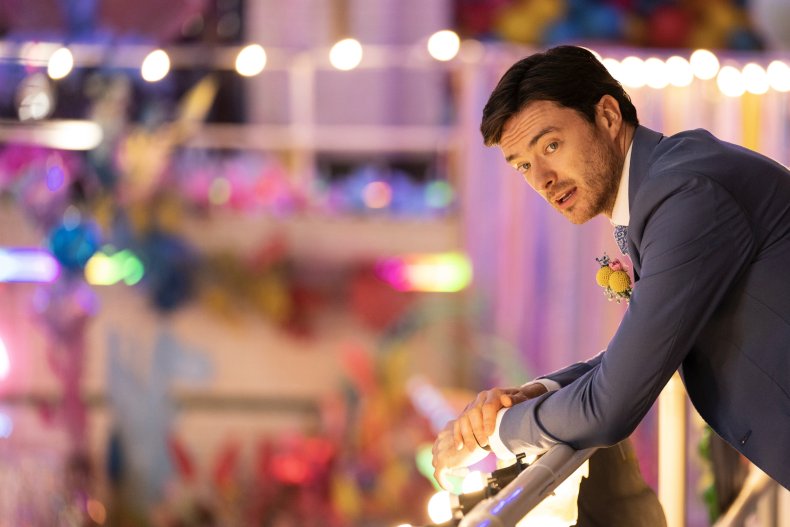 The Stranger's Jade Harrison takes on the role of DCI Danielle Metts and Back to Life's Jamie Michie plays Detective Donahue.
Britannia's Callie Cooke stars as Leila alongside Vigil's Bhav Joshi, who plays her husband-to-be, Anil.
Ioanna Kimbook from Inside No. 9 and Flatmates plays Shan in Wedding Season.
Baptise's Omar Baroud takes on the role of Jackson, and Finding Alice star George Webster plays Hugo.
Is There a Trailer for Wedding Season?
Yes, there is an exciting trailer for Wedding Season and it looks like audiences are in for one wild ride.
The trailer begins with Stefan rushing into Katie's wedding, screaming "I object" and moments later, he is given the news that Katie's new in-laws were poisoned.
Wedding Season then flashes through a whole host of weddings taking place, with Katie and Stefan meeting in the middle of each one.
The trailer takes a turn at the end and it seems like Stefan and Katie may be on the run. Is Katie the killer of the Delany family? Audiences will have to wait to find out when the new series drops.
Wedding Season is coming to Disney+ and Hulu on Thursday, September 8.