'Wednesday' Star Jenna Ortega Breaks Silence on Lisa Loring's Death
Jenna Ortega has paid tribute to her Wednesday Addams predecessor, Lisa Loring, who died aged 64.
The Wednesday star posted two photos of Loring as a child on the set of the 1960s TV series, The Addams Family, to her Instagram stories.
"Absolutely devastated. Thank you for everything," Ortega captioned the photo.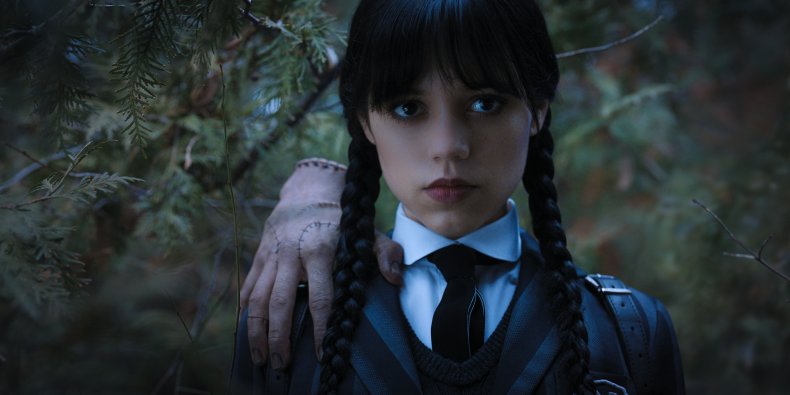 Loring played the original Wednesday Addams on the ABC series which ran from 1964 - 1966. The iconic series was the first adaptation of Charles Addams' New Yorker cartoons, which would spawn a number of pop culture spinoffs, including the hit Netflix series of which Ortega plays the titular character.
Loring died after suffering a stroke caused by high blood pressure and was on life support for three days, according to her family.
"She went peacefully with both her daughters holding her hands," Loring's daughter, Vanessa Foumberg, told The Hollywood Reporter.
Loring's friend Laurie Jacobson posted on Facebook saying the actress had been on life support before her death.
"She is embedded in the tapestry that is pop culture and in our hearts always as Wednesday Addams," Jacobson wrote.
The actress was also known for her work on As the World Turns and The Pruitts of Southampton.
Loring was followed by Christina Ricci, who played Wednesday Addams, in the 1990s film adaptations which also starred Raul Julia and Anjelica Huston.
Ricci played a major role in Netflix's Wednesday which also paid tribute to Loring in one scene that went viral not long after it aired.
The scene featured Ortega dancing as Wednesday at a high school dance which the actor choreographed herself. She confirmed she drew inspiration from Loring and included "a little bit of her shuffle that she does" from the original TV series.
Ortega told this to Jimmy Fallon on The Tonight Show in December when she described how she "payed homage to Lisa Loring, the first Wednesday Addams."
The Netflix series, created by Tim Burton, follows the Addams Family member as she breaks out on her own to attend a creepy boarding school for supernatural kids. While there, she manages to solve a mystery at her new school, while also resolving her issues with her parents.
Ortega began her career as a child actor with some guest parts on TV shows such as CSI: NY and films like Iron Man 3. She eventually landed a major role as Young Jane on dramedy series Jane the Virgin.
She is also no stranger to Netflix, having starred in series, You, and the films, The Babysitter: Killer Queen and Yes Day.
Wednesday is out on Netflix now.