'Wednesday' Creators on Why Tim Burton 'Loved' New 'Addams Family' Chapter
Wednesday Addams had to be taken away from her iconic family to grow beyond what fans already knew about her, according to the creators of Netflix's new series, Wednesday.
Alfred Gough and Miles Millar told Newsweek why it was important for them to ensure their show stood out from the Addams Family projects that came before it by doing something different with their top character (Jenna Ortega), who also happened to be director Tim Burton's favorite as well.
Wednesday Creators Evolved the Character Beyond the Addams Family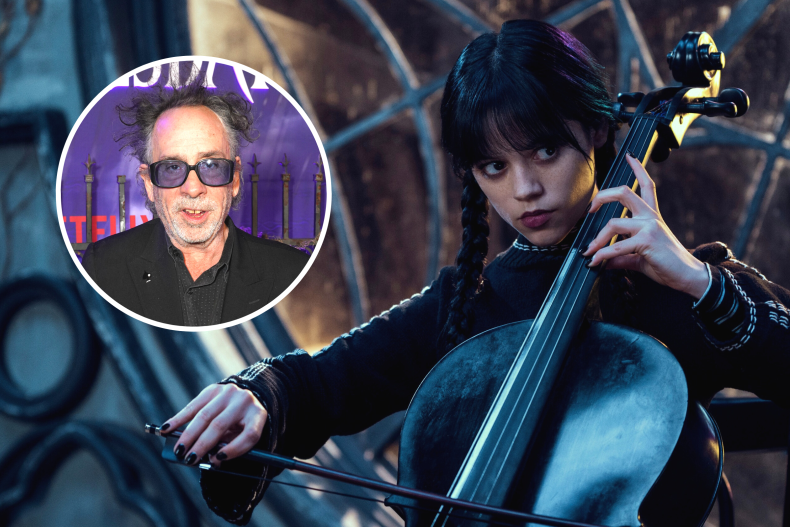 The duo created a situation that forced Wednesday to be away from her family, parents Morticia (Catherine Zeta-Jones) and Gomez (Luis Guzmán) and brother Pugsley (Isaac Ordonez). Wednesday Addams was off to boarding school.
And not just any boarding school, Wednesday is taken to Nevermore Academy, where students with supernatural abilities and powers are taught to harness their abilities. It also so happens to be the school where Morticia and Gomez first met and fell in love.
"Wednesday, for us, has always been the most interesting character in the Addams family and we've only really seen her as like a 10-year-old girl who has the zinger at the end of a scene or the biting comment," Gough said. "But we thought, what happens when this character grows up? And what does her journey look like?
"Miles and I have four teenage daughters so we are very much in that journey, and various stages of that journey. [We put] teenage Wednesday Addams in boarding school because we wanted to take her out of the family but also put her in that situation —what you have in boarding school, or when you first go to college— where you're making your new family, it becomes your friends, and this is a girl who has never had to make friends before."
Gough and Millar aren't strangers to taking an iconic character and doing something new. They were the creative minds behind Smallville, which showed a different side to Superman.
Detailing how they came to choose a story that felt right for Wednesday, but also fresh to the franchise, Millar said: "We had a choice; put it in a regular high school, which is where we sort of start but it felt like it wasn't out of the family, it wasn't out of the family enough in terms of that sort of fun gothic vibe that is so true of the authentic to the Addams Family.
"So we wanted to find a place, a situation, that still feels authentic to the universe of the Addams Family, so that's why he decided on Nevermore [...] it felt that things you'd see in the Addams Family would also be true in this new school, rather than the other approach of a sort of fish-out-of-water [in a] normal school."
Gough concurred with his co-creator, adding that by putting Wednesday in Nevermore it felt like they could stay true to Charles Addams' original panel cartoons, which were first published in 1938.
He said: "They have all these other oddball characters and we thought, 'okay, there's a bigger world out there' and what if we turned the light and showed some of that too? Once you got out of the Addams Family mansion where can you go?"
Wednesday Creators on Why Tim Burton 'Loved' New Chapter of Addams Family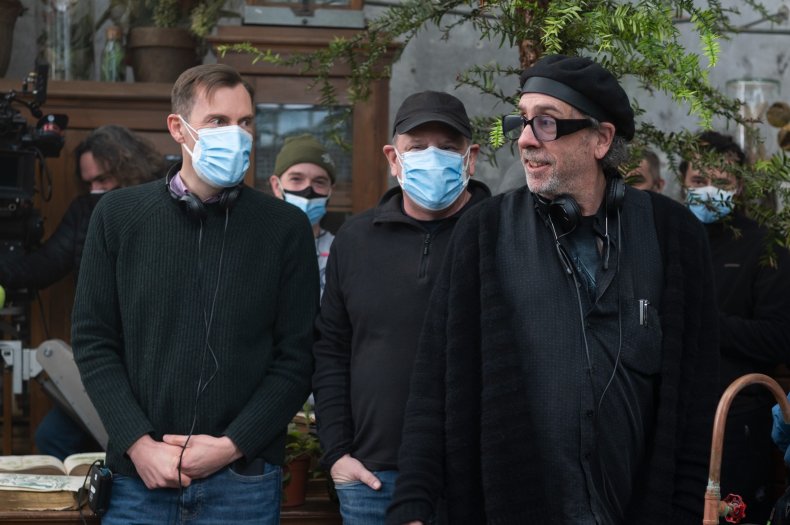 It was this exact approach to the character that attracted Burton to the project. The Beetlejuice filmmaker directed four of the show's eight episodes, and Millar and Gough explained how Burton was keen to do something fans wouldn't expect.
"Tim wasn't interested in making a remake," Millar said. "He really loved the idea of doing something within the world of the Addams family and, particularly, he saw an affinity with Wednesday as an outsider.
"I think he's always seen himself as an outsider and her high school experience sort of mirrored his, I think, in many ways. The idea that it wasn't everything, it was something that people could be familiar with but actually was a whole new chapter, a part of the story that hadn't been seen before."
Gough added that he and Millar found it "amazing" that Burton wanted to work with them on the show, especially because he'd not directed a TV show since the mid-1980s, so they were concerned he might not want to take part.
"We had sent him the script when we were writing it," Gough said. "We were like, 'he'd be the perfect director for it,' [but] his agents are like, 'well, he's never done television, he's never been interested' and we [thought] well, if we don't ask the answer's no, so they sent him the script.
"It was like you put it into the universe and then the universe answers and we got on the phone with Tim and, as Miles said, he really connected with it because he always loved Wednesday, it did feel like him in high school. He said 'I would have dated Wednesday Adams in high school,' he just really responded to it and also was interested in the possibilities of longer-form storytelling, telling the story over eight hours versus an hour-and-a-half, two-hour movie.
"And, the idea that we're in a heightened world but it's more emotionally grounded than other iterations. He goes, 'I didn't want to do a cartoon, I wanted to do something with a real character, and to watch that journey unfold.'"
This isn't the first time Burton has thought about adapting the Addams Family. He wanted to make a cartoon but "it didn't happen," according to Millar, so the show felt like another chance to tackle the project.
Millar said: "I think it was surprising for us how quickly he responded and how the character so resonated with him personally.
"Nobody else could have got the tonal shifts in the show, which shifts a lot in terms of it's sad; it's hard; it's horrific; it's suspenseful; it's emotional; it's funny. All these different, total gearshifts that the show makes, I think Tim really understood that, and he's such a master filmmaker that he was able to do so effortlessly.
"So, I think, for us, the elevation of the material was incredible through his eyes and through his ability as a director. It's pretty remarkable."
Wednesday is out on Netflix on Wednesday, November 23.