Wendy's Broken Drive-Thru Speaker Has Internet in Stitches: 'Good as Ever'
A video showing a Wendy's drive-thru speaker taking orders while on the ground has left the internet in stitches after going viral on TikTok earlier in February.
In the clip shared on the platform by Lavenderskiez, the fast-food restaurant's speaker can be seen knocked on the ground, in the snow. Yet a staff member can still be heard taking orders as if nothing happened. A handwritten note, stuck to the metal pole that was holding up the speaker, reads: "Please speak loudly due to broken speaker."
After the footage went viral, Wendy's itself reacted to the post on TikTok, writing: "daaang, work still must be done." And the poster replied to the chain's comment: "Must not let down the customers, my 4 for 4 [meal deal] was still as good as ever."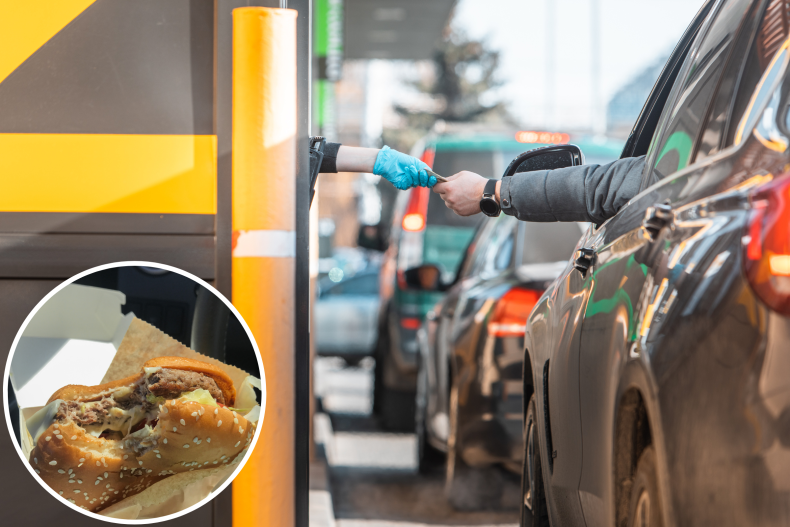 The fast-food chain, which opened its first restaurant in Columbus, Ohio, in 1969, reported revenues last year of $2.09 billion.
The TikTok post quickly gained popularity on the platform, and has so far received more than 7.5 million views and 518,200 likes.
One user, Joseph Martinez, commented: "did she say, whats 4 for 4?" And Cristeven wrote: "Please speak Loudly... the drive thru speaker is broken." Lmfaobyyee added: "She's doing her best."
Splibney, wrote: "She's just there on the ground in the cold snow." And abbymac posted: "This is literally how I feel all day every day at work. I feel ya little speaker. Broken, but I'm still here!" User scassst31 wrote: "At least they gave him a blanket," with Jay adding: "They wrapped its feet to keep it warm."
Another user, katy_g_85, commented: "I identify as this Wendy's speaker ... life's knocked me down, but I'm still tryin!" And A broad abroad wrote: "why do i feel like the person on the other end is laying down too tho." Ray posted: "As a Wendy's worker I chuckled."
According to the Centers for Disease Control and Prevention, in 2018, roughly one out of every three Americans was consuming some type of fast food on any given day. The average U.S. citizen individually spent over $1,200 a year on fast food alone.
Moreover, between 2015 and 2018, children and teenagers consumed on average 13.8 percent of their daily calories from fast food on any given day.
Newsweek reached out to Lavenderskiez for comment. We could not verify the details of the case.
Do you have funny videos or pictures you want to share? Send them to life@newsweek.com and they could appear on Newsweek.