In light of Donald Trump continuing on Monday to make controversial remarks about a major U.S. city and accusing a black Democratic congressman of being a "racist," Senate Republicans balked at condemning the president.
Trump, deploying in recent weeks what appears to be a new 2020 campaign strategy, has made racially-charged remarks on Twitter about lawmakers of color, most recently blasting Baltimore, Maryland, as a "disgusting, rat and rodent infested mess," a "very dangerous & filthy place" where "no human being would want to live" and whose black congressman, Democrat Elijah Cummings, is a "racist" who has allowed crime to run rampant.
But as they did with other recent comments written by Trump on the social media platform telling minority congresswomen to "go back" to the "crime infested places" they "came from," Republicans are refusing to go against their party's leader, instead remaining mum or digging in to defend the president.
"One thing everybody has to realize is, if you go attack the president, he's probably going to respond to it. I don't think it's appropriate what Representative Cummings has been saying about Border Patrol. I think it's inappropriate," Senator Rick Scott, a Florida Republican, told Newsweek.
Cummings chairs the House Oversight Committee, one of several Democratic-led panels in the lower chamber that has been conducting congressional investigations into the Trump administration on a variety of fronts, including on alleged inhumane conditions in overcrowded migrant detention facilities along the southern border. Acting Homeland Security Secretary Kevin McAleenan was grilled by Cummings, whose congressional district includes Baltimore, for hours during testimony earlier this month.
In a barrage of tweets over the weekend, Trump continued to double down on his attacks of Baltimore and the notion that Cummings was racist.
"Rep, Elijah Cummings has been a brutal bully, shouting and screaming at the great men & women of Border Patrol about conditions at the Southern Border, when actually his Baltimore district is FAR WORSE and more dangerous," the president tweeted Saturday.
On Sunday, he continued: "If racist Elijah Cummings would focus more of his energy on helping the good people of his district, and Baltimore itself, perhaps progress could be made in fixing the mess that he has helped to create over many years of incompetent leadership. His radical 'oversight' is a joke!"
In their defense and lack of condemnation for Trump, Republican senators pointed to years-old comments from Vermont Senator Bernie Sanders, an Independent and self-described Democratic-socialist, where he compared the East Coast city to a "Third World country."
"It's no different than what Bernie Sanders has said... I know Trump's not [racist], so—but look," Scott said, "this is about, you know, you go attack the president, he's going to attack you back. He's frustrated. They ought to do their jobs—secure the border."
Senator Lisa Murkowski, a moderate Republican from Alaska who does not shy away from rebuking Trump on controversial or high-profile issues, declined to answer when prompted by Newsweek whether she condemned Trump's attacks. She did, however, disagree with the accusation that Cummings was a "racist."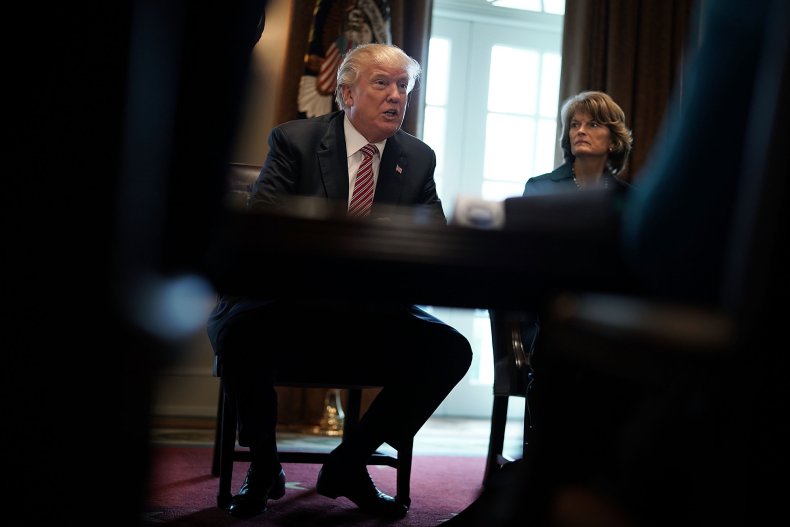 "No, I do not [agree]. Absolutely not," Murkowski responded as she boarded an elevator in the Capitol building.
Visibly annoyed, she turned to Senator Steve Daines, a Montana Republican who was standing next to her.
"It's just like, we're back to the Trump tweets," Murkowski said quietly.
South Carolina Senator Tim Scott, the chamber's lone black Republican, said he did not believe Trump's comments "were connected to race, actually" and wavered when asked whether he agreed with the president that Cummings is "racist."
"I don't even know what that means," he told reporters. "So, I have not responded to that. I don't know how to respond to it."
Scott believed Trump's tweets on race actually help his efforts, as the Senate's only black Republican, to recruit more candidates of color.
"I think it makes it easier for me to promote the party in many ways, ultimately. I think the more diverse our messengers, the easier it is for us to separate issues of race and issues of politics," Scott explained. "This is, obviously, from my perspective, an issue of politics, not an issue of race. But in the end, yeah, I think I will have a—I will fare better trying to get more candidates of color than I would've two years ago."
Senator Mitt Romney, a Utah Republican, has offered strong disapproval of Trump's actions and words in the past, similar to Murkowski. This time was not, however, one of those cases.
"It's another act of political theater," Romney told reporters. He declined to answer whether he condemned Trump's latest remarks.
Senator Thom Tillis, a North Carolina Republican, refused to answer reporters' questions.
A Trump loyalist and member of the conservative House Freedom Caucus, Representative Mark Meadows of North Carolina came to the defense of Cummings on Monday. Rarely allies, the two lawmakers both sit on the Oversight Committee. Cummings defended Meadows earlier this year when he was accused by freshman Democrat Rashida Tlaib of being racist.
"I am friends with both men, President Trump and Chairman Cummings. I know both men well. Neither man is a racist. Period. Both love America," Meadows said in a statement.
"I think if we put aside partisanship with investigations, we can find bipartisan solutions that will benefit not only Chairman Cummings' district but the country as a whole," he continued. "I'm committed to working to that end with both of them."