'We're Here's' Shangela on Helping "Most Courageous, Strong, Inspiring" People in Season 2
We're Here is the kind of show that's hard to watch without breaking out the tissues; it's moving and inspiring, and is certain to help a lot of LGBTQIA+ people around the world.
Starring RuPaul's Drag Race alum Shangela, Bob the Drag Queen and Eureka, it sees the three queens meet with individuals in their small, conservative towns and help them embrace their true selves.
They work not only with LGBTQIA+ people, but also allies of the community to show how important their support is to others. Season 2 sees them visit towns like Selma, Alabama, Spartanburg, SC, and Del Rio, Texas, all while dealing with the restrictions brought on by the COVID pandemic.
Speaking to Newsweek about the new episodes, Shangela said she, Bob and Eureka were able to meet the "most courageous, strong, inspiring" individuals through the show.
"I say this show is consistently a gift, not only to the people who watch it and are inspired by it, but also to me," she said of the show overall.
"I have been able to travel, perform and entertain all over the world, and with this particular show, with We're Here, I've received the gift of getting to learn about our communities even more, about places that exist that I've never been before, and culture and communities that I've never experienced."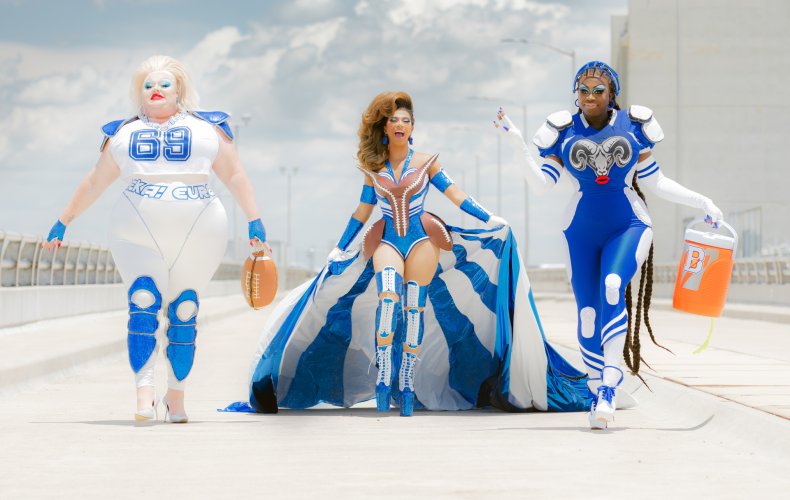 One town that had a particular impact on Shangela was Selma, where she, Bob and Eureka met Akeelah, Joseph and Deborah, as well as civil rights activists from the By the River Center for Humanity, some of whom experienced Bloody Sunday in 1965.
During their time in Selma the trio learned (through their interactions with their three drag children) how the queer community has remained hidden in the town, despite its history with the civil rights movement.
Reflecting on the fourth episode, Shangela said of the group: "I met some of the most courageous, strong, inspiring, insightful people that we've ever worked with in any season of this show.
"Selma is already a city that has great history to it, and volatile or difficult history to it, as you know with regard to the racial segregation in Selma.
"It gave a very interesting backdrop to this particular episode, and it was very important for us to be able to showcase what the real [situation is] because this is a docuseries where we deal with real-life situations and we walk into these spaces and they're real places and real stories.
"And in doing that you find this intersection between living life as an LGBTQIA+ person, living life as an LGBTQIA+ person in a small conservative community, and living life as an LGBTQIA+ person in a small community that also has this very difficult history with regard to race, and what the whole town has gone through."
She added: "We wanted to share all those stories in the most realistic light that we could, and I think this episode to me was not only something that was very emotional it was also very educational to me.
"I'm a person who loves to learn, learn about other cultures and communities outside my own, but, also, this is my history as well as a Black American citizen. So it was very informative, but also empowering."
In the first episode Shangela was paired with Olin, a straight man trying to connect with his gay brother, Pat, who works as a drag queen by the name of Patti O' Furniture.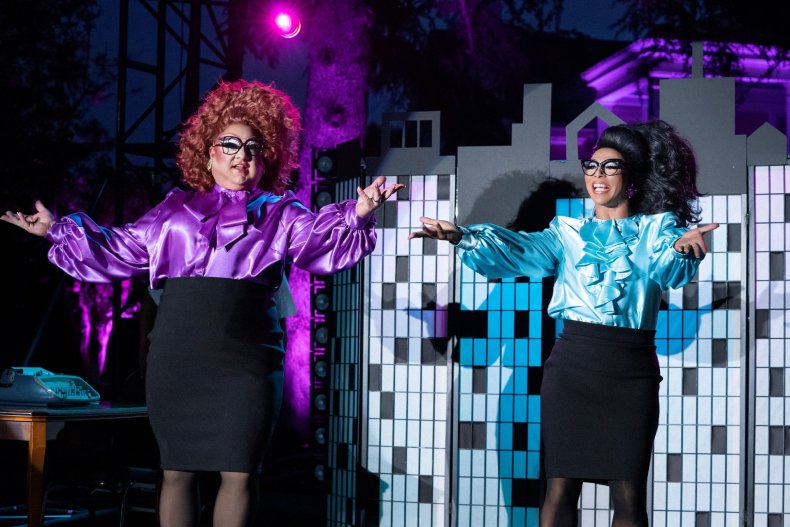 "It was a very interesting story, and I'm really excited for people to be able to see this one because we talk about allies and how important it is to have allies for the LGBTQIA+ community," Shangela said while discussing Olin.
"There are allies who support you from a distance, you know 'I believe everyone deserves equality therefore I support you', and then there are those allies like Olin who want to show even greater solidarity, like he wanted to do with his brother.
"He didn't want to just say I support Pat, he wanted to say 'I want to go so far to support Pat where he feels so comfortable being himself, talking about his life with me, sharing his experiences with me and the family and knowing that I really understand him'.
"We talk about walking a mile in someone's shoes, or heels, and Olin definitely wanted to represent that.
"For me, I'm an only child but I feel like I have a lot of siblings because I had lots of people who are very close to me who I call my brother or my sister, but I've never had an actual sibling, so to see that type of solidarity between two men, two brothers, that was very beautiful."
We're Here starts airing weekly on HBO from October 11.
Correction: 10/15/2021, 4.03AM ET: This article has been updated to correct the spelling of Patti O' Furniture.