Werewolf or a Costume: Creepy Figure Filmed Outside Zoo Puzzles Internet
It is being described as the "Unidentified Amarillo Object"—a mysterious human or animal in the eerie dead of night, caught on a surveillance camera outside the Amarillo Zoo in Texas.
The snapshot taken from camera footage at 1:25 a.m. on May 21 shows a two-legged "object" behind the fence of the zoo, which is located inside Amarillo's Thompson Park.
Michael Kashuba, Parks and Recreation director for the City of Amarillo, told Newsweek that the zoo has strategic cameras in place. This particular footage was discovered when staffers conducted a casual review of surveillance video, which led to a discussion about who or what was contained in the image.
"It's kind of an anomaly, a unique picture," he said.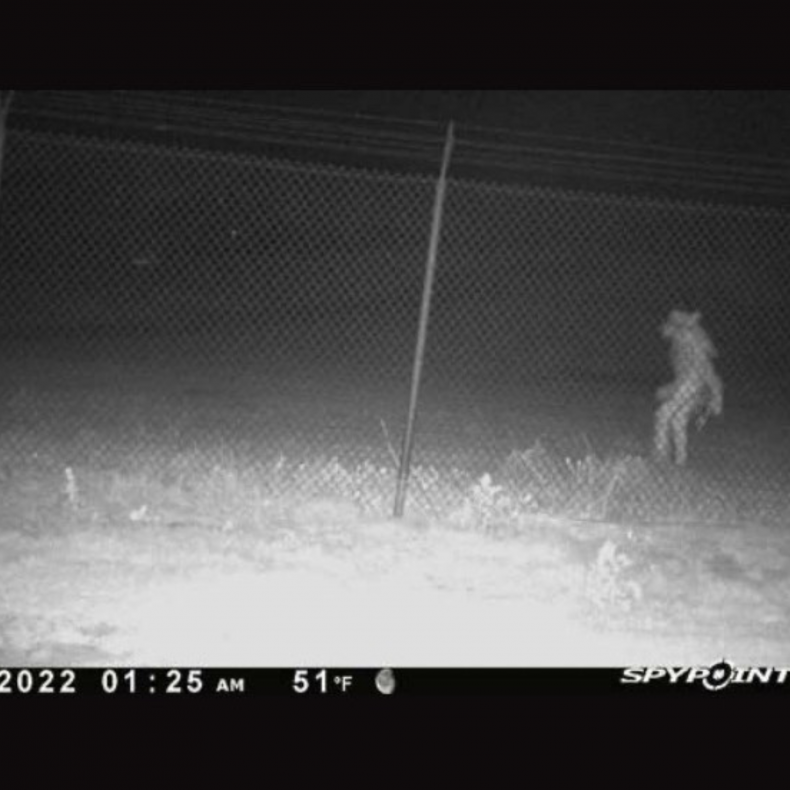 Whoever or whatever was in the black-and-white footage never gained entry inside the zoo, Kashuba said, or caused any damage to zoo fencing or animals.
The zoo itself is gated off with secured perimeter fencing, he added, and the zoo is located in the center of Thompson Park. Kashuba said "around it is basically open spaces," with creeks that flow to the west "but a lot of area open to terrain" and flat space.
"I think it's exciting to see the interest in something like this," Kashuba said. "It's obviously out of the norm for us."
The photo began making its rounds online shortly after the footage was discovered, due to what Kashuba said was a sharing of the image on a private Facebook zookeeper group page.
'Cryptozoology'
A Reddit thread in the "Cryptozoology" forum published over two weeks ago by u/Segu1n included the image still, which prompted questions and a wide array of responses from Redditors as to what the image displayed.
One Redditor wondered why there wasn't more footage or images, to which the original poster said, "I'm not sure how many photos that model of trail camera takes when it senses motion" and that they were only aware of one photo in existence.
"It was one snapshot off the camera," Kashuba confirmed to Newsweek. "We tried to see if there were additional photos and there was just one snapshot."
The Reddit poster acknowledged the aforementioned zookeeper Facebook group, though they did not post the image–nor do they seem to work at Amarillo Zoo.
"The group was meant to be a resource for keepers getting to know each other when they visit each other's facilities," the poster said, adding it was the first time they had witnessed a "creepy" photo.
Users made multiple suggestions as to what the image conveys, including Bigfoot, an intoxicated human potentially on drugs, a werewolf with mange, and even a humorous reference to Carole Baskin of Tiger King fame.
Another reference to the literary and film subject Fantastic Mr. Fox was made, with one user joking, "Breaking news: Fantastic Mr. Fox cited for indecent exposure and public intoxication at the zoo this weekend."
'Bizarre' Zoo Occurrences
Grunge reported on "bizarre" occurrences at zoos worldwide that, while they didn't include mysterious images like these, impacted public perception and discourse.
They included donkey intercourse sparking political protests in Poland; how one of Australia's most wanted killers sought temporary refuge in a zoo and successfully evaded police for seven years; and an Austrian zookeeper who converted a rhino enclosure into a cannabis farm.
In 2017 Vice received responses from zoo employees about oddities that occur at zoos when nobody is around, including frozen-rat puppet shows.
Kashuba's department and the city have encouraged the community "to have fun with this," wanting members of the public to share their ideas about what the image conveys.
When asked how many members of the public had been reached, he said he didn't have an exact number but mentioned that local news stations have been contacted.
"This is definitely a rarity," Kashuba said. "Usually we catch pictures of our animals moving through exhibits and things like that."