Wesleyan University Students Demand Frats Admit Women or Leave Campus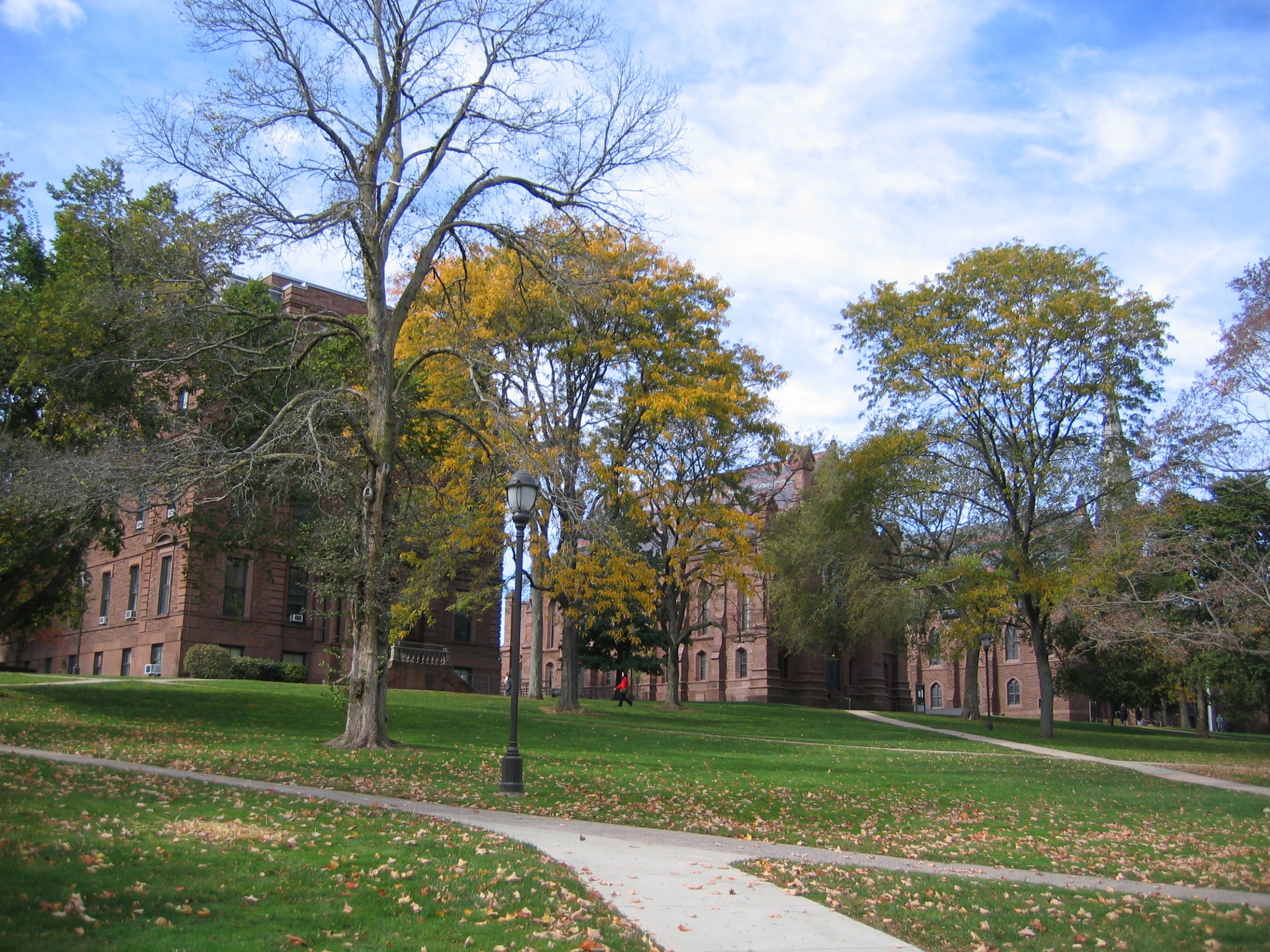 Three 19th-century fraternity houses cover Wesleyan University's College Row, where they have survived for the last several decades alongside, if not quite in harmony with, the more liberal-minded campus mores for which the college has become known.
But in the wake of several high-profile rape cases, students at the Middletown, Conn., college have presented Psi Upsilon (Psi U), Beta Theta Pi, and Delta Kappa Epsilon (DKE) with an unprecedented demand: begin admitting women, as coed literary societies Alpha Delta Phi and Eclectic Society do, or lose your house.
That appeal came first in the form of a letter signed by hundreds of students, alumni and faculty. "We cannot support the official validation of organizations and spaces which institutionally perpetuate sexual assault," it states.
Then, last Sunday, the Wesleyan Student Assembly (WSA) passed a nonbinding resolution calling upon the university to rescind housing privileges from any residential Greek society that does not begin the process of coeducation by the end of the fall.
That resolution was authored by senior and WSA president Nicole Updegrove, who said she believes Wesleyan should only grant housing to groups that are open to students of both genders. She pointed to survey data saying 47 percent of students believe fraternity spaces are less safe than other spaces on campus—and 81 percent of those respondents think coeducation would make them safer.
"This policy isn't about individuals or even about specific groups," Updegrove wrote in an email to Newsweek. "It's about who controls spaces on campus and what happens in those spaces."
In recent semesters, what happens in those particular spaces has been a topic of fraught, harrowing concern. In 2012, a former student, identified as "Jane Doe," filed suit against the university for failing to protect her when she was raped at a Beta house party two years prior. Details of that incident—and of the university's subsequent attempt to blame Doe for her own rape—recently resurfaced in The Atlantic's cover story about fraternities.
Then, in March, a current student filed a lawsuit against the campus chapter of Psi U, 11 of its members, and the former student who allegedly threw her onto a couch and raped her in front of numerous onlookers at a pledge party last spring.
Far-reaching resolutions from the WSA are nonbinding and can be implemented or effectively ignored by the administration at will.
But in the wake of those lawsuits and a high level of concern, Wesleyan president Michael S. Roth has made it clear that he intends to take action.
In an email to Newsweek, Roth said he is "encouraged by the coeducation idea proposed by numerous students, faculty and the Wesleyan Student Assembly."
"Other policy changes, more or less severe, are also under consideration," he added. "I will have more to say to the Wesleyan community after the board of trustees meeting in late May."
Roth previously confirmed that the board of trustees is considering "what role, if any, residential fraternities will have on our campus in the future." In campus conversations, the president has said he intends to make a decision by November to be implemented in fall 2015, according to students present at private discussions.
But the frat question intersects with a larger, thornier concern on campus about sexual violence and how well the administration is handling it after Jane Doe's case.
Students debate whether—or to what extent—those two topics are intertwined.
"We've seen some national statistics that sexual assault is three times more likely to occur in fraternities," said Mari Jarris, a senior at the school. "I don't think that Wesleyan is an exception to this." Several other northeast liberal arts colleges, like Middlebury and Colby, banned single-sex Greek societies in recent decades.
Add to those figures two lawsuits and a fresh burst of media coverage and tackling the fraternity question seems the simplest way to address what is clearly a broader crisis. "The administration is feeling a lot of pressure," Jarris said. "They're getting questions on tours."
But Jarris stressed that those actions must be accompanied by a larger shift in how sexual violence is talked about and reported on campus. In early April, she and a fellow senior, Chloe Murtagh, launched a Tumblr, "Silence Is Violence," where they listed overhead comments that rationalize rape culture on campus. They printed fold-out booklets with the slogans as well, placing one outside every dorm room on campus.
The goal, Jarris told Newsweek, was to "think of the ways in which rape culture is manifested in our everyday interactions."
Urgency aside, these aren't particularly new topics of discussion on the Connecticut campus. In 1986, there were concerns about sexual violence reaching near-crisis levels, and six students were disciplined for interrupting tour groups to warn prospective students about rape on campus. Melinda Newman, an investment manager who graduated from the college that same year, told Newsweek she was shocked to learn the same issue still plagues campus today. In an email to the Wesleyan development office, she vowed not to donate to the school until progress is made.
But in today's great coeducation debate, the battle lines are less predictably drawn.
One of the most vocal opponents of coeducation is Ayala Mansky, a senior who, as a woman, is ineligible to pledge a fraternity. Nonetheless, she has been outspoken at campus forums and started a Facebook group, "Women (and Allies) for Greek Life and Single-Sex Greek Housing."
"I really did feel that fraternities were being unfairly vilified," said Mansky when asked about the group. "I thought they were in an unfair position where they couldn't defend themselves. They were immediately categorized as elitist, entitled, misogynistic, etc."
She said that while she supports other measures to combat rape, like bystander intervention training, integrating the frats is "a really poor solution."
"If we're talking about gender equity and unfair male control of spaces, I think the clear solution to that is to give females their own space," Mansky said.
There is one sorority on campus, Rho Epsilon Pi. But it was founded in 2011, long after Wesleyan's administration resolved not to grant housing to more Greek societies. Since it's not a residential society, it won't be affected by current resolutions.
Then there are those within the fraternities who have come out, however cautiously, in favor of coeducation.
DKE, like Beta, cannot invite women into its membership without forfeiting its national charter, and so those societies have been mostly opposed to such reforms. "DKE…supports the American right to free association, and we oppose [the WSA's resolution] because it infringes on that right," DKE president Peter George, a junior, wrote in a statement to The Wesleyan Argus.
But Psi U, alone among the remaining residential frats, belongs to a national organization that permits coeducation. It is also at the center of the scandal that most immediately spurred this wave of activism.
Quietly, a handful of its members have raised their hands in favor of welcoming women into their ranks.
The chapter's president, Jaime de Venecia, a junior, said he supports the move, though he warned that his views don't represent the house as a whole. Simon Riker, a senior and former president, also openly supports coeducation, though he wants it to be an internal Psi U decision rather than one imposed by the university.
He is already organizing a faction of Psi U brothers who share his view and want to figure out how the transition might be carried out.
"I see the campus climate, I have felt that it's the right thing to do for a long time, and I would really be proud to say we could make the change before we graduate," Riker told Newsweek. "I think it's sort of the right thing to do, considering our place on Wesleyan's campus and our mission to fulfill Wesleyan's good intentions."