West Virginia Bishop Resigns Just Moments Before Pope Francis Announces Sex Abuse Inquiry
Pope Francis has accepted the resignation of West Virginia bishop Michael Bransfield ahead of an inquiry into clerical sex abuse.
Bransfield faces accusations of sexually harassing adults, and in 2012 was accused of having sex with a minor, claims he denied.
Bransfield tendered his resignation as all bishops do when they reach 75, although this is usually rejected by the pontiff, and the bishop continues to serve.
However, just as a group of American cardinals had arrived at the Vatican on Thursday to discuss the clerical sexual abuse crisis with Pope Francis, the resignation was accepted by the pontiff, Vox reported.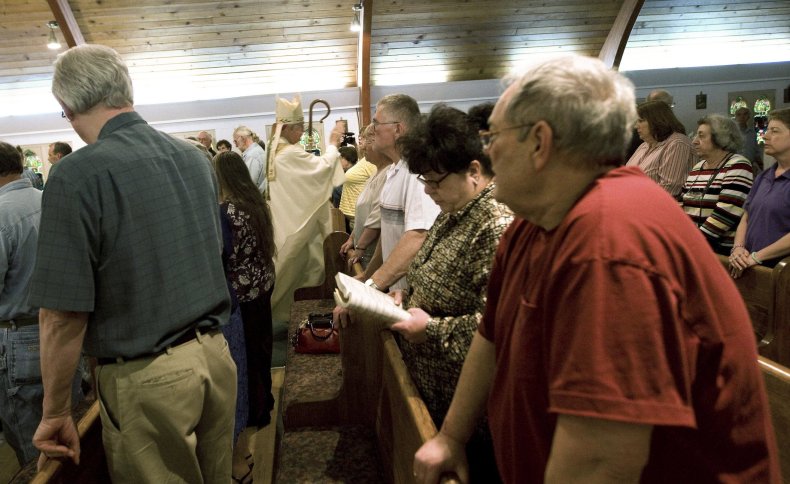 The claims against Bransfield are being investigated by another bishop, William Lori of Baltimore.
In a statement, Lori said, "I further pledge to conduct a thorough investigation in search of the truth into the troubling allegations against Bishop Bransfield and to work closely with the clergy, religious and lay leaders of the diocese until the appointment of a new bishop."
After the meeting between the clergy and the pope, Cardinal Daniel DiNardo, president of the United States Conference of Catholic Bishops, said, "We shared with Pope Francis our situation in the United States—how the body of Christ is lacerated by the evil of sexual abuse.
"He listened very deeply from the heart. It was a lengthy, fruitful and good exchange," he added, according to CNN.
Also this week, Donald Wuerl, archbishop of Washington, D.C., was implicated in the cover-up of sexual abuse cases, accused of knowingly allowing pedophile priests to return to active ministry after accusations of child sex abuse when he was the bishop of Pittsburgh.
One such priest was Theodore McCarrick, who was defrocked after revelations that he abused minors and junior seminarians for years.
The pope said he would convene a global summit in February to discuss how the church has handled the sex abuse crisis. A grand jury report detailed abuse cases by hundreds of priests against 1,000 minors in Pennsylvania.
The German magazines Die Zeit and Spiegel Online reported this week that there were 3,677 documented cases of sexual abuse within the German Catholic Church between 1946 and 2014, although the numbers are thought to be significantly higher.
The German Bishops' Conference will release the report on September 25.