West Virginia Lawmakers Weigh Removing Delegate Who Stormed Capitol After He Refuses to Resign
West Virginia lawmakers are calling for the removal of a House delegate who has been charged with breaking into the U.S. Capitol along with a mob of pro-Trump rioters on Wednesday.
Derrick Evans, a newly elected Republican member of the West Virginia House of Delegates, is facing federal charges after livestreaming a video in which he surged through a door in the interior of the Capitol building.
According to a deputy federal prosecutor in Washington, D.C., Evans is being charged "with entering restricted area and entering the United States Capitol," West Virginia MetroNews reported.
Entering a restricted government building can be punishable by fine and result in up to 10 years in prison, according to the Cornell Law School's website.
On Thursday, Evans' attorney announced that he will not give up his position voluntarily, after numerous colleagues called for his resignation. "Delegate Derrick Evans will not be resigning his public office," John Bryan said, before defending his client's actions.
"Given the sheer size of the group walking in, Evans had no choice but to enter," Bryan noted. "Evans continued to film once inside. His footage showed that members of the public were already inside the Capitol by the time he entered. Evans' footage shows no riotous behavior taking place at that time. Protesters can be seen calmly walking around."
On a Facebook page titled "Derrick Evans — The Activist," Evans wrote that he had acted as "an independent member of the media to film history" during the riot.
"I want to assure you all that I did not have any negative interactions with law enforcement, nor did I participate in any destruction that may have occurred," he said, according to West Virginia MetroNews.
In the footage, which Evans later deleted from social media accounts, he can be heard yelling, "We're in, we're in. Derrick Evans is in the Capitol!"
Evans is among the Trump supporters who are holding flags, and he is seen in the Capitol Rotunda shouting, "No vandalizing."
In light of his refusal to resign, a number of colleagues have said they would vote to have him removed instead.
"Domestic terrorism is not acceptable. Storming the U.S. Capitol is not acceptable. Violence against law enforcement and members of Congress is not acceptable," Republican Delegate Joshua Higginbotham tweeted Thursday.
"If West Virginia Delegate Derrick Evans does not resign for his illegal and treasonous actions I and many other Republican lawmakers will vote to have him removed from the West Virginia House of Delegates," Higginbotham added. "I swore to uphold the Constitution and it is quite evident that this elected official does not care about the oath he supposedly took."
Republican House Speaker Roger Hanshaw said he was appalled by the events at the U.S. Capitol. Evans "will need to answer to his constituents and colleagues regarding his involvement in what has occurred today," he added.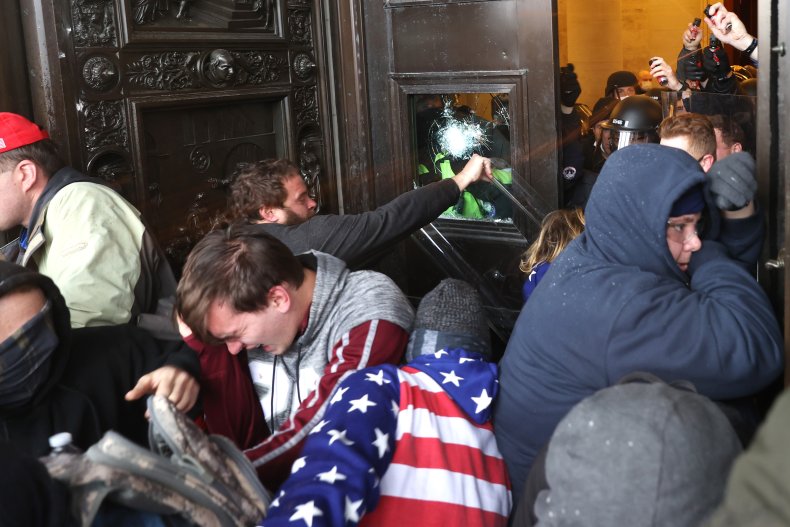 Republican Delegate Steve Westfall told radio station WMOV that delegates could vote to remove Evans from his position when lawmakers meet for a one-day session next Wednesday.
"I believe the first order of business after [selecting leadership] is there will be a motion made to remove Derrick Evans as a member of the House. And there'll be debate on it up and down, and there'll be a vote," he said.
"If there is a vote, I will vote to remove him. I just think he let us all down. He made us look bad," Westfall added.
Delegate Doug Skaff, the incoming Democratic House minority leader, submitted an official letter to Hanshaw Thursday requesting that Evans be immediately disqualified as a delegate.
"I am writing on behalf of the House of Delegates Minority Caucus to respectfully request the Delegate-elect Derrick Evans be disqualified from serving as a member of this body on January 13, 2021," the letter said.
In addition to calls from House delegates, a public petition seeking Evans' removal from office was created online. By Friday morning, the petition had received over 51,000 signatures.
The riot at the Capitol resulted in at least five deaths, including that of a Capitol Police officer, while many others were reportedly injured. The damage included shattered glass, broken windows, damaged property and ransacked offices.
Evans took office representing his two-member district on December 1, after placing first in the November's general election, with 8,227 votes.
Newsweek reached out to Evans and the West Virginia Legislature for additional comment but did not hear back in time for publication.