While states across the U.S. continue to report delays as they endeavor to vaccinate residents most vulnerable to coronavirus infection, West Virginia has administered almost all of the immunization doses received so far through the federal government's distribution initiative.
Since initial vaccine shipments began routing to states last month, West Virginia has administered roughly 98 percent of its first immunization doses and 80 percent of its second-round shots, according to data updated by the West Virginia Department of Health and Human Resources on Sunday. Both COVID-19 vaccines currently approved for emergency use in the U.S., developed by Pfizer and Moderna, require two installments in order to effectively protect against the novel respiratory disease.
West Virginia's overall vaccination rates are the country's highest. The Centers for Disease Control and Prevention (CDC), which tracks ongoing immunization progress nationwide, indicated that West Virginia had administered more COVID-19 vaccines per capita than any other U.S. state as of Friday morning. The health agency's dashboard said upwards of 200,000 vaccines were distributed to the state by federal officials. West Virginia's own tally noted that it received about 50,000 fewer doses.
In accordance with recommendations established by the CDC's Advisory Committee on Immunization Practices, states are in the process of distributing preliminary vaccine doses to high-risk health care workers, as well as residents and staff at long-term care facilities. West Virginia was the only U.S. state that did not opt into a federal partnership deferring responsibility for vaccine administration in long-term care settings to CVS and Walgreens pharmacies.
Through the partnership, which launched during the third week of December, pharmacy workers administer vaccines to residents and staff members on-site at 75,000 facilities enrolled in the program. The initiative aimed to alleviate pressure on long-term care facilities to manage vaccine administration themselves. However, bureaucratic hurdles have led to significant delays and lowered accessibility. About 1.4 million long-term care facility residents and staff had received vaccine doses by Friday morning, according to the CDC.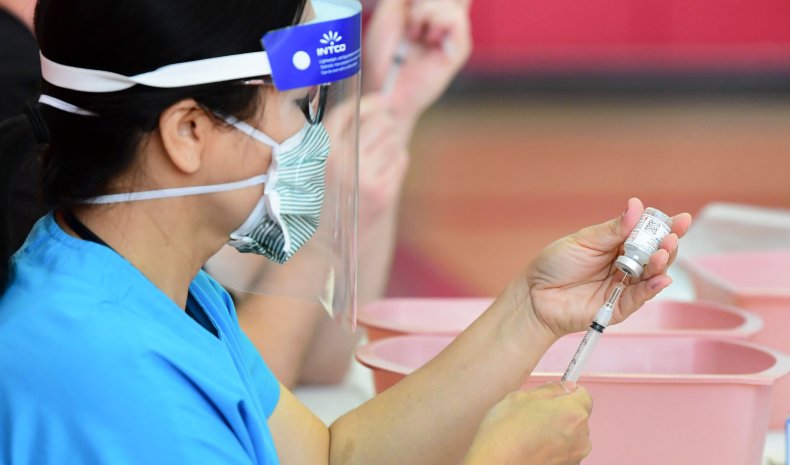 Instead, West Virginia mobilized local pharmacies and health departments to accelerate its statewide vaccine rollout. The state's governor, Jim Justice, cited this approach in recent comments about West Virginia's immunization program and its effectiveness compared with those of other states. The federal government, in general, has received criticism for what many see as an absence of sufficient guidance to assist states' vaccine administration efforts.
"Really and truly, there's so many people that depend on their local health departments, their local pharmacies," said Justice during an appearance on CBS News' Face the Nation Sunday morning. Speaking to moderator Margaret Brennan, the governor explained why West Virginia's decision to bypass the federal pharmacy initiative—and bureaucracy that accompanied it—helped expedite its vaccine rollout.
"A lot of governors sat on their hands, trying to come up with a system or a formula of what they were going to do. We didn't sit on our hands. I mean, we acted," he continued. "We brought our local pharmacies in, we brought our local health departments in, we brought our National Guard in, and we started putting shots in peoples' arms."
Newsweek reached out to Justice's office for further comment, but did not receive a reply in time for publication.