West Virginians Raise More Than $200,000 to Support Striking Teachers
An online fundraiser launched to help support West Virginia's teachers, who entered their eighth day of a statewide strike on Monday, has raised more than $200,000.
Organized by West Virginia community members, the fundraiser initially aimed to raise $50,000 to help striking teachers and school service personnel cover personal costs during the walkout. In just nine days, it raised more than quadruple its target and was shared more than 11,000 times on social media.
"The people who help our kids every day need our help now," Stephen Noble Smith, a Charleston, West Virginia, resident who organized the fundraiser, wrote on its GoFundMe page. Smith said he started the fundraiser "to help support teachers and school service personnel who are taking on great personal cost to organize and support their families during the strike, and beyond."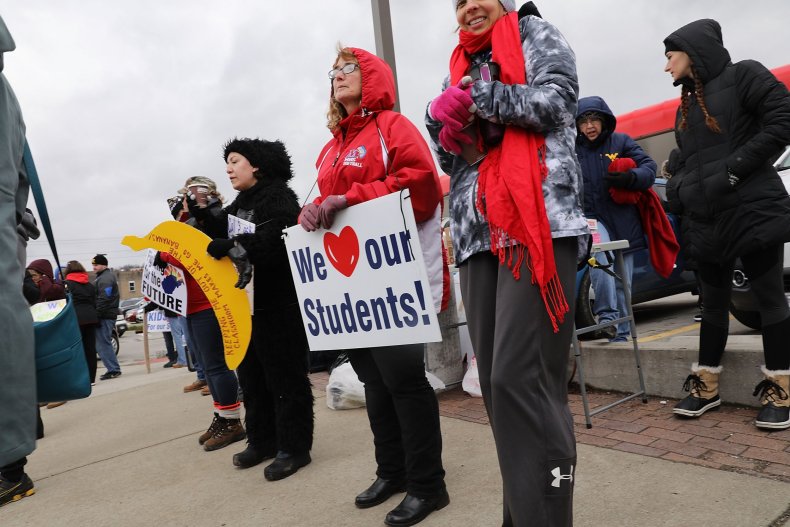 Teachers and other school workers are able to apply for funding via the Strike Support Fund through its GoFundMe page. "Applications will be judged based on the urgency of need, how specific the request is, and how directly the request is connected to the strike," Smith said, asking that those seeking donations ask for a maximum of $500.
Smith has said "every cent" raised will go directly towards teachers and school service personnel. "We will not keep any overhead."
As many as 20,000 teachers took part in a walkout on February 22, bringing classes for nearly 277,000 students to a halt. The teachers—who earn an average of $45,000 annually and are some of the lowest-paid educators in the U.S.—have demanded a 5 percent pay increase.
West Virginia Governor Jim Justice had agreed last week to give teachers and school service personnel the full 5 percent raise. However, because West Virginia is not a collective bargaining state, the increase must be first be passed as a law to be brought into effect.
The House approved the proposal but the Senate did not, proposing a 4 percent pay increase instead. The move outraged teachers and their union said educators will not return to work until their demands for a 5 percent increase are met.
A legislative conference committee has been appointed to help resolve differences between the Senate and the House and is expected to meet on Monday afternoon.
"We recognize the urgency of this situation," Delegate Paul Espinosa, who serves as chair of the House Education Committee and co-chair of the conference committee on House Bill 4145, the pay rise legislation, said in a statement.
Read more: As West Virginia teacher strike enters eighth day, here's what you need to know
However, Espinosa said that committee members would need to investigate into whether the state has enough money to meet teacher pay demands.
"This situation has evolved very quickly in recent days, and we want to make sure committee members have a full array of accurate information available to make a well-informed decision," Espinosa said.
"To accomplish that, we have instructed our respective Finance Committee staffs to pull data and put together the necessary fiscal information, and have separately reached out to the Governor's Office staff to ask for more budgetary information from the executive branch," he added.