West Wing Cast Hits Out At Sarah Huckabee Sanders: 'You're no C.J. Cregg'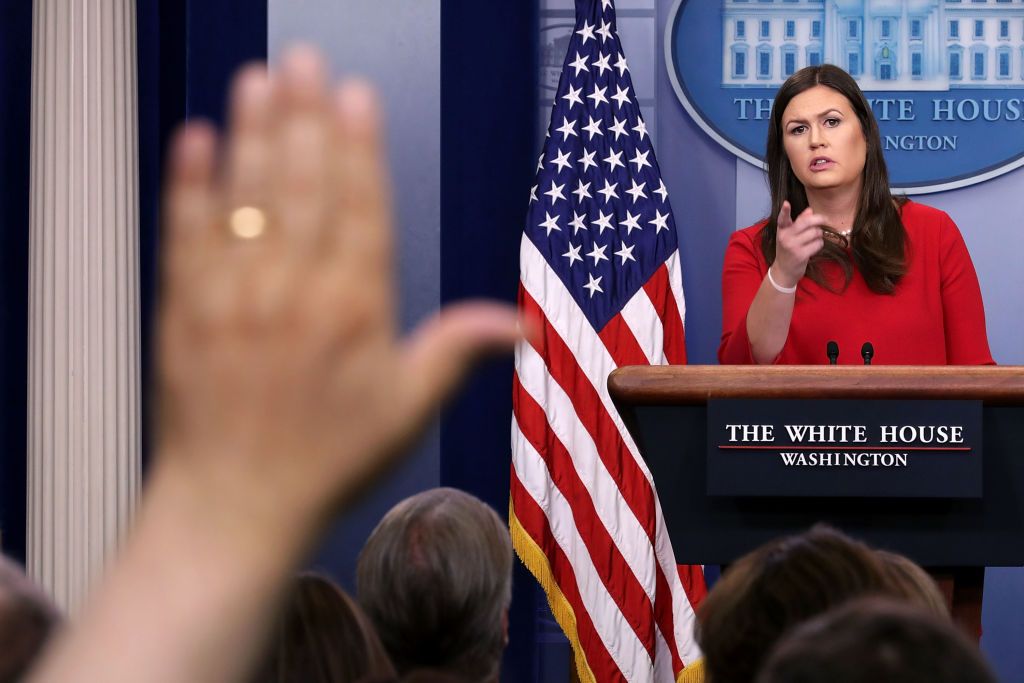 The stars of The West Wing have hit out at White House Press Secretary Sarah Huckabee Sanders after she compared herself to one of the show's favorite characters, C.J. Cregg.
Sanders had compared herself to the character this week after receiving one of the White House Thanksgiving turkeys set to be pardoned by President Donald Trump – referencing an episode of the show in which the fictional press secretary finds several turkeys in the office.
"We had a surprise visitor in my office today and got to live a real life version of an episode of the 'West Wing,'" Sanders wrote on Twitter, prompting a backlash from the stars of the popular TV show – which first aired in 1999.
After her tweet, actor Bradley Whitford, who portrayed White House Deputy Chief of Staff Josh Lyman on the popular show, shut down Sanders – telling her she was "no C.J. Cregg."
"I know C.J. Cregg. C.J. Cregg is a friend of mine. You're no C.J. Cregg," Whitford wrote, also sharing Sander's original post – which featured several pictures of the turkeys in her office.
And Allison Janney, who played C.J. in the series, also responded to the tweets – thanking her former colleague for his sentiment.
"Thanks for having my back, Josh love, C.J.," she wrote on Twitter.
Sanders was involved in several Thanksgiving Twitter battles in the past week – the main one being the jokey exchange between herself and White House correspondent April Ryan over a pie Sanders baked her family.
Ryan suggested the pie was fake, after Sanders posted a picture with a white background that prompted the White House reporter to question whether or not Sanders had actually baked it.
"Just send a photo of your pie on the Thanksgiving table on the farm!" Ryan wrote, adding: "Okay I want to watch you bake it and put it on the table. But forgive I won't eat it. Remember you guys don't like the press," in an exchange that garnered thousands of likes and retweets on Twitter.