Westgate Shooting Suspect Was an 'Incel' Who Wanted to Kill Couples, Prosecutor Alleges
Armando Hernandez Jr.—the 20-year-old suspect arrested for the Wednesday night shooting at the Westgate Entertainment District in Glendale, Arizona which injured three people—identifies as an "incel" who was deliberately targeting couples during his shooting spree, according to a state prosecutor.
An incel is a person who sees themselves as an "involuntary celibate" after being romantically rejected by women. Many incels are enviously angered by men and women who are in relationships with one another.
"He specifically was hoping to shoot at least 10 people," a prosecutor said about the shooter during a Thursday court hearing. "Mr. Hernandez had the purpose of taking out his express anger at society, the feeling that he has been bullied, the feeling that women don't want him."
"He was deeply angered by this and has said that he was deliberately targeting couples," the prosecutor continues, nothing that two of his shooting victims appear to have been a couple.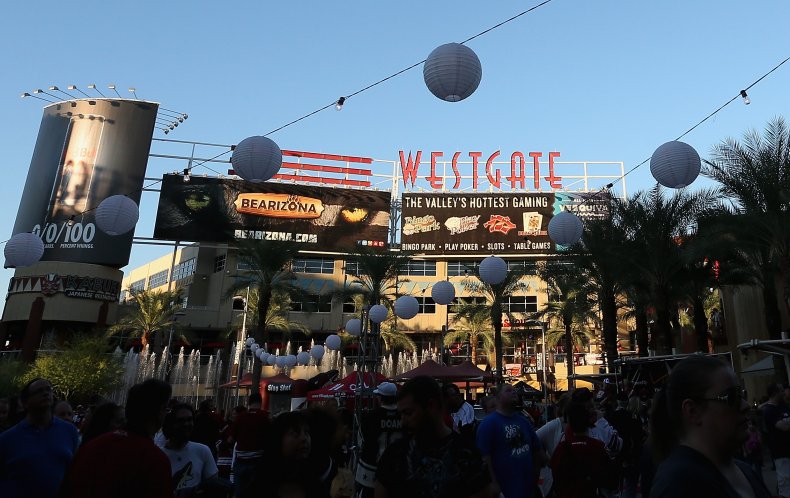 The prosecutor said that Hernandez wanted his people to feel the pain he feels on a daily basis and that he has been contemplating a shooting at Westgate for "at least three to four years."
Hernandez allegedly told his family that he wanted to go out on Wednesday night to go to the gym, but went to the fast-food restaurant Panda Express instead and was unable to get a meal there for some reason.
Enraged, he then drove to Westgate with an AR-15 assault rifle and three 30-round ammunition magazines and became even angrier when three friends he called failed to answer their phones.
The shooting reportedly began around 7:25 p.m. local time, and three people were injured: One remains in critical condition and two others suffered non-life-threatening injuries.
In an email sent to Newsweek by the Maricopa County Sheriff's Office, Hernandez was booked on 14 different charges: five counts of discharging a firearm in city limits, three counts of aggravated assault with a deadly weapon, three counts of aggravated assault resulting in serious physical injury and one count each of criminal damage, recklessly damaging utility property and disorderly conduct with a weapon.
Hernandez is the second self-identified incel to be accused this week of carrying out a violent attack.
An unnamed Canadian teenager is currently facing charges of first-degree murder and attempted murder after allegedly stabbing three people at a Toronto massage parlor on Tuesday. The attack left one woman dead and injured two others with multiple stab wounds.
A January 2020 report by the Texas Department of Public Safety identified incels as an "emerging domestic terrorism threat".