'Westworld' Season 2 Premiere Hints at Facebook's Data Scandal
Warning: This article contains spoilers from "Westworld" Season 2, Episode 1.
After over a year of fan speculation and guesswork on Reddit, Westworld is finally back. Sunday night's Season 2 premiere on HBO picked up where the bloody Season 1 finale left off. And for fans who've been following the recent Facebook data scandal, this episode, "Journey Into Night," contains a moment that hits a little too close to home.
In the episode, Bernard (Jeffrey Wright)—still reeling from the revelation that he's a robot—stumbles around Westworld with Executive Director Charlotte Hale (Tessa Thompson) and the other surviving board members, hiding from the rebellious, armed hosts. The Man in Black (Ed Harris)—who we now know is future William—is thrilled to finally be playing a game with real stakes. Meanwhile, Dolores (Evan Rachel Wood)—now self-actualized thanks to Ford—seems happy in her new murderess role. Teddy (James Marsden), still clueless, is just along for the ride.
But then, a little over halfway through the episode, which clocks in at an impressive one hour and nine minutes, Charlotte takes Bernard to a secret Westworld control center. It's high security—DNA readers on the door handles—and for a good reason: It houses creepy "drone hosts," who are collecting mysterious samples from hosts.
Bernard, seeing this, turns to Charlotte and asks, "Are we logging records of guests experiences and their DNA?"
"I'm not having that conversation Bernard," Charlotte replies, and that's the end of that.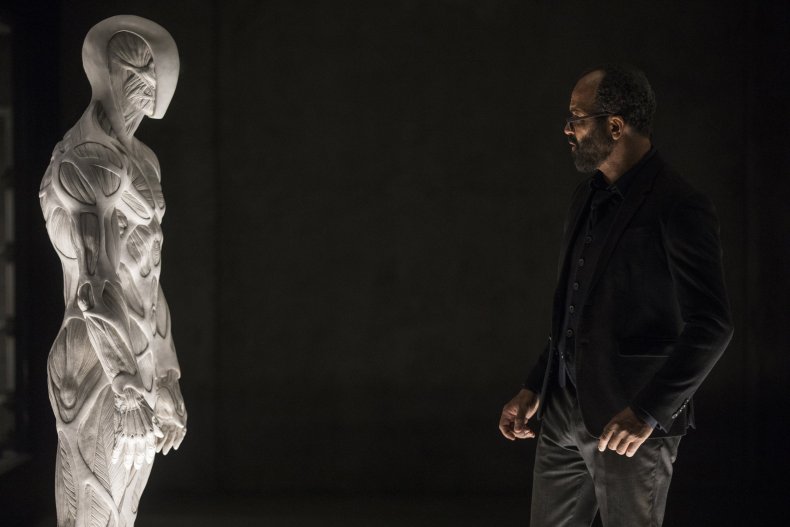 But that short exchange says enough: Westworld is essentially collecting data from its guests. In fact, the game is collecting more than just data—it's collecting DNA. It's a clever, futuristic spin on the real-world virtual reality that's in trouble for collecting data from its users: Facebook.
It's unlikely that Westworld creators and showrunners Lisa Joy and Jonathan Nolan were aware of the Cambridge Analytica scandal when they wrote this episode. It wasn't until March 17, 2018 when The Guardian and New York Times reported nearly 87 million Facebook profiles were harvested to develop "psychographic" profiles of people to help deliver pro-President Donald Trump messages online. By contrast, the Westworld Season 2 production wrapped two months earlier, in mid-January, according to casts' social media posts.
But that doesn't mean that Nolan and Joy didn't draw inspiration from Facebook's ongoing data controversy. While the Cambridge Analytica scandal may be the biggest story on the social media company's questionable data practices, it's by no means the first occurrence. Users have been suspicious of the social network giant's use of data since 2010, when Facebook launched a platform called Open Graph that allowed third-party apps to access data not only from users who granted permission, but also to access data from those users' friends. The backlash prompted CEO Mark Zuckerberg to write a Washington Post op-ed, assuring users they had total control over how their information was shared.
So it's not a stretch to think that Facebook's ongoing tension with its users and their data inspired this new Westworld plot line. (Neither was available for comment when Newsweek reached out, due to busy travel schedules.) Whether or not Charlotte Hale will have to testify in court for her misuse of guests' DNA remains to be seen.
Westworld airs Sundays at 9 p.m. ET on HBO.