#WeWantWitnesses Trends After Report That Mitch McConnell Doesn't Have The Votes To Block Witnesses In Trump Impeachment Trial
Following reports that Senate Majority Leader Mitch McConnell does not have the votes to end President Donald Trump's impeachment trial without calling additional witnesses, Twitter users launched a hashtag to put additional pressure on moderate Republicans.
Republican sources told the Associated Press and Fox Business on Tuesday evening that McConnell had told GOP senators in a meeting he lacked the votes required to block new witness testimony. The top Republican's remarks to his colleagues came after new revelations emerged from a manuscript of former White House national security adviser John Bolton's upcoming book.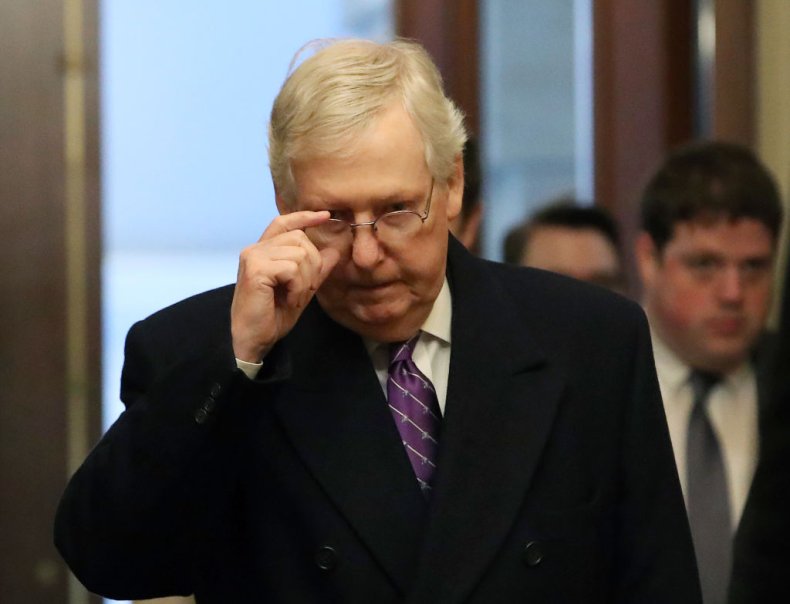 In the text, according to The New York Times, Bolton said the president explicitly told him he wanted to continue withholding military aid to Ukraine until the country's president agreed to assist with investigations. Those probes were to look into Democratic presidential candidate Joe Biden and his son Hunter, as well as widely debunked allegations that Democrats worked with Ukrainians to interfere in the 2016 election.
GOP Senators Susan Collins of Maine and Mitt Romney of Utah reiterated their interest in hearing from witnesses after the news from Bolton's book broke on Sunday. But Democrats need at least four Republicans to vote in favor of additional witnesses for such a measure to pass.
Taking to Twitter, those supporting Bolton's testimony in the trial and others launched the hashtag #WeWantWitnesses.
"Keep calling your Republican senators: (202) 224-3121 #WeWantWitnesses," tweeted former Democratic presidential candidate Hillary Clinton, who lost to Trump in 2016.
"New poll says 82% of all Americans want John Bolton to testify for Trump's removal trial, including 70% of Republicans," Scott Dworkin, co-founder of the Democratic Coalition, tweeted Wednesday morning, using the trending hashtag. "So the GOP Senators have a choice to make. They can side with the American people, or they can be traitors for life and side with Trump."
"This is the end game. #WeWantWitnesses," author Grant Stern posted. "Contact your senators today by sending a text to 50409 with 'remove Trump' and urge them to vote to convict."
"Bill Clinton voluntarily testified under oath and was cross examined by then special prosecutor Ken Starr in connection with his impeachment investigation," radio host Dean Obeidallah wrote, using the hashtag. "It's time Trump also testify under oath on national TV and be subject to cross examination by Adam Schiff."
"Trump hides his taxes. He fired investigators. He obstructed. He installed an AG with a predermined [sic] outcome. His stooges blocked Mueller. His administration is withholding Ukraine emails. The GOP is preventing witness testimony," sociologist and author DaShanne Stokes tweeted. "WHAT is the @GOP HIDING?"
"Republicans are complaining that the Democrats are leaking unfavorable news about the president. In fairness, I say the Republicans should feel free to leak any facts that prove the president is innocent," posted Mohamad Safa, a permanent representative at the United Nations. "I'll wait."
A poll released by Quinnipiac University on Tuesday showed that 75 percent of voters, including 49 percent of Republicans and 75 percent of independents, believe additional witnesses should be called in the Senate trial. Among Democrats, 95 percent believe further witness testimony is necessary.
This article has been updated with a tweet from Hillary Clinton.