WH Officials Tout 'Successful Drawdown' of Embassy in Afghanistan Amid Withering Criticism
Vice President Kamala Harris on Monday characterized the drawdown of U.S. Embassy staff in Kabul as successful, despite widespread criticism of how the Biden administration has handled the evacuation.
Her comments came one week after national security adviser Jake Sullivan also touted what he called the "successful drawdown."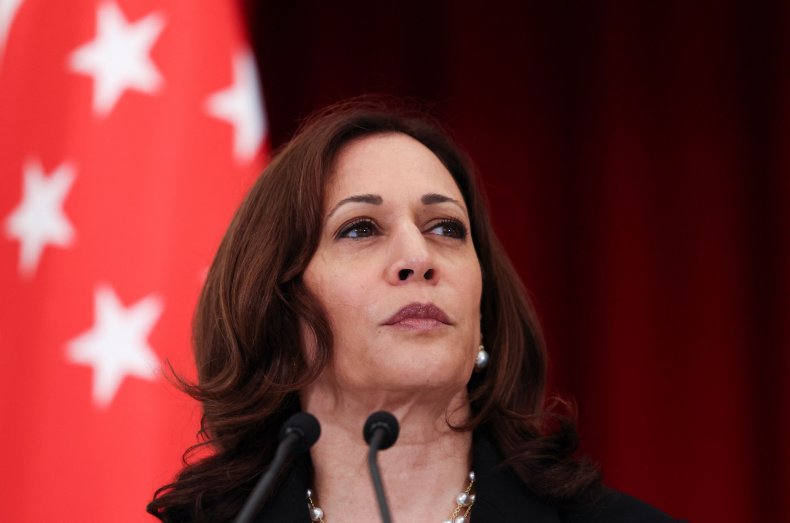 Harris' remarks about Afghanistan occurred during a Monday news conference in Singapore with the country's prime minister, Lee Hsien Loong. Along with saying that "we have seen a successful drawdown of the embassy," Harris noted, "I think there's going to be plenty of time to analyze what has happened and what has taken place in the context of the withdrawal from Afghanistan."
She added, "But right now, we are singularly focused on evacuating American citizens, Afghans who worked with us and Afghans who are vulnerable, including women and children."
Harris is in Singapore on her second foreign trip since taking office as vice president and will later visit Vietnam. During Monday's press conference, she announced that the U.S. and Singapore will work together on climate change and cybersecurity, but reporters focused their questions on Afghanistan.
Lee voiced his support for the Biden administration's withdrawal of military forces from Afghanistan. "The U.S. intervention has stopped terrorist groups from using Afghanistan as a safe base for 20 years," he said. "For this, Singapore is grateful."
Harris' comments on the embassy in Kabul echoed remarks Sullivan made during an appearance on the Today show on August 16.
Speaking after a tumultuous weekend that saw the Taliban take control of Afghanistan's capital, Sullivan said, "What the president kept saying over and over again was that it was not inevitable that Kabul would fall. And it was not inevitable. There was the capacity to stand up and resist. That capacity did not happen."
He went on, "Now, the president prepared for every possible contingency, including this one. The reason that there are U.S. forces at the airport, effectuating a successful drawdown of our embassy, securing the airport to be able to get other people out, is because the president [positioned] those forces, thousands of them in the Gulf, so they could be moved in rapidly in the event there was a rapid collapse."
Sullivan's portrayal of the situation was quickly ridiculed by some members of the media, including CNN's Jim Sciutto.
"To hear Jake Sullivan call this the 'successful drawdown of the U.S. Embassy' there—his words, I mean—is almost comical, right?" Sciutto, the channel's chief national security correspondent and co-anchor of CNN Newsroom, said on August 16. "I don't see how anybody could call that a successful drawdown given the circumstances we're seeing there."
Newsweek contacted the White House for comment but did not hear back in time for publication.