WH Press Sec Doesn't Want to Get Into 'Exact Timeline' of When Trump Learned of Hicks' COVID Infection
During a Friday interview with Fox News' anchor Harris Faulkner, White House Press Secretary Kayleigh McEnany refused to discuss the "exact timeline" of when Republican President Donald Trump learned that senior counselor Hope Hicks had tested positive for COVID-19, the ongoing viral epidemic that has killed over 200,000 of the 7.34 million infected Americans.
"When did the president learn of Hope Hicks' positive COVID-19 result?" Faulkner asked.
"I don't know the answer to that. I'm not going to get into an exact timeline, but it's safe to say the president took precautions," McEnany responded.
Faulkner continued to question McEnany about whether Hicks knew about her diagnosis while accompanying Trump and the first lady for the first presidential debate in Cleveland, Ohio on Tuesday night or with Mr. Trump at his Wednesday night rally in Duluth, Minnesota.
"She had signs, symptoms on the plane, Air Force One," Faulkner stated. "It's been reported they quarantined her on the plane. What was some of the decision making around not maybe notifying people then?"
McEnany said that the White House medical staff immediately began contact tracing to contact the other journalists and people who had been near Hicks, adding, "Contract tracing takes time, but rest assured we will always do what is in the best interest of the American people and those around."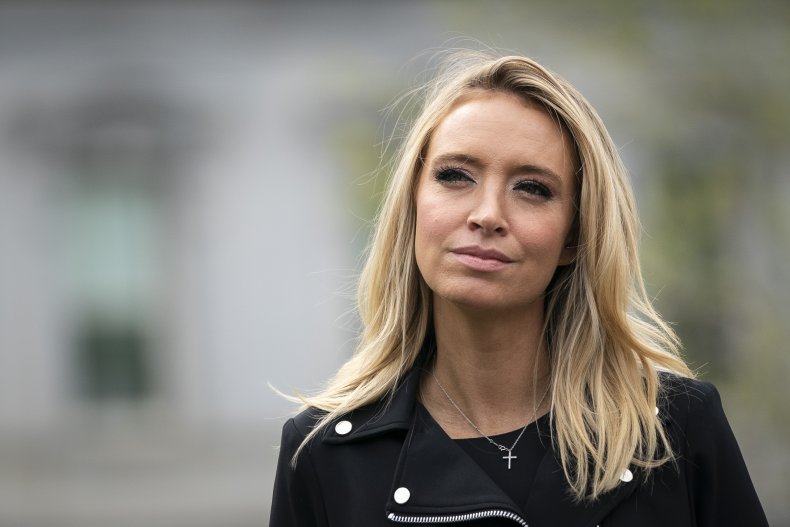 On Thursday night, the president announced that he and the first lady were going into quarantine after Hicks tested positive for coronavirus.
Then, early on Friday morning, the president announced his infection by tweeting, "Tonight, @FLOTUS and I tested positive for COVID-19. We will begin our quarantine and recovery process immediately. We will get through this TOGETHER!"
Despite McEnany's statement that White House medical staff has begun contact tracing—that is, notifying people who have been in close proximity to infected individuals—Scientific American has said that the U.S. government has "failed to adequately fund or apply" the method despite its proven usefulness in controlling viral outbreaks in Asia and Germany.
In mid-July, The New York Times reported that the Trump administration tried to cut $25 billion in funding for contact tracing efforts from a pandemic relief bill, even though the National Association of County and City Health Officials (NACCHO) estimated the need for 100,000 well-trained contact tracers nationwide.
In late August, The Atlantic wrote that some U.S. citizens suspect contact tracing to be a tool of a "communist... police state" meant to surveil and track citizens. The publication stated that the nation's high infection rate, lack of available testing and citizen distrust of government agents have all frustrated contact tracers' efforts to track virus transmission.
Some people have questioned whether the president really has COVID-19.
Entertainer Bette Midler wrote of the president's condition, "Timing's so interesting. I guess Trump's quarantining will mean no rallies, and no more debates. Convenient. It's awful to always think the worst, but after four years of relentless lying? Can't be helped. No trust left."
Newsweek contacted the White House for comment.