'Horrific' Photo Shows Whale With Sliced-off Tail After Boat Collision: 'Shrilling Calls of Pain and Fear'
A photographer has captured the tragic sight of a pilot whale whose tail was severed when it was struck by the propeller of a boat.
The graphic image, taken by Francis Pérez off the Canary Islands and shared to Instagram Wednesday by fellow photographer Cristina Mittermeier, has gone viral online, receiving almost 50,000 likes as of 4.30 a.m. ET.
Pérez attended the scene with a wildlife veterinarian and a marine biologist after onlookers heard the young whale's "shrilling calls of pain and fear" as it tried to swim, according to Mittermeier's post.
The injury was so critical that the trio decided to euthanize the animal "with the kind of sorrow that can only be understood by people with enough empathy to do what they had to do," the biologist and wrote.
Describing the "horrific" photo as a "wake up call," Mittermeier asked others to become more engaged with the issue. "Enforcing regulations on vessel speed limits is very difficult but it all begins with awareness and public pressure; the kind that demands that the voices of thousands of people are heard," she continued.
The activist, who co-founded marine conservation nonprofit SeaLegacy, added that her group is pushing for legislation that would help stop this kind of incident.
A spokesperson for SeaLegacy told Newsweek that although it's impossible to know exactly how many incidents like this occur, they will likely become more common as marine traffic increases and whale populations become healthier.
"After being hit by a vessel, most cetaceans sink and never surface. They are not killed immediately, but rather sustain fatal injuries that prevent them from feeding, swimming or breathing. They die slowly," the spokesperson said. "The image Francis Perez was able to share is rare and important. His picture shows us what we often hear about but can't see. The impact of ships on whales is real, and it's devastating."
The International Whaling Commission has created a plan to help address the problem, which includes recording information on strike incidents: Which species are being hit and how fast boats involved in strikes are travelling.
Speed is a key factor in dangerous collisions. "The most immediate thing we can do to minimize this is slow down," the SeaLegacy spokesperson said.
Readers concerned about strike incidents can offer their support to local initiatives aimed at improving regulation and monitoring. Although boats hit, injure and kill whales all around the world, "change often starts in specific areas with localized action," the spokesperson added.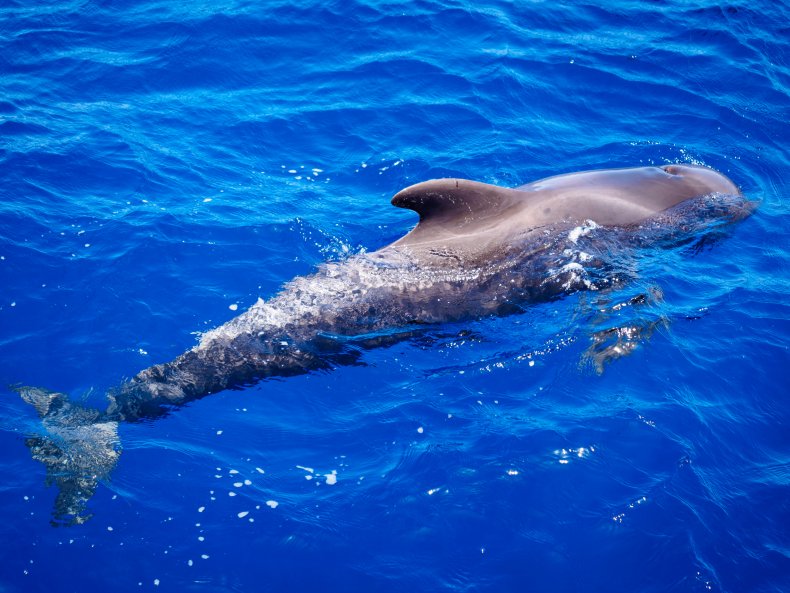 Instagram users were shocked by Pérez's image, and praised those who made the difficult decision to euthanize the animal. "To [euthanize] is the most heroic act, my heart goes out to the heroes who helped this suffering child of the planet," commented one user.
Another said: "[This] was the best outcome. If left unattended it would be an agonizing slow road to certain death. Especially if predators were around."
Other users called for tighter regulations on boats in the area. One commented: "My heart breaks. I hope there is major reform. With the amount of ships, their speeds, and regulating their time on the water."
Another user added: "I wish we could push for mandated propeller guards or inboard motors, or jet boats only in sensitive areas. We are seeing to much of this."
Two crew members on an Icelandic fishing boat came under fire in May after they filmed themselves cutting off the tail of a live shark that got tangled in a rope. The men appear to smile and laugh in the clip, which quickly went viral after it was shared by a shocked Facebook user. "Good luck trying to swim, you punk," one of the men is heard saying off-screen as the bleeding creature tries to swim away.
The footage provoked outrage online, prompting Game of Thrones and Aquaman actor Jason Mamoa, to write on Instagram: "Never have I wanted to hurt a human as much as I did when I heard your laugh and what [you] said...we all make mistakes but what [you] did was evil PURE EVIL. You will get what that shark got. F*** YOU."
This article has been updated with comment from a SeaLegacy spokesperson.