What Are FGM-148 Anti-Tank Rockets? Latest U.S. Weapons Package for Ukraine
During his unannounced visit to Ukraine, U.S. President Joe Biden said he would soon be committing a further $500 million in military equipment to the nation as it prepares for a spring offensive from Russia.
Biden's five-hour trip to the Ukrainian capital Kyiv came just days before the one-year anniversary of the start of Russia's full-scale invasion of Ukraine on February 24. During his visit, he held talks with Volodymyr Zelensky, his Ukrainian counterpart, as well as military officials.
The latest package of military aid, which Biden referred to in a press conference in Kyiv, will include more Javelin anti-tank missile systems.
The FGM-148 Javelin is an American-made version of a portable missile system that can be used either shoulder-mounted or on the ground by soldiers and has a guidance system described by the manufacturers as "fire-and-forget." The missiles attack the top of tanks, where armor is typically at its thinnest, making them highly effective.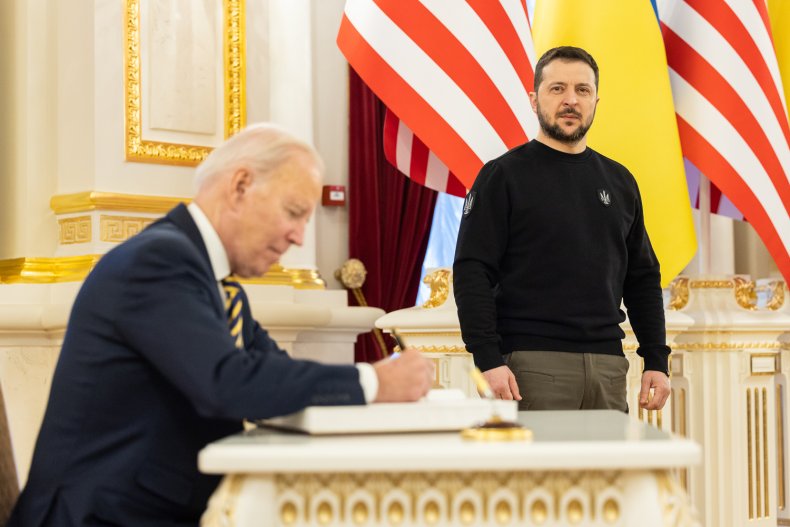 According to the Associated Press, in May 2022 the U.S. had already supplied Ukraine with around 7,000 Javelins—about a third of its stockpile. In September, the U.S. Army awarded Lockheed Martin and Raytheon a joint $311 million contract to increase production, including 1,800 rounds that would be sent to Ukraine to replenish their stocks.
Lockheed Martin described the Javelin at the time as "a versatile, one-man-portable and multi-purpose weapon system that provides the capability to defeat a broad spectrum of threats under all conditions."
Since the Russian invasion began 12 months ago, Javelins have become a patriotic symbol for Ukrainians because of the tide-turning capability that has been attributed to them; a mural in Kyiv entitled Saint Javelin shows Mary Magdalene holding one of the weapons, while Ukrainian toy factories have produced soft versions of the weapon for children.
Ukrainian officials said that, as of February 20, it had destroyed 3,316 Russian tanks—a rise of six since the previous day—as well as 6,553 armored combat vehicles, though Newsweek was unable to verify these figures.
Ukraine had relatively few of the missile systems before the conflict started, with a handful being sent from Baltic states and the U.K. in the months leading up to the war. In 2022, thousands of Ukrainian trainees were sent to the U.K. to learn how to use the weapons, alongside survival skills.
Biden's latest package also includes ammunition for HIMARS—a U.S.-developed rocket launcher that Ukraine has also trumpeted as highly effective—and howitzers, as well as air surveillance radars that the U.S. president said would "protect Ukrainian people."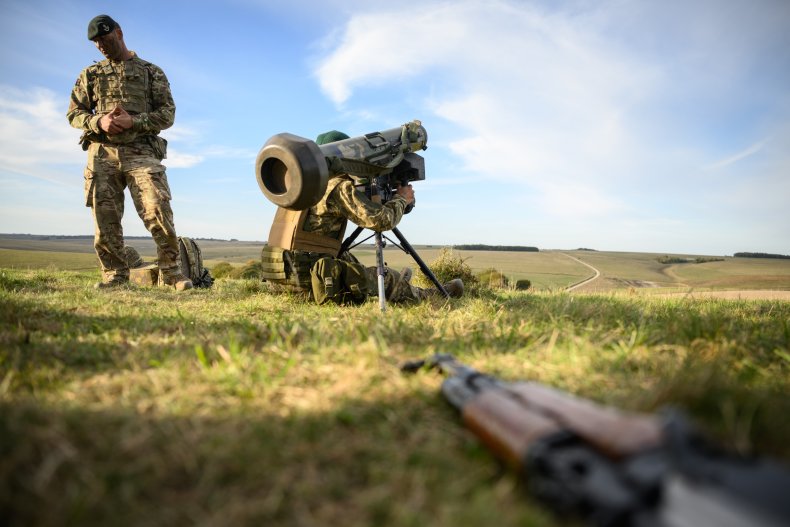 He added that with other allies, "we have committed nearly 700 tanks and thousands of armored vehicles, 1,000 artillery systems, more than 2 million rounds of artillery ammunition, more than 50 advanced launch rocket systems and…air defense systems."
Zelensky described the defense package as "powerful" and said discussions included "the issue of long-range weapons and weapons that can be supplied to Ukraine."
Ukraine has been pushing for new, long-range systems to be sent that it does not currently have, which would allow it to strike Russian military targets well behind their current defensive lines, which HIMARS are unable to reach.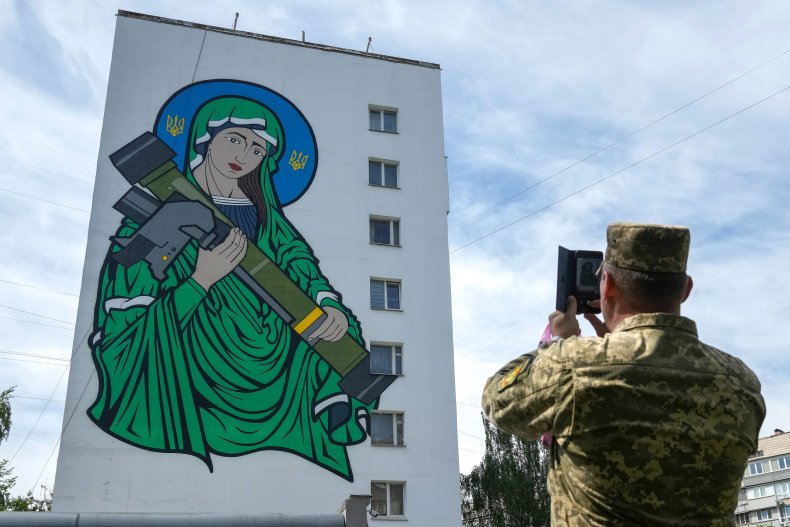 Jake Sullivan, the U.S. national security adviser, said he could not detail any potential new capabilities for Ukraine, but that there had been a "good discussion" on the subject, according to the Associated Press.
Zelensky praised America's decision in January to send 31 M1 Abrams tanks, saying it "laid the foundation for the tank coalition." Germany committed to sending 14 of its Leopard tanks to Ukraine, which according to various reports was contingent on a U.S. commitment.
Biden also pledged a fresh round of sanctions against Russia, to be announced later this week. He said the economic sanctions would target "elites and companies that are trying to evade sanctions and backfill Russia's war machine."