What Are Small-Diameter Bombs? U.S. Weapon Might Cross Putin's Red Line
The war in Ukraine could escalate if the West provides Ukrainian President Volodymyr Zelensky with more weapons that are capable of hitting targets in Russia, the Kremlin said Thursday.
The remarks came a day after a report said the U.S. plans to give Ground-Launched Small-Diameter Bombs (GLSDB) to Ukraine.
"Potentially, this is extremely dangerous, it will mean bringing the conflict to a whole new level, which, of course, will not bode well from the point of view of global and pan-European security," Kremlin spokesman Dmitry Peskov told reporters about Western weapons that could strike inside Russia, according to Agence France-Presse (AFP).
Peskov's comments came before a scheduled Friday meeting between the U.S. and other Kyiv allies in Germany to discuss new support for Ukraine. Politico on Wednesday reported that an announcement is also expected to come Friday that the U.S. will provide Ukraine with Stryker armored vehicles and GLSDB.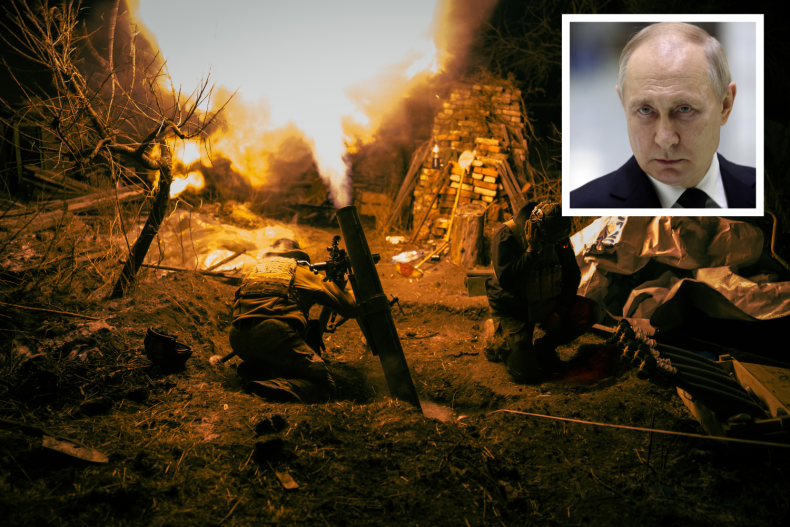 GLSDB are precision bombs that are said to be inexpensive and capable of being fitted on rockets available in Ukraine's arsenal. Reuters reported that GLSDB would allow Zelensky's troops "to strike far behind Russian lines."
GLSDB were developed by SAAB in partnership with Boeing. On its website, SAAB describes the GPS-navigated GLSDB as a long-range munition that can hit targets 150 kilometers (95 miles) away.
The small-diameter bombs are "highly effective and accurate over long distance," and each GLSDB is outfitted with a "multipurpose, penetrating blast-and-fragmentation warhead and programmable electronic fuze," according to SAAB.
Additionally, the company said the bombs are able to be used in all weather conditions, can hit targets inside caves and are designed to "engage from any angle" for "supreme flexibility."
SAAB's website also says that GLSDB are so precise that the bombs "can hit within the radius of a car tire."
Retired U.S. Lieutenant General Ben Hodges on Wednesday said that giving Ukraine GLSDB could have a noticeable impact on the war.
"GLSDB [ground launched small diameter bombs] will reduce sanctuary for Russians," tweeted Hodges, who formerly served as the commanding general of U.S. Army Europe.
"Life is about to start getting very uncomfortable for Russian navy, air force and ammunition handlers on Crimea, along the 'land bridge'...and hopefully soon for repair crews on Kerch Bridge."
Carl Bildt, co-chair of the European Council on Foreign Relations and former prime minister of Sweden, tweeted on Wednesday about the potential effectiveness of GLSDB, saying the weapons would be "a substantial augmentation" to Ukraine's armament.
Newsweek reached out to the Russian Foreign Ministry and the U.S. Department of Defense for comment.