What Is Ash Wednesday? The Meaning Behind the Christian Holy Day
Today marks the annual Ash Wednesday observance, a prominent date for many Christians across the globe.
The annual event marks the beginning of Lent, a 40-day fasting period–excluding Sundays–in which Christians reflect and repent for their sins.
Ash Wednesday is traditionally observed by Christians, such as the Roman Rite Catholics, Anglicans, and Lutherans among others and is always held 46 days before Easter Sunday, which this year falls on April 17.
The day gets its name from early Christian traditions held to honor the date, as believers would practice public penance and be sprinkled in ashes in order to seek forgiveness from God.
By the 10th Century that practice had been replaced. Instead, believers were marked with an ash cross on their foreheads, to the words 'Repent, and believe in the Gospel' or 'Remember that you are dust and to dust, you shall return', a practice which continues in modern times.
The words are taken from the biblical story of Adam and Eve, who received a similar message after indulging in sin themselves. The phrase is meant to lead believers to reflect on their sins and seek repentance.
Traditionally, the ashes are made by burning psalm leaves from the previous year's celebration and symbolize death, repentance and purification.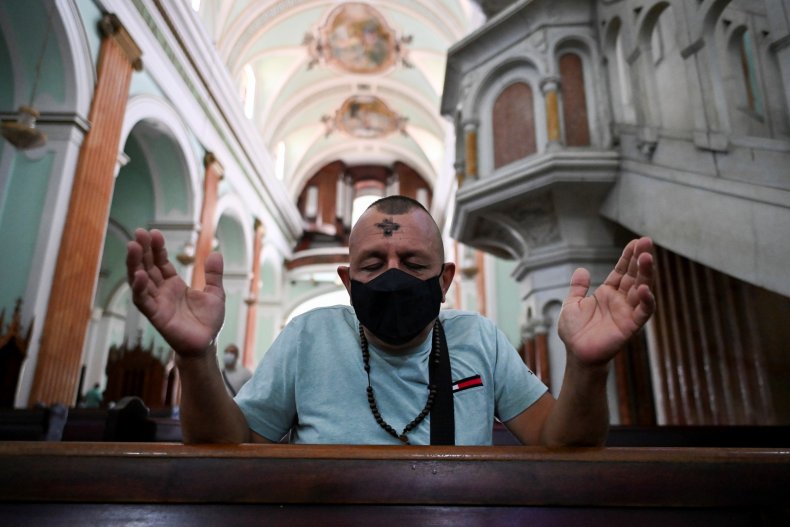 Ash Wednesday Fasting
Ash Wednesday follows Shrove Tuesday, also known as Pancake Day, when worshippers traditionally make pancakes and other sweets to use up rich, indulgent foods such as sugar, eggs and milk ahead of the upcoming Lent period.
It then ushers in the 40-day fasting period during which many Christians choose to forgo some of the foods they are accustomed to eating on a regular basis.
Catholics traditionally avoid consuming meats such as pork, chicken, beef, ham, and lamb on Ash Wednesday, an act of penance that is also practiced on Good Friday, and the other Fridays throughout Lent.
Nonetheless, other animal products such as dairy are still allowed.
Drinking and consuming liquids between meals is still fair game, and practicing believers typically eat one full meal or two smaller meals throughout the day in order to keep the hunger at bay and remain energised and healthy.
Worshippers between the ages of 18 and 59 are traditionally expected to fast, though exemptions exist for children, the elderly, pregnant women, and those who may feel unwell.
It is also customary for believers to give up a vice or an indulgence for the duration of Lent as a representation of the Temptation of Christ, who fasted for 40 nights in the Judean Desert.
Modern indulgences that are often surrendered during Lent include sugar, chocolate, dairy, TV, social media, alcohol or tobacco.
Ash Wednesday During COVID
Last year, traditional Ash Wednesday proceedings were disrupted by the COVID-19 pandemic, as social distancing obligations worldwide forbade the usual drawing of the cross on worshiper's foreheads.
However clergymen, churches and believers found new ways to commemorate Ash Wednesday. Drive-by Ash Wednesday events were seen across the U.S., with clergymen finding new uses to the swabs many of us have become so used to throughout the pandemic, employing them to draw the ash crosses.
Services this year won't be as limited, as many countries across the globe have loosened their national restrictions and large portions of the population have received their COVID vaccination.
This has provided churches and worshippers with greater flexibility, though most services are expected to require some form of mask use and reduced capacity at in-person celebrations.
Churches are offering a number of alternatives such as making the imposition of ashes optional, providing at-home ashing, the option to draw the ash cross on oneself, or q-tip drawn crosses.
Each parish will employ their own individual rules in accordance with local regulations.