What Is Behind Claim Joe Biden 'Laundered' Billions in Ukraine Aid via FTX?
The global cryptocurrency market has suffered yet another devastating setback over the past two weeks, after FTX, among the largest exchanges in the world, filed for U.S. bankruptcy protection, putting billions of dollars in investments at risk.
The now former CEO, Sam Bankman-Fried, saw his net worth of $16 billion wiped out in a matter of days, per Bloomberg, following an asset scandal that may leave one million creditors unable to recoup funds.
It's another bad news story for the cryptocurrency market at large, which has collapsed in value from more than $3 trillion around 12 months ago to $827 billion at the time of publication.
While others outside of FTX now face further scrutiny for their financial ties to Bankman-Fried, including politicians, one conspiratorial claim connecting U.S. funding for Ukraine to the exchange's collapse has taken root.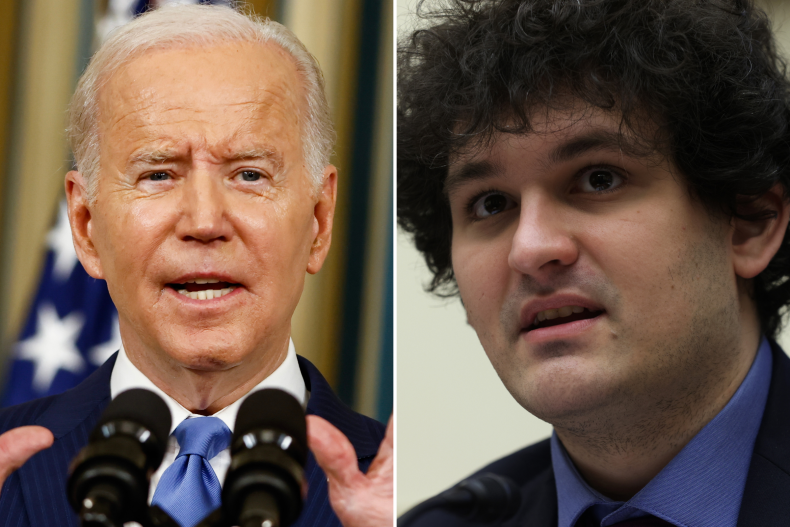 Multiple tweets, posted between November 12-15, 2022, claim that Ukraine sent billions of dollars sourced from foreign aid to FTX, which was then sent back to the Democratic party.
The claim has been spread by a number of prominent right-leaning commentators and politicians, including Madison Cawthorn, James Woods, Calvin Robinson, Seth Dillon and Jack Posobiec, among others.
Various iterations of the narrative took root on conspiracy theory subreddits, 4Chan, and other fringe online spaces.
The collapse of FTX has had a staggering impact on the world of cryptocurrencies, resulting in a dominoes-like collapse of popular cryptos, such as Bitcoin, the value of which fell to a two-year-low, and shaking the industry as a whole.
To understand if and how its demise is connected to U.S. political parties and Ukraine, Newsweek has broken down both the timeline of FTX's troubles and how that relates to the claim being spread online.
What happened at FTX?
The crisis began following a November 2, 2022, report by cryptocurrency news site Coindesk that a hedge-fund run by Bankman-Fried held a huge number of FTX's native cryptocurrency FTT tokens. The fund, which was meant to be a separate business, was claimed by Coindesk to have close financial ties to FTX.
Shortly after, FTX's main competitor, Binance, announced it would sell its FTT tokens. As panic among FTT holders and investors set in, FTX attempted to process an estimated $6 billion in withdrawals in three days.
This sparked liquidity fears—namely that FTX would not have the means to pay its customers and clients—and briefly prompted Binance to announce a non-binding letter of intent to buy the platform (which it later walked away from).
Bankman-Fried said his hedge fund, Alameda Research, was to be wound down while FTX announced it had filed for U.S. bankruptcy protection.
The downfall has left investors in the dark; according to Reuters, at least $1 billion in customer funds are now missing.
How are U.S. political parties involved?
Caught in the tailwinds of the scandal, many onlookers have pointed out the links between FTX and U.S. political parties, particularly the Democrats.
Bankman-Fried's personal contributions to the Democrats have been public knowledge for some time, and he was the subject of a Politico profile in August 2022 that described him as the "newest megadonor," but he has also made contributions to Republicans.
He tweeted on November 5, 2022, that he was "a significant donor in both D and R primaries. Supporting constructive candidates across the aisle to prevent pandemics and bring a bipartisan climate to DC. And working with them to support permissionless finance."
"As part of this, @rsalame7926 [FTX Executive Ryan Salame] and I signed up campaigns to accept crypto; and gave some, including millions to Senate & House Republicans."
Open Secrets, which tracks political lobbying, shows that FTX spent more than $70 million on lobbying in 2022. These include contributions to a number of Democratic and liberal PACS, such as the Protect Our Future PAC and the House Majority PAC among others.
Earlier this year, it was reported by The Intercept that FTX executive Ryan Salame started American Dream Federal Action, his own super PAC focused solely on electing Republicans, into which he invested millions of dollars.
Salame also contributed to the Republican Senate Leadership Fund and Congressional Leadership Fund. These donations were also reported, as per The Intercept article above, prior to the collapse of FTX.
The underlying implication among the claimants—that the Democratic Party was the sole beneficiary of donations stemming from FTX wealth—is provably false.
Bankman-Fried has expressed interest in U.S. digital currencies legislation that may benefit the cryptocurrency industry and its preferences on regulation.
Before FTX's collapse, he told the Washington Post he was "really excited" by new legislation that would give the U.S.' Commodity Futures Trading Commission primary regulatory oversight over crypto markets, currently regulated by the Securities and Exchange Commission (SEC).
The SEC has been at the center of various high-profile cryptocurrency regulation discussions and actions in the past few years, most notably in its protracted legal battle with Ripple, producer of XRP, another cryptocurrency.
Did FTX send Ukrainian crypto donations to the U.S.?
FTX has also played a role in providing Ukraine with the capability to receive cryptocurrency donations since Russia's invasion.
In March 2022, the Ukrainian government launched a crypto donations website, Aid for Ukraine, with the backing of FTX, to route donated crypto to the National Bank of Ukraine. According to its website, Aid for Ukraine has received more than $60 million in donations including 611 Bitcoin, 10,723 Ethereum, and 15,048,821 USDT (which is at least on paper supposed to be pegged to the U.S. dollar, though that may be no longer tenable).
Everstake, a crypto firm involved in setting up the donations, has responded on Twitter to claims that these funds were illegally transferred to the Democrats, stating Aid for Ukraine had used FTX "only a few times in March 2022 exclusively to convert crypto donations into fiat" which it said The National Bank of Ukraine had confirmed receipt of.
It added that of the $60 million received through Aid For Ukraine, $54 million had been spent on "Ukraine's humanitarian and military needs." Ukraine's Vice Prime Minister Fedorov Mykhailo made the same claim on Twitter, and included what he said was a breakdown of this spending.
Everstake added that the funds received were not stored on FTX and could be "converted into fiat elsewhere if necessary."
Its CEO Sergey Vasylchuk took to Twitter as well, alleging that the claim was part of a Russian disinformation effort.
"Every time Russia is defeated on the battlefield, it starts looking for another way to cover up its military failures in the media by spreading fake news based on made-up assumptions," Vasylchuk said.
"This time, they decided to use the FTX collapse to spin yet another tale about money laundering. It's obvious that Western support of UA hurts Russia as it leads to its losses on the battlefield.
"We know for a fact that every donation was spent for the benefit of Ukraine."
Moreover, this was not the only cryptocurrency donation fund to Ukraine. As well as the official crypto wallets of Ukraine there are a number of other major exchanges (such as Binance) that have set up relief funds, as well as NGOs and charitable organizations with wallets.
While the news of FTX's collapse has brought to light its network of business and government connections, there has been no recent investigation as to whether any other donation wallets sent crypto or fiat back to the U.S.
Crucially—and contrary to the conspiracy claims—we have seen no evidence that Ukraine invested billions of dollars into FTX to begin with. No such statements or announcement has been made by the Ukrainian government, its Central Bank, or FTX.
In any case, these donations, going to Ukraine and not out of it, were made from individuals and organizations from around the world, and were not part of the U.S.' aid packages.
Was U.S. aid misappropriated?
The claim that funds were effectively "laundered" from Ukraine via FTX back into the U.S., less so to the Democratic party coffers or Biden himself, is unevidenced.
Newsweek has investigated the coverage of this claim across social media and larger media outlets and could find no transaction ID, statements, or any other tangible evidence to support the idea that U.S. funding or crypto donations were washed back to the Democratic Party, through a Ukrainian investment in FTX or otherwise.
The claim does not acknowledge the auditing and scrutiny that U.S. foreign aid receives to ensure that it is spent appropriately on measures relating to Ukrainian assistance.
For example, under the Additional Ukraine Supplemental Appropriations Act 2022, the bill behind the $40 billion in emergency funding to Ukraine, $5 million was spent on oversight of the funds alone, including by the Department of State Inspector General and the USAID Inspector General.
The Office of Inspector General Oversight in the Department of Defence (DOD OIG) and the U.S. Agency for International Development (USAID OIG) both provide audits of the use of funding in Ukraine and investigate complaints and allegations of misuse or attempted misuse of USAID funding and DOD funding.
Part of the USAID OIG's remit includes examining avenues for fraud and corruption in U.S-funded foreign assistance programs, and providing preventive measures.
These include (but are not limited to) verification of cash assistance, using regulated money transfer agents, and using security-locked beneficiary lists before they are disseminated.
THE DOD OIG recently published a congressional report on the use of this funding, broken down by recipient—such as the army, air force and navy—with details on the amount of money due to be spent and what was actualized. This report is informed by third-party reporting provided by analytics firm Advana and also includes recommendations surrounding any accountability concerns noted by the DOD OIG.
For the Ukrainian government to invest in a cryptocurrency exchange using U.S. government funding—under the nose of a multi-million dollar oversight process coordinated between the Office of Inspector General, the DOD and USAID—it would require a major lapse in oversight from those auditing Ukraine and a breakdown of protections in place to ensure funds could not be re-appropriated.
Furthermore, funding for Ukraine received bipartisan support, meaning that both Democrats and Republicans signed off on the terms of the funding and how it would be managed.
In response to these claims Alex Bornyakov, Deputy Minister of Digital Transformation of Ukraine on IT industry development tweeted: "A fundraising crypto foundation @_AidForUkraine used @FTX_Official to convert crypto donations into fiat in March. Ukraine's gov never invested any funds into FTX. The whole narrative that Ukraine allegedly invested in FTX, who donated money to Democrats is nonsense, frankly."
"The easiest allegation in the world"
To examine the claim further, Newsweek spoke to Dr. Anna Bradshaw, a partner at U.K. law firm Peters & Peters, and an expert on financial crime and anti-money laundering.
Bradshaw said that rather than money laundering (i.e., per Interpol's definition, "the process of concealing or disguising the origins of illegally obtained proceeds so that they appear to have originated from legitimate sources"), the claim had more commonalities with fraud.
"You're trying to make the money look like it's coming into the political party, if that indeed is where it ends up, as a lawful, unrelated donation," Bradshaw said.
Bradshaw added that while it wouldn't have surprised her to learn that such a fraud scheme could happen, it was also "the kind of populist allegation that is very easy to make and very difficult to actually back up."
"Sending it back to the country of origin, if you like, is quite an interesting variation on the theme. It wouldn't be the first time (but) probably wouldn't be happening without some pretty sophisticated assistance in the USA as well as Ukraine," she said.
"But having said that, money laundering is the easiest allegation in the world to make. It's obviously particularly telling if an allegation like that was made without any sensible or obvious backup.
"Money laundering itself is a pretty unhelpful concept when you're trying to work out what's happening because it can cover such a broad range of things."
Where did these claims come from?
The provenance of this misleading narrative is rather murky. The earliest example Newsweek's Fact Check Team found was published on November 11, 2022, on the Hal Turner Radio Show website. It was presented without evidence, alongside what appeared to be antisemitic tropes (archived here) featuring Bankman-Fried (who is Jewish), material which has also been shared on Twitter and other social media sites.
Hal Turner, a right-wing conspiracy theorist who according to the FBI was sentenced in 2010 to 33 months in prison for threatening three federal appeals court judges, has spread numerous false claims via his website.
NewsGuard, which reports on the reliability of online content and news sites, has given Hal Turner Radio Show one of its lowest ratings, finding it repeatedly published false content and did not gather and present information responsibly.
Newsweek has reached out to Hal Turner for comment.
In the context of this claim, it should be noted that the FBI and the Cybersecurity Infrastructure Security Agency released a statement in October 2022 that "foreign actors" were likely to use "information manipulation tactics for 2022 Midterm Elections."
"Foreign actors may intensify efforts to influence outcomes of the 2022 midterm elections by circulating or amplifying reports of real or alleged malicious cyber activity on election infrastructure," it stated.
"Additionally, these foreign actors may create and knowingly disseminate false claims and narratives regarding voter suppression, voter or ballot fraud, and other false information intended to undermine confidence in the election processes and influence public opinion of the elections' legitimacy.
"As with previous election cycles, foreign actors continue to knowingly spread false narratives about election infrastructure to promote social discord and distrust in U.S. democratic processes and institutions, and may include attempts to incite violence."
An absence of evidence (without proof to the contrary) does not mean we can yet rate the narrative pushed on social media as false. But the combination of verifiably untrue and misleading elements contained in it, its dubious origin, the lack of internal cohesion, and the lack of reliable sources and accounts involved in its initial proliferation, put a major dent in its credibility. As such it should be viewed with heavy skepticism.
Newsweek has contacted The White House, FTX, the Ukrainian government and the Hal Turner Radio Show for comment.