What Is Bionic Reading and Why It Feels Like 'Unlocking 100% of Your Brain'
Ever find your attention drifting while you're trying to read through a block of text? Well, a new innovative reading system claims to be able to help. Offering the tools to make reading faster and more focused, Bionic Reading has gained viral attention this week.
UX writer and Twitter user juanbuis shared his discovery of the method on Twitter on Wednesday when he wrote: "It's incredible how reading this feels like finally unlocking 100 percent of your brain," and shared an image of the Bionic Reading system.
With more than 110,000 likes and thousands of retweets and quote tweets, internet users were amazed by the difference between regular text and the new Bionic Reading.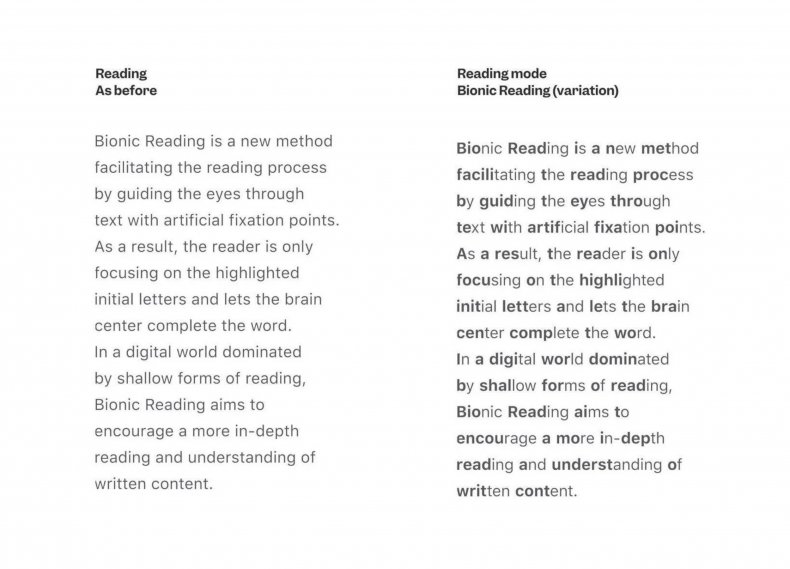 What is Bionic Reading?
Founded by typographic designer Renato Casutt from Switzerland, Bionic Reading revises text by highlighting the most concise parts of the words. This creates an artificial fixation point that guides the eye through the text while the brain remembers previously learned words more quickly.
Casutt told Newsweek: "Bionic Reading supports the reader; as long as one is willing to be guided."
Not the first system designed to support people as they read, there are other methods, including speed reading—a process of rapidly recognizing and absorbing phrases or sentences on a page. But Casutt says there are striking differences between Bionic Reading and speed reading: "Bionic Reading does not have to be learned, because it happens intuitively. There are users who can read faster with BR, but there are also readers who have dyslexia that can read better. And then there are readers who, professionally, should read more focused [while using Bionic Reading]."
"Works a Charm"
The Dyslexia Center of Utah reports that one in five students, or up to 20 percent of the population, have a language-based learning disability that means they struggle with reading. Meanwhile, 20–25 percent of adults in the U.S. can reportedly only read at the lowest level.
The team at Bionic Reading says they have had feedback indicating that—thanks to their system—people with dyslexia immediately understood the content of various texts the first time they read them, which they said was impossible without the help of Bionic Reading.
Amazed by the difference between the before and after, internet users have rushed to praise the innovative system.
"Need this everywhere," wrote one commenter, while another Twitter user wrote, "Absolutely fascinating and works a charm."
"I can't explain it but I can feel how much easier it is for me to process the right column," wrote one internet user: "It's like it helps me stay focused on the text, instead of my mind wandering as I read and retain nothing. Everyone's different, but textbooks like this would've been game-changing for me."
"We Want Our Reading Method To Be Used Worldwide"
When creating the system, the Bionic Reading team looked closely at the work of various researchers in the field of text and comprehension, and noted that historical scientific eye movement research has existed since 1905.
The team says: "When we fixate on a part of a word—the fixation—the necessary information is passed to our brain so that we can match out long-term memory with the available representation products."
At the moment, Bionic Reading is available as an API (Application Programming Interface) or SaaS (Software as a Service).
"We want our reading method to be used worldwide as a standard in all kinds of software products," said Casutt. "The reactions online have made me very confident that the reading method can be used as a standard in all kinds of software products."
Online, people have continued to try out the method, with the now-viral sample text making rounds on Twitter, LinkedIn and other social media. One Twitter user joked that it was "Glamified reading," while another commenter said, "I've never read this fast in my entire life holy sh—"
"This actually worked for me," wrote another first-time user. "It seems like it could potentially be pretty great in regards to accessibility for stuff like ADHD."
"The possibilities for use are almost limitless," shared Casutt. "That, in my opinion, is what makes Bionic Reading so interesting."