Twitter CEO Jack Dorsey showed off his Blockclock whilst appearing at the House Committee of Energy and Commerce hearing on Thursday to answer questions about misinformation online.
The device could be seen sitting on a counter behind Dorsey's right shoulder, occasionally alternating between numbers that, to most people, appeared to be arbitrary.
Sometimes the rectangular block would show 1,952, others it would suddenly switch to 676,274.
It was soon identified by social media users as the Blockclock Mini—a device sold by cryptocurrency hardware manufacturer CoinKite. It can be seen on the lower left in the shot of Dorsey speaking below.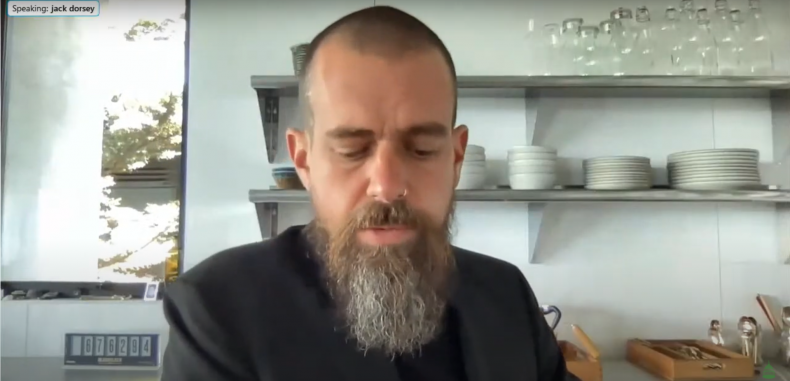 Journalist Saleem Khan wrote: "The figure it displayed changed dramatically, apparently showing statistics from at least two sources. What is it? What is it showing?"
The $399 Blockclock Mini is essentially a Bitcoin tracker. Using an internet connection and a display, the clock can be customized by its owner to show real-time updates on a number of Bitcoin statistics.
This could include their Bitcoin balance, how much Bitcoin is worth in a given currency, or other figures.
Dorsey's clock appeared customized to show at least two different statistics: how many Satoshis—the smallest 'chunk' of Bitcoin possible, like a cent is to a dollar—go into a dollar; and how many blocks exist on the Bitcoin blockchain, according to CNET.
These two figures were around 1,952 and 676,274 respectively at the time Dorsey was speaking.
CoinKite also makes the Blockclock, a bigger, more comprehensive, and noisier version of the Mini which uses an electromechanical display.
The manufacturer only ever produced 500 of these larger versions "in the spirit of scarcity," and they all appear to be sold out.
Again, users who opted for the larger Blockclock can customize it to their tastes depending on how often they want it to update, what Bitcoin statistics they want it to show, and even its noise levels.
To keep owners inspired, it includes the Latin motto that has been adopted by Bitcoin enthusiasts: "Vires in Numeris," or "Strength in Numbers".
It also includes a headline from The Times newspaper in 2009, which reads: "Chancellor on the brink of second bailout for banks."
One Bitcoin is currently worth $53,778 according to price tracking site CoinDesk—up 2.56 percent on the day but down from its all-time high of over $60,000 on March 13.
It means the total value of all Bitcoins in existence is almost exactly $1 trillion at the time of writing. This is also known as Bitcoin's market cap.
Dorsey is known to be a fan of Bitcoin. In February, his digital payment company Square invested $170 million in the cryptocurrency—more than tripling its previous stake.