What Is BolaWrap? Buffalo Police Deploy Lasso-Style Device to Subdue Woman
The Buffalo Police Department in New York has deployed BolaWrap for the first time, using the restraint tool last week to subdue a woman during a mental health call.
On Friday, officers responded to a call about a woman who might harm herself or others and was "underdressed" in the snow, WGRZ reported.
Police said they spoke to the woman at length and urged her to get into a police car to be taken for a medical evaluation. She refused, prompting officers to use BolaWrap.
It allowed officers to transport the woman to hospital without anyone getting hurt, police said.
BolaWrap is a hand-held device that fires a Kevlar cord that wraps around a person's arms or legs from 10 to 25 feet away. The lasso-type tool is designed to detain a person from a distance, giving officers an alternative to guns or Tasers.
Wrap Technologies, its manufacturer, describes BolaWrap as like "remote handcuffs" and says on its website that it "safely and humanely restrains resisting subjects from a distance without relying on pain compliance tools."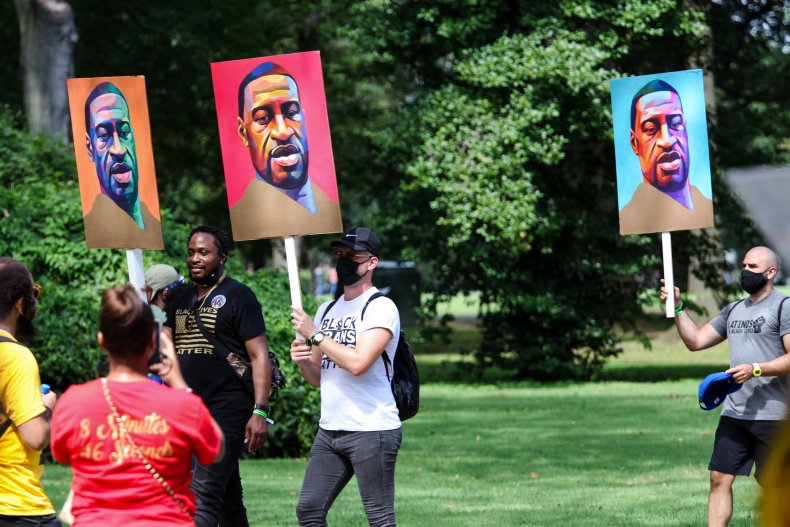 In a statement following Buffalo police's use of the device, the company's president Tom Smith said: "Public safety includes solutions that can de-escalate encounters, and that's exactly what the BolaWrap does.
He added: "BolaWrap doesn't rely on pain compliance and is designed to de-escalate situations and provide needed support for persons in crisis. We are pleased to continue seeing successful field deployments of the BolaWrap, especially by the police department of New York's second-largest city."
Smith later told Newsweek: "This device really was designed for these scenarios to try and make sure that it ends without people getting hurt and solving very difficult problems. That's what our company is all about."
Captain Jeff Rinaldo, a spokesman for the police department, told The Buffalo News: "It works."
But not everyone feels the same.
The newspaper reported that at least one person on the Buffalo Police Advisory Board said Friday's incident should have been handled by mental health professionals, not police.
De'Jon Hall pointed out that because the woman did not trust police, having officers show up in the first place was "not the way to calm someone down."
Rinaldo said mental health professionals were called to the scene as well as officers, adding that police deployed BolaWrap because "in a case like this, time is of the essence."
Hall also questioned the use of the device on a naked person.
On its website, Wrap Technologies states that if a subject is not wearing clothing, "the small hooks at the end of the tether may penetrate into a subject's skin."
The company adds that, in order to prevent it wrapping around a subject's neck, the device has a green laser line to help with accuracy and officers are trained not to deploy the tool above the elbow area.
Following nationwide protests against police brutality last year triggered by the death of George Floyd, Buffalo police announced in October that the department would begin a six-month BolaWrap pilot program to assess the device's effectiveness as part of a plan to reform policing in the city.
But the coronavirus pandemic forced training sessions for the tool to be delayed to 2021, WIVB reported.
Buffalo is not the only police department using the device. Wrap Technologies says BolaWrap is carried by more than 230 police departments in 46 U.S. states and many others are in the process of training and writing policies for their department.
The Fort Worth Police Department in Texas was reportedly the first law enforcement agency in the U.S. to use BolaWrap during an arrest, in April 2019.
The Buffalo Police Department has been contacted for additional comment.
This article has been updated with a comment from Tom Smith.