What Clint Eastwood Can Teach the Modern Media About Storytelling | Opinion
It may be his most unique work as a director. And his finest—and quirkiest—as an actor. But what's remarkable about Clint Eastwood's most recent release, The Mule, isn't just how fresh the movie is, or how different it is from anything he's ever done. This movie directed by, and starring, an 88-year-old about a 90-year-old Korean war vet turned horticulturist turned drug runner landed at number 2 in its opening weekend at the Box Office.
More remarkable, three of the last four films Eastwood has directed have opened at either number 1 or number 2 at the box office. American Sniper, released in 2014, was the highest grossing of his career, raking in nearly $500 million in worldwide box office receipts.
Read more: All of Clint Eastwood's movies ranked from worst to best
How has he done it? Algorithms? A team of data scientists? The answer is something more archaic; his gut instincts. And the love of a good story. Indeed, Eastwood's movies are a throwback to a time when stories—great stories and character development—dominated the movie landscape.
"The modern screenplay is where you build a set and then you blow it up," the writer and director Billy Wilder famously replied when asked, in his later years, to describe the movies modern Hollywood seemed to care most about making.
That's not Clint Eastwood's world. Senseless violence, gratuitous nudity, robots, chase scenes, and endless explosions play no part in the films he directs. The human heart does. The human condition does too, in all its varied forms. And American stories—particularly stories of grown up American men and women—in all of their broken beauty.
He's directed 38 movies in his career. And since 1992, he's been on a creative streak, making 21 in the past 26 years. And not just any films. Few directors create one classic American movie, but since 1992, Eastwood's created not one or two, but arguably nine.
And it all started with what may be his best movie, and one of the greatest westerns ever made: Unforgiven. How do you begin to summarize what makes the movie so good? It's one of those timeless movies that appear on cable TV endlessly, and when stumbled upon is simply impossible to not watch until the end.
Gone in this Eastwood film are affectations from his Josey Wales days. He's stripped his hero, William Munny, to the core. Unforgiven's protagonist was created, it seemed, as a rebuttal to the very mythology Eastwood helped create in his early work in westerns. There's a price to pay for all the violence, and Eastwood's lead character paid it.
"It's a hell of a thing killin' a man," Munny laments to a young, wannabe gun slinger. "You take away all he's got and all he's ever gonna have."
In the movie's final showdown, Little Bill Daggett (played flawlessly by Gene Hackman) is lying on the ground, staring down the barrel of a gun positioned just inches from his face. "I'll see you in hell," Daggett tells Munny, knowing his fate is sealed. "Yeah," Munny replies. He knows Daggett's right. He then proceeds to shoot Daggett in the head.
It is often referred to as a revisionist western, Unforgiven. Eastwood created it to be the genre's epitaph. This film, Eastwood was telling the world, is where the myth of the west dies.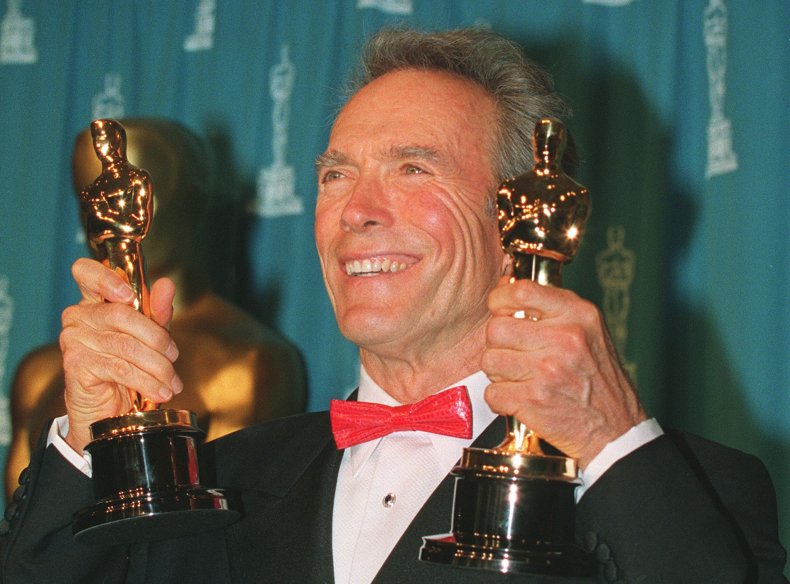 His next classic may be his most underrated: "A Perfect World contains a prison break, the taking of a hostage, a chase across Texas, two murders, various robberies, and a final confrontation between a fugitive and a lawman," wrote Roger Ebert. "It's not really about any of those things, however. It's deeper and more interesting than that. It's about the true nature of violence and about how the child is father to the man."
The film stars two iconic actors of their generation. Kevin Costner plays the role of a fugitive who takes a boy hostage, and Eastwood plays the Texas Ranger who leads the pursuit. But the movie is about so much more. Like all Eastwood movies, it is about relationships. Relationships gone wrong. Relationships redeemed.
The heart of the movie is the relationship between the outlaw and the kid Costner's character kidnapped. "You can look hard, but you won't be able to guess where this relationship is going," Ebert continued. "It doesn't fall into any of the conventional movie patterns. Butch isn't a terrifically nice guy, and Phillip isn't a cute movie kid who makes and then loses a friend. It's not that simple."
Eastwood's best movies seem simple, but rarely are. "I don't know nothin,'" mutters Eastwood's character in the film. "Not one damn thing." In so many of Eastwood's best movies, the characters don't seem to know themselves. We watch alongside them, as life surprises them. As they surprise themselves. And us. For better and worse.
Eastwood would continue to surprise all of us with Bridges of Madison County, an unexpected treasure, and a subtle movie about two people who meet, fall in love, but decide not to spend the rest of their lives together.
Based on the best seller by James Waller, Eastwood turns in a restrained and gentle performance as a professional photographer. Meryl Streep's performance may be the best of her life, playing the part of an Italian immigrant who finds herself raising a family on an Iowa farm.
There was a lot of negative press about the film glorifying adultery, but that criticism missed a deeper and more profound truth about love. And life.
"I've seen the movie twice now and was even more involved the second time, because I was able to pay more attention to the nuances of voice and gesture," Roger Ebert confessed in his review of the film. "Streep and Eastwood weave a spell, and it is based on that particular knowledge of love and self that comes with middle age.
"Younger characters might have run off together. Older ones might not have dared to declare themselves. The Bridges of Madison County is about two people who find the promise of perfect personal happiness, and understand, with sadness and acceptance, that the most important things in life are not always about making yourself happy."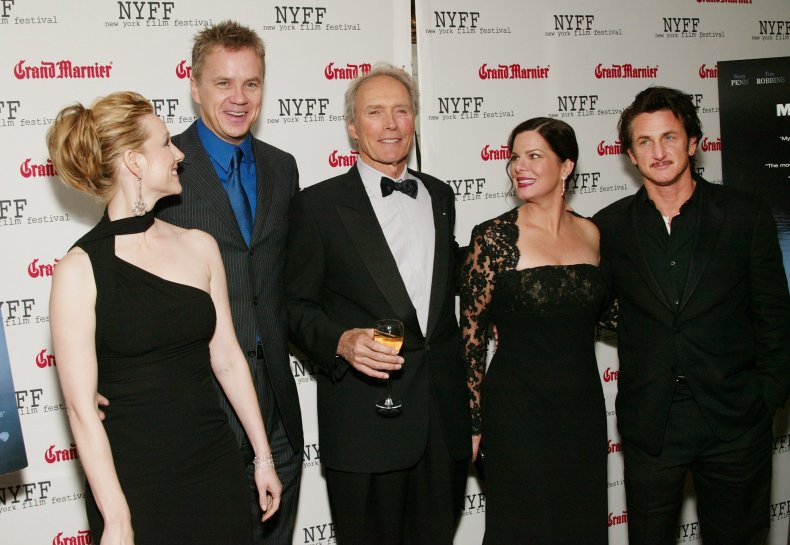 Between 1995 and 2003, there were several strong showings, and then came his next classic, Mystic River, an examination of a crime in the present that's linked profoundly to a crime in the past.
"It involves three boyhood friends in an Irish neighborhood of Boston, who were forever marked when one of them was captured by a child molester; as adults, their lives have settled into uneasy routines that are interrupted by the latest tragedy," Roger Ebert wrote in his review. "But the movie is about more than the simple question of guilt. It is about pain spiraling down through the decades, about unspoken secrets and unvoiced suspicions."
Sean Penn, Tim Robbins, and Kevin Bacon turn in the best performances of their respective careers. Eastwood earned Academy Award nominations for Best Picture and Best Director.
The very next year, Eastwood released another instant classic, Million Dollar Baby, for which he'd earn three Oscar nominations (Best Actor, Director and Film). He won the latter two.
"It tells the story of an aging trainer and a hillbilly girl who thinks she can be a boxer," Roger Ebert wrote. "But it's not a boxing movie. It is a movie about a boxer. What else it is, all it is, how deep it goes, what emotional power it contains, I cannot suggest in this review, because I will not spoil the experience of following this story into the deepest secrets of life and death."
It's a story, as Roger Ebert noted, about "a woman determined to make something of herself, and a man who doesn't want to do anything for this woman, and will finally do everything."
The relationship that grows between Eastwood and Hillary Swank is unlike anything we've seen on the big screen. It is, at its heart, a profound love story. A father-daughter story.
Curiously, critics complained that the film endorsed euthanasia. Nothing could be further from the truth. Eastwood's character is a dutiful Catholic torn between his faith and the end-of-life wishes of his friend. Frankie turns to his priest for advice, and his priest doesn't hold back. "If you do this thing," he tells Frankie, "you'll be lost, somewhere so deep you will never find yourself."
In the end, Frankie chooses to honor his friend's final request, and his anguish is palpable. It's a choice for which he'll pay a tremendous personal cost. And very possibly, in his mind, an eternal one.
Just a few years later in 2008, Eastwood would release yet another instant classic, Gran Torino, and act in what may be his most iconic role: Walt Kowalski, a cranky, beer drinking, racially insensitive retired Detroit autoworker who's quick with an insult and an unkind word.
Kowalski calls the Hmong family next door so many insulting Asian names in the span of the first hour that the audience stops counting. And yet, one scene leads to another, and soon the life of this old Korean War vet and this immigrant family are inextricably linked.
In the end, Kowalski sacrifices his own life for the Hmong family, and leaves his precious Gran Torino—a car he helped build when he worked at the local Ford assembly plant—to his adopted Hmong son.
"Walt makes no apologies for who he is, and that's why, when he begins to decide he likes his neighbors better than his own family, it means something," wrote Roger Ebert. "Gran Torino is about two things, I believe. It's about the belated flowering of a man's better nature. And it's about Americans of different races growing more open to one another in the new century."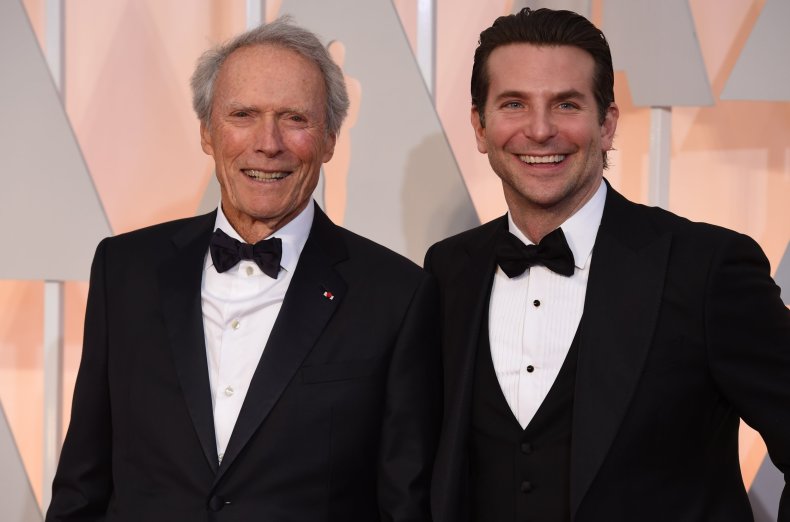 That would be enough classics for a lifetime. But in 2014, at the age of 84, Eastwood struck again with the release of American Sniper.
"Opening with a brutally suspenseful moment of decision for its titular character, Chris Kyle, the movie establishes all of the things it's going to be about—and the things it's not going to be about—with plain but almost breathtaking assurance," wrote Roger Ebert.
Kyle racked up 160 confirmed kills in service to his country, making him the deadliest sniper in U.S. Navy history. Those kills, and the psychological toll they take on Kyle's life, is the movie's relentless focus. We watch with a sense of helplessness and sadness. His wife Taya watches with us.
"By the time the sniper has completed his tour, the viewer has good reason to be a little, or more than a little, frightened by the guy. But Taya is not. This puts the whole story on an oddly suspended note that, as it happens, is resolved by a real-life ending that's not very Hollywood."
Roger Ebert closed things out calling American Sniper "one of the more tough-minded and effective war pictures of post-American-Century American cinema."
Only two years later, Eastwood knocked out another classic. "Sully certainly nails its white-knuckled depiction of 2009's Miracle on the Hudson, the emergency water landing made by U.S. Airways Flight 1549 that allowed all 155 of its passengers and crew to come out alive," Roger Ebert began his review of this 2016 classic.
In this movie, like so many others, Eastwood let's the cast do the heavy lifting. In Sully, it's practically a one-man show.
"As Capt. Chesley 'Sully' Sullenberger, Tom Hanks once again reminds us why he continues to be Hollywood's best personification of the all-American Everyman since Jimmy Stewart's Mr. Smith Goes to Washington," Ebert wrote. "Who else is so good at encapsulating such red-white-and-blue values as never-say-die commitment, pride in a job well done, doing your duty no matter the cost and selfless courage in the face of disaster without being a goody-goody bore?"
The antagonist in this movie isn't a person. It's a bureaucracy. The National Transportation Safety Board, to be precise. Using their computer simulators and data analysis, the bureaucrats grill Sully on his decision to land the plane on the Hudson River. They conclude he should have returned his plane back to the safety of a runway at Teterboro Airport or LaGuardia, and were ready to reprimand him, and possibly worse, for endangering the lives of the passengers on his plane. Sully would prove the bureaucrats wrong. And save not just his career, but his reputation.
Also lurking about the movie is the incessant pull of the mass media, who catapult Sully to instant fame, something he neither covets, nor enjoys.
"We did our job," Sully plainly states in interview after interview, with a particular emphasis on the word we. The movie is a study of restraint, competence and humility. Things that, in this non-stop, self-promoting selfie culture, seem in short supply.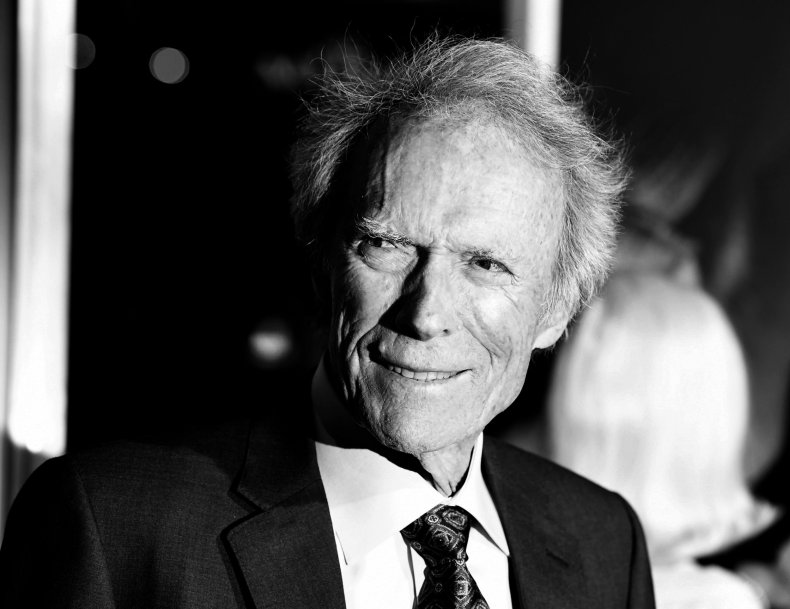 Which leads to Eastwood's latest instant classic, The Mule. The movie covers some real eternal themes, ranging from regret to forgiveness. The story is ripped straight from a New York Times Magazine article about a retired horticulturist who, in his late 80s, takes up a gig as a drug courier for the Sinaloa drug cartel.
But what makes the movie so interesting, like all classic Eastwood films, is the story within the story. Earl Stone, it turns out, has neglected his family for years tending to his nursery and the life of flower road shows. He's also neglected his own business, and the changes in his industry—and one day finds himself broke, and without a business or home. Which is how he stumbles into his new profession.
Just as Sully was essentially a one man show, so too is The Mule. In this movie, Eastwood makes even driving across endless open landscapes compelling. We watch him sing Dean Martin songs, help an African American couple with a flat tire, engage in not one but two threesomes, and carry on with the most dangerous criminal elements with a real sense not just of foreboding, but fun.
He's silly and sad. Charming and repulsive. And he does it all at the same time, and effortlessly. With the money he makes driving for the cartel, Eastwood tries to win back his family—and do good deeds. He saves a VFW with drug money, and pays for his granddaughter's cosmetology school tuition, too. And with the most precious commodity he has left, his time, Eastwood makes amends with his ex-wife by being with her on his death bed, singing songs and holding hands with the one true love he ever had.
Through a cracked rearview, he's a hero of sorts. But also a goofy, stumbling old fool thrust into a world that's changed. A world he doesn't understand. A world he desperately tries to navigate.
His performance is the kind of end-of-career curveball that comes now and then in the movies that's utterly breathtaking. Think Sir John Gielgood in Arthur, or Sir Laurence Olivier in Marathon Man. Eastwood's acting is that disarming.
Moreover, his directing is straight as an arrow. What could easily have been a bad extended sketch comedy turns out to be a movie searing with regret, forgiveness—and dare I say—love lost and found.
The Mule is, in the end, the story of a selfish jerk who never considers the cost of his own selfishness until he's nearly dead. But it is never too late, the story surmises, to seek forgiveness. And start anew. Life beckons always, if we are open to it.
It's a remarkable catalogue Eastwood has constructed. A rich and dizzying array of characters, plot lines, locations and situations that reveal the breadth and depth of his humanity. And ours too.
He has a reputation for working quickly. And without fuss. His sets are notoriously peaceful and productive. One of his favorite acting instructions, he once told a journalist, was this: "Don't just do something, stand there."
Eastwood works hard to keep himself from getting in the way of his storytelling, and his crews, too. "You have to keep the crew and the actors going at a business-like pace so they get the feeling they are a part of something that's actually moving forward," Eastwood once told a reporter about his aversion to lengthy takes and drama on the set. "It's my job to make sure that the set and atmosphere that everyone is working in is comfortable. That's the way to get the best out of people."
He's gotten the best out of everyone he's worked with—especially his actors. Movies he's directed are filled with Oscar caliber performances. And a few—Sean Penn, Hillary Swank, and Gene Hackman—won Oscars for their work in Eastwood movies.
What's Eastwood's secret? What does he know that the algorithms and spreadsheets don't—and can't? "For me personally, having made films for years and directed for 30 plus years, it just seems to me that I long for people who want to see a story and see character development," he told The Guardian.
Eastwood has created a large cross-generational fan base by doing just that. He makes movies we hunger to see. Stories and characters that move us. Sometimes, he even dares to leave us alone in the dark, crying, as the credits roll.
"The universe is made up of stories, not atoms," the poet Muriel Rukeyser once said. Eastwood's life's work—and particularly his work since Unforgiven—embodies that fundamental understanding of human nature.
The views expressed in this article are the author's own.​​​​​