'What a Clown Show': Trump's DMZ Meeting with North Korea's Kim Jong-Un Prompts Divided Reactions
President Donald Trump made history Sunday when he stepped over the stone threshold that separates South Korea and North Korea, becoming the first sitting U.S. president to cross the demilitarized zone into the hermit kingdom and meet with North Korean leader Kim Jong-Un.
As pundits and politicians awoke Sunday to footage of Trump taking the landmark stroll alongside Kim, many made public statements recognizing its significance and offered up reactions as divisive as Trump's presidency.
Some interpreted the meeting as a watershed moment in denuclearization talks between two countries gripped by hostilities since the Korean War, with Trump's supporters showering praise on the president for taking what—to them—signified a step toward peace. Critics, meanwhile, blasted the president for his friendly demeanor toward a dictator routinely accused of human rights abuses.
In Vatican City, Pope Francis aligned himself with the former camp, saying the meeting "constitutes a step further in the walk of peace, not only on that peninsula but in the entire world" at the end of Sunday Angelus Prayer.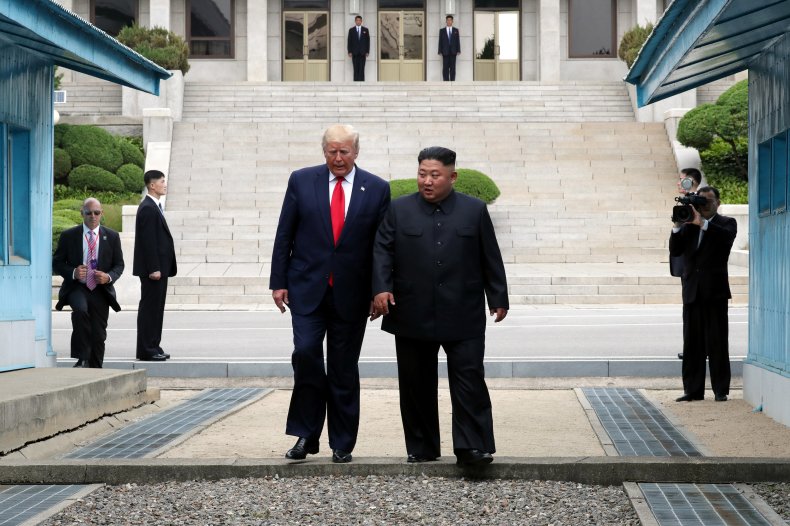 Nigel Farage, the right-wing Brexit party leader in the UK, seemingly agreed. "Huge congratulations to President Trump on meeting Kim Jong-un at the DMZ, he is a far better leader than many thought," the politician wrote on Twitter.
Back stateside, the reception for the president was less congratulatory. Former Vice President Joe Biden, who is seeking to oust Trump in 2020, released a statement blasting the cozy relationship Trump seemed to share with Kim.
"President Trump's coddling of dictators at the expense of American national security and interests is one of the most dangerous ways he's diminishing us on the world stage and subverting our values as a nation," the statement read.
Fellow 2020 contender Elizabeth Warren also released a fiery retort. "Our President shouldn't be squandering American influence on photo ops and exchanging love letters with a ruthless dictator," the senator said. "Instead, we should be dealing with North Korea through principled diplomacy that promotes US security, defends our allies, and upholds human rights."
Those well-versed in North Korean policy also found aspects of the meeting problematic, noting that Trump granting the visit may have also granted legitimacy to Kim in the process.
"There's a reason why past presidents chose not to go to North Korea while in office: Such visits grant enormous legitimacy to the Kims," wrote Jean H. Lee, the director of the Center for Korean History & Public Policy, a division of the Wilson Center think tank in Washington D.C.
Robert E. Kelly, a political analyst on inter-Korean affairs and professor at Pusan National University in South Korea, called the meeting a "farce" driven by Trump's "lust for optics and drama."
"What a clown show," he concluded.
Meanwhile, former officials attempted to fact check Trump's self-congratulatory claims about the meeting, specifically after the president stated that former President Barack Obama had tried and failed to secure a summit with Kim.
"President Obama wanted to meet and Chairman Kim would not meet him," Trump had said on Sunday morning. "The Obama administration was begging for a meeting — they were begging for meetings, constantly and Chairman Kim would not meet with him, and for some reason we have a certain chemistry or whatever."
During an interview on CNN's State of the Union Sunday, James Clapper, the director of national intelligence under the Obama administration, said the Trump's claims weren't rooted in reality.
"I don't know where he's getting that," Clapper said. "In all the deliberations that I participated in on North Korea during the Obama administration, I can recall no instance whatever where President Obama ever indicated any interest whatsoever in meeting with Chairman Kim. That's news to me."
Planned at the last minute during Trump's visit to Japan for the G-20 summit of world leaders, the unprecedented crossing of the DMZ was followed by a 50-minute meeting with the North Korean leader—their third discussion since Trump took office in 2016. It's unclear when, or if, the rendezvous will amount to the much-sought-after nuclear deal.
Trump's last summit with Kim in February ended with nixed negotiations after North Korea refused to make concessions regarding its nuclear program.
"We're not looking for speed, we're looking to get it right," Trump said after this latest outing.