What Did Depp Say About Heard? Actor Takes Apparent Swipe on New Album
Johnny Depp has apparently taken swipes at ex-wife Amber Heard on his new album, 18, a collaboration with Jeff Beck that is set to be released on Friday.
The Sunday Times reviewed an advance copy of the album, and also broke down a few of the tracks' lyrics, one of which appeared to target Aquaman star Heard.
According to the U.K. publication, the Pirates of the Caribbean star Depp penned two original songs for the 13-track album, as well as covers of such classics as "Venus and Furs" by Velvet Underground and "Caroline, No" by the Beach Boys' Brian Wilson.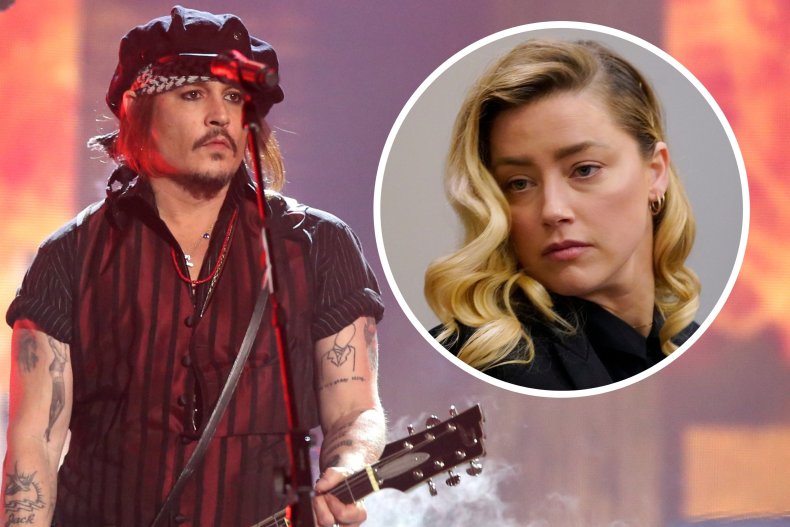 One track that caught attention was "Sad Motherf***in' Parade," in which Depp sings, per the Times: "You're sitting there like a dog with a seven-year itch... If I had a dime, it wouldn't reach your hand."
On another track, "This Is a Song for Miss Hedy Lamarr," named for the 1940s Hollywood icon, Depp sings: "I don't believe, I can't believe, I won't believe humans anymore."
"This is a song for Ms. Hedy Lamarr," the song's hook goes. "Erased by the world that made her a star, strung on beauty, trapped by its web, she's a perfect cocoon twined in gold thread."
"It's so hard to talk when no one will hear, and everyone stares as you quiver in fear," he later sings in a verse.
Heard has not been directly named in either of the tracks, according to the review.
Newsweek has contacted a representative of Heard for comment.
As has been well documented, Depp recently emerged victorious from a highly publicized court battle with Heard over a 2018 op-ed for The Washington Post, in which she said that she was a domestic abuse survivor.
Depp launched a $50 million lawsuit against Heard, who didn't name the actor in the article, though his lawyers argued that it was obvious she was referring to him.
Throughout the trial, both stars leveled a host of accusations at one another, including allegations of domestic abuse.
Both have consistently denied the claims.
The jury largely sided with Depp, awarding him $10 million in compensatory damages and $5 million in punitive damages on June 1. The judge adjusted the punitive damages to $350,000, as Virginia law limits punitive damages.
Heard, who had countersued for $100 million for nuisance, was awarded $2 million in compensatory damages by the jury.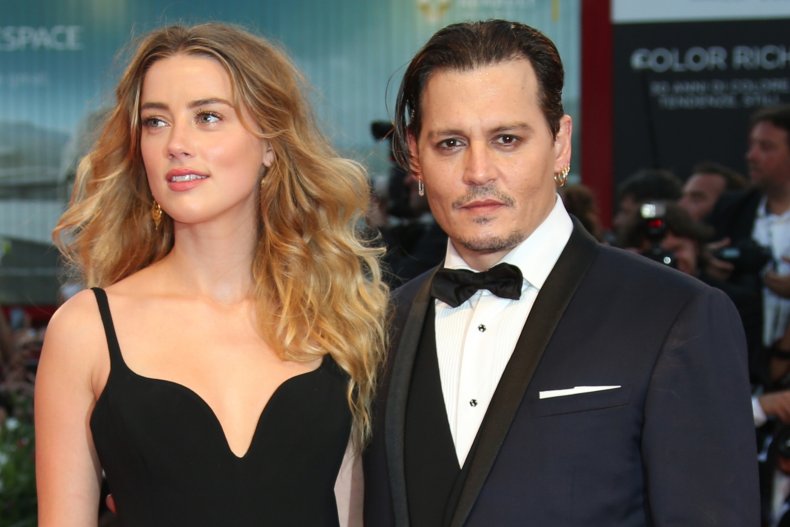 The legal team representing Heard has since moved to declare the process a mistrial, stating in court documents that someone who had been originally summoned to serve as a juror in the trial had not appeared and was replaced by someone else.
In his post-verdict statement, Depp said he was looking forward to "a new chapter," which would appear to include a continuation of his music career.
While performing onstage alongside Beck in Gateshead in the northeast of England in June, it was announced that they had already recorded a new album together.
"I met this guy five years ago and we've never stopped laughing since," Beck told the crowd of Depp. "We actually made an album. I don't know how it happened. It will be out in July."
Depp and Beck have previously collaborated on a number of songs, and performed them as part of their European tour this summer. They released their song "Isolation," a John Lennon cover which features Depp on vocals, in April 2020.
No mention of the trial or its result was made by Depp during the performance, which was his first since the jury announced their verdict, but Beck seemed to reference it by saying, "What a result," according to the BBC.