What Does 'Be Best' Mean? Melania Trump Unveils New Initiative Aimed at Helping Children
First Lady Melania Trump on Monday announced that her new initiative aimed at helping children is called "Be Best."
During a press conference in the White House's Rose Garden, Trump explained that her "Be Best" awareness campaign is dedicated to helping the "most vulnerable and fragile among us: our children."
Related: Melania Trump Shouldn't Tackle Cyberbullying Because She 'Can't Seem to Control It in Her Own Home,' 'View' Host Says
"There is one goal to be best, and that is to educate children about the main issues they are facing today," said the wife of President Donald Trump. "If we truly listen to what our kids have to say, whether it be their concerns or ideas, adults can provide them the support and tools they need to group up to be happy and productive adults."
Trump said her initiative will focus on children's well-being, social media use and fighting opioid abuse.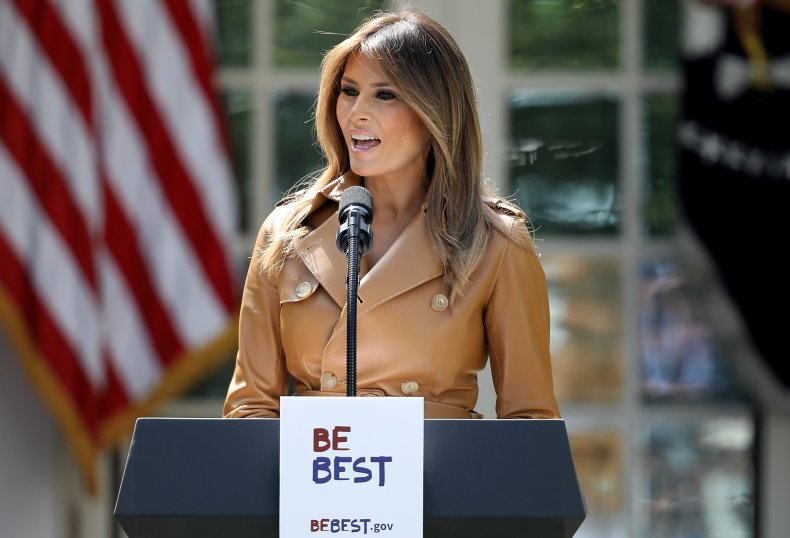 "My hope is that together, we can be best at helping children and families finding effective ways to support each other," Trump said, adding that educating youth on a variety of topics "will provide the blueprint for the next generation."
"Together, let's encourage children to dream big, think big and do all they can to be best in everything they do," she concluded.
While many thought the first lady's initiative would focus on combating cyberbullying, her spokeswoman Stephanie Grisham in March disclosed that the platform would go beyond that and help children with "everything."
After the first lady's speech, the president signed a proclamation declaring May 7 as "Be Best" day.
"Today we pledge to be best," the president said, "For our families, our communities and our nation."
He apparently laughed when an audience member asked of "Be Best," "Is that grammatically correct?"
Some Twitter users mocked the motto, deeming it bad grammar.
A native of Slovenia, Melania Trump has also been made fun of for her accent. TV host and comedian Jimmy Kimmel's jokes about her Slovenian accent drew some backlash from those sympathetic to the first lady.