Melania Trump Shouldn't Tackle Cyberbullying Because She 'Can't Seem To Control It in Her Own Home,' 'View' Host Says
First Lady Melania Trump tackled her first ever cyberbullying event on Tuesday, giving critics another chance to suggest that she's the last person who should be taking on such an initiative when her husband, President Donald Trump, continues to attack people on Twitter.
Related: Melania Trump Is A 'Slovenian Captive' In White House, Jimmy Kimmel Says
"I just don't think she's the right messenger for cyberbullying because she can't seem to control her own home," ABC's The View co-host Sunny Hostin said on Wednesday.
In the first lady's defense, Hostin's co-host, Sara Haines, asked, "Can you control your husband? I can't control mine."
"Yes, I can," Hostin said, before adding of Trump: "She's the wrong messenger for cyberbullying but she's the wrong messenger for everything, almost, because of his behavior. She can't be involved in the #MeToo movement. She can't be involved with, 'Let's get fit!' because her man ain't fit. She can't be involved in immigration."
Hostin concluded that Melania Trump is "in a very difficult position."
Melania Trump has long received criticism and accusations of hypocrisy for choosing to pursue an anti-cyberbullying campaign that seems counter to the president's combative, day-to-day messages on Twitter.
On Tuesday, at a roundtable with tech executives, she made it known that she's aware of the backlash but doesn't intend to let it prevent her from pursuing the agenda.
"I am well aware that people are skeptical of me discussing this topic," she said. "I have been criticized for my commitment to tackling this issue and I know that will continue. But it will not stop me from doing what I know is right."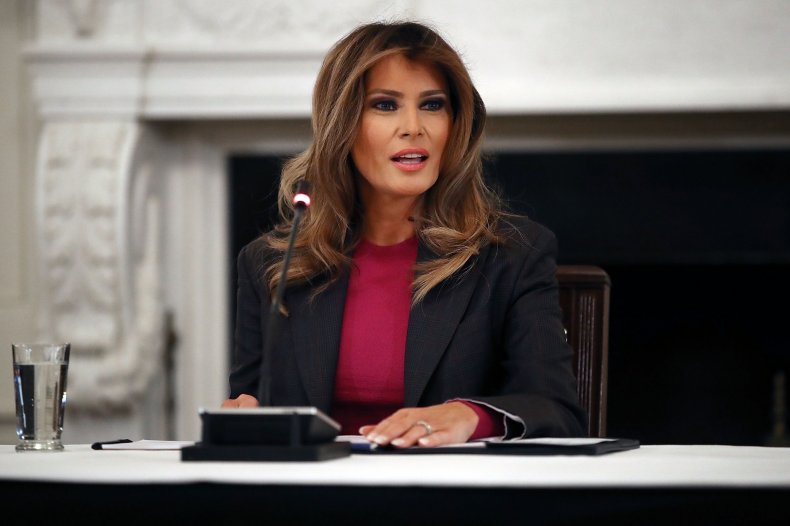 Out of the backlash has also come support for the former model. Lauren Wright, who has written about presidential spouses through history, has defended the current first lady, suggesting that criticism of her for not pursuing an agenda more in line with her husband's interests was sexist.
Unlike former first ladies, Melania Trump has shown an independent streak from her husband.
Since recent reports of an alleged affair her husband had with porn star Stormy Daniels surfaced, she has made public appearances without him and arrived at his events on her own. While former first lady Hillary Clinton, who defended her husband Bill Clinton when the Monica Lewinsky scandal broke out, the wife of the current Oval Office occupant has remained silent and at times kept a distance from the president.