What Does Lie in State Mean? John McCain Receives Rare Honor at U.S. Capitol
The late Senator John McCain will lie in state at the U.S. Capitol Rotunda on Friday, an honor that has only been given to a few statesmen.
Senate Majority Leader Mitch McConnell, along with Speaker of the House Paul Ryan, Senate Democratic Leader Chuck Schumer and House Democratic Leader Nancy Pelosi announced on Sunday that the rare honor would be bestowed upon McCain.
"The nation mourns the loss of the great American patriot, a statesman who put his country first and enriched this institution through many years of service. The Senate is keeping Cindy, the McCain family, all of John's friends and staff, and the people of Arizona in our prayers at this tremendously difficult time," McConnell said in a statement on Sunday. "I appreciate my colleagues and the entire Senate and the House family's assistance with this honor."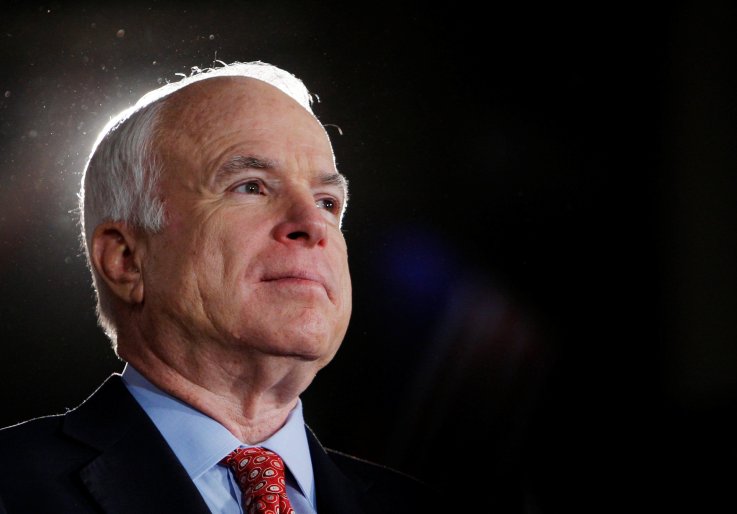 McCain's body was transported to the Capitol on Thursday night and he will lie in state on the Lincoln Catafalque, the platform that was made to hold Abraham Lincoln's coffin when he was given the honor in 1865. Elected officials and guests will come to pay their respects to him on site.
The Vietnam War hero and longtime Arizona congressman will lie in state along with others like Abraham Lincoln, Ronald Reagan, and John F. Kennedy, who were also honored when they died.
People who have lain in state are typically military leaders and American statesmen, according to the History, Art and Archives of the U.S. House of Representatives. Eleven U.S. Presidents have also lain in state in the historic building, according to the website.
The Architect of the Capitol website states that the site is "the most suitable place for the nation to pay final tribute to its most eminent citizens by having their remains lay in state."
"These occasions are either authorized by a congressional resolution or approved by the congressional leadership, when permission is granted by survivors."
McCain will be the 31st man to lie in state. Other notable citizens who have lain in state include Reverend Billy Graham, President General Ford, civil rights activist Rosa Parks and President Lyndon B. Johnson. The first person to ever lie in state was former U.S. Senator Henry Clay in 1892.
McCain died on August 25 after a long battle with glioblastoma, a form of brain cancer, at the age of 81. His funeral will take place on Saturday at the Washington National Cathedral, where eulogies will be given by former Presidents Barack Obama and George W. Bush.
Following the funeral, McCain's body will be laid to rest at Naval Academy Cemetery in Annapolis, Maryland. The former presidential candidate graduated from the naval academy in 1958 where he eventually became captain.
What Does Lie in State Mean? John McCain Receives Rare Honor at U.S. Capitol | U.S.