What Donald Trump's First Day Could Look Like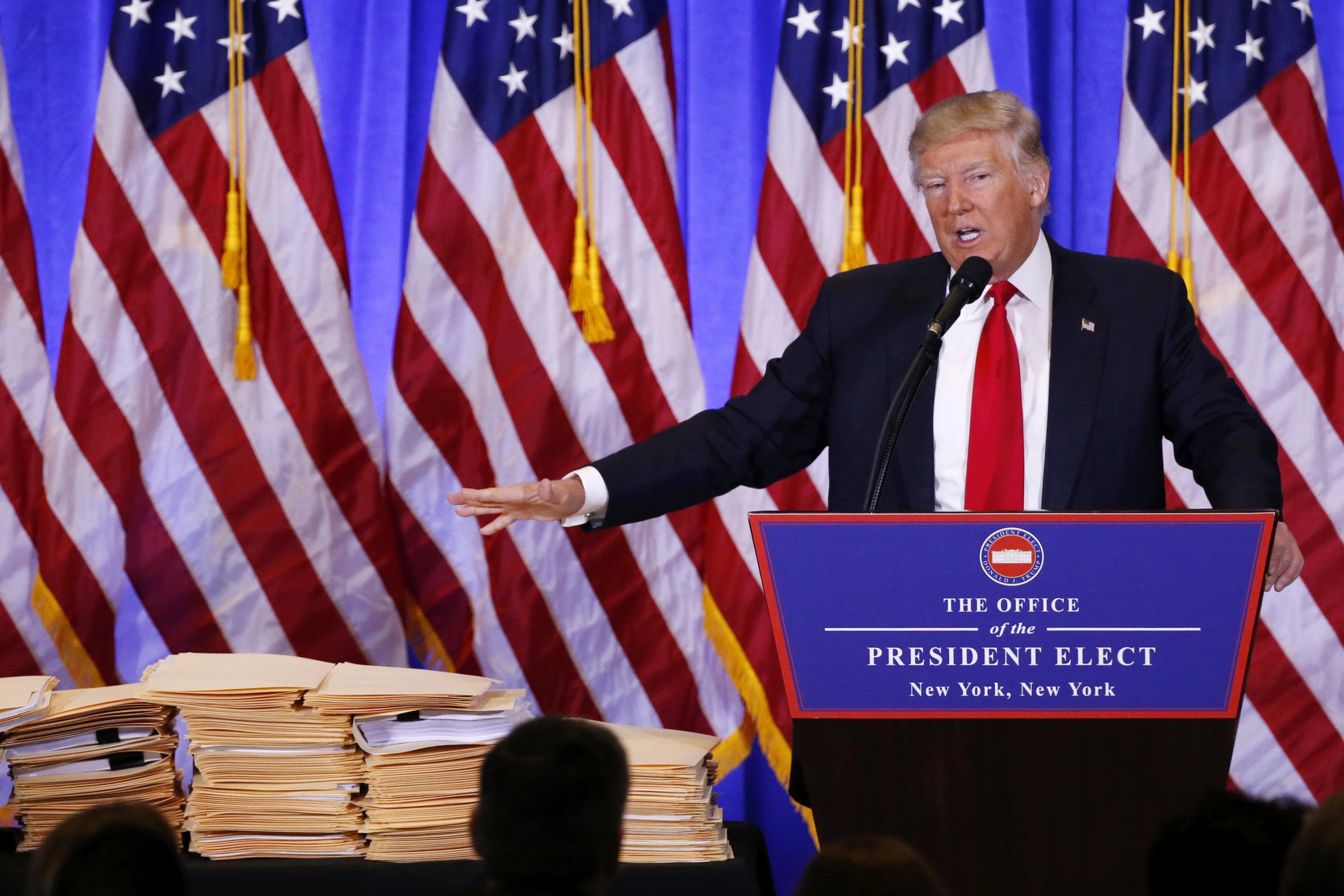 On Friday, shortly after he's inaugurated as the 45th president of the United States, Donald Trump will begin dismantling Barack Obama's eight years of work as commander in chief. First on the agenda is signing executive orders—unilateral actions that don't require congressional approval. Obama's executive orders can be overruled by Trump, just as was true when Obama came in and did away with some policies enacted by President George W. Bush.
Related: Don't kid yourself—Donald Trump is winning
But Obama's experience suggests that Trump may face some limits. In January 2009, he signed an executive order directing that the detention center at Guantanamo Bay, Cuba be dismantled and closed. But despite large Democratic majorities in Congress, Obama was unable to get the House or Senate to seriously consider an alternative. While Obama would, over time, largely empty the facility by arranging for the transfer of prisoners, it remains active as he leaves office.
Similarly, Trump may take some dramatic steps on immigration, such as halting the inflow of Syrian refugees--something he can do unilaterally. But while the program that allows children of illegals without criminal records to stay in the U.S.—Obama's Deferred Action for Childhood Arrivals—is expected to get a thorough review, wiping it out entirely on the first day is unlikely. He'll order the deportation of undocumented migrants who have committed crimes, but that's already the law and his signature could, at best, speed up the process rather than initiate it.
Trump will surely pull out of the Trans-Pacific Partnership and he'll likely order an interagency working group to look at options for renegotiating the North American Free Trade Agreement that was negotiated by President George H.W. Bush and signed by President Bill Clinton. But he's unlikely to immediately pull out of the agreement.
When it comes to the environment, Trump can begin the process of dismantling the Clean Power Program that Obama's EPA has used to help speed the decline of the coal industry—something that's been happening anyway thanks to the surge of natural gas production in the U.S. But those Obama-era regulations are in place and the EPA would have to go through a comment-and-publication schedule that could take months and litigation would be sure to follow. When it comes to the Keystone XL pipeline, Trump is sure to sign on to its approval.
In terms of ethics reform, Trump can take some action to limit the lobbying activities of former executive branch employees, including a lifetime ban on their lobbying for foreign governments. (Never mind that Trump has violated established norms by refusing to release his own taxes or to put his assets into a blind trust.) But such bans often sound more fearsome that they are. A number of former officials have skirted lobbying bans by taking jobs as consultants or public affairs specialists or strategic advisors who, technically at least, don't lobby.
Trump has vowed to repeal Obamacare on Day One, but he can't do it simply with the stroke of a pen. He'll have to go through Congress, and it could be months before a replacement plan is on the table. He can try to unilaterally change some aspects of the law, for instance allowing customers to purchase more limited plans that weren't covered by the Affordable Care Act. (This is the so-called you-can-keep-your-doctor problem. Many Americans discovered that their existing insurance plans didn't pass muster under Obamacare and they were pushed into more expansive plans.) Trump can also turn his sights to various Department of Health and Human Services policies, such as one where money is given to insurance companies to subsidize certain kinds of coverage. The Republican-controlled House is suing to stop the reinsurance program, and the independent Government Accountability Office (GAO) has said it's illegal because it wasn't appropriated by Congress. That may prove moot if Trump simply shuts down the policies. But such a move would only throw sand in the gears of the Affordable Care Act. It wouldn't stop it.
Look for Trump to do something on gun control, perhaps repealing Obama executive orders on guns signed earlier this month—such as one directing various government agencies to start developing "smart gun" technologies that would only allow the gun's owner to fire the weapon. The gun lobby has largely opposed smart guns for fear of government control of weapons and interference with Second Amendment rights.
One of the ironies of the executive order kabuki ritual is that Obama has actually signed far fewer than most of his predecessors. And despite Trump's expressed confidence that he won't have to rely on them because he'll be so adroit at getting legislation through Congress, chances are pretty good that he will come to use them as well.