What Elon Musk Has Said About Sergey Brin Amid Affair Reports with His Wife
Elon Musk is making headlines again, but this time it has nothing to do with his on-off purchase of Twitter or the rise and fall of Tesla's share price.
The Wall Street Journal reported that Musk, the world's richest person, had fallen out with his longtime friend Sergey Brin after he had a brief affair last year with Nicole Shanahan, the Google co-founder's wife.
The December 2021 affair led Brin to file for divorce from Shanahan for "irreconcilable differences" in January 2022, although the couple hasn't yet managed to reach a settlement.
What Has Elon Musk Said About Sergey Brin?
Regarding the affair, Elon Musk, the 51-year-old CEO of both Tesla and SpaceX, tweeted out the following:
It reads:
"This is total bs. Sergey and I are friends and were at a party together last night! I've only seen Nicole twice in three years, both times with many other people around. Nothing romantic."
In a follow-up tweet, Musk said: "Haven't even had sex in ages (sigh)."
According to The Wall Street Journal, Musk begged Brin to forgive him for the affair, going down on bended knee before him at a party, and Brin acknowledged his apology, but still does not wish to rekindle the friendship.
On the friendship, Musk—whose net worth is estimated by Bloomberg at $242 billion—has said previously that "for years he regularly crashed at Mr. Brin's house in Silicon Valley", the Journal said.
The alleged liaison happened after Musk had broken up with his girlfriend, the singer Grimes, in September.
A lawyer for Brin declined to comment to The Wall Street Journal while a spokeswoman for Shanahan did not respond to the Journal's requests for comment. Newsweek contacted Brin for comment.
Who Is Sergey Brin?
He is the co-founder of Google, and is the eight wealthiest person on Earth, with a net worth of around $95 billion, according to the Bloomberg Billionaires Index. Aged 48, he is a self-made billionaire. A Russian immigrant, he moved to the U.S. when he was just six years old.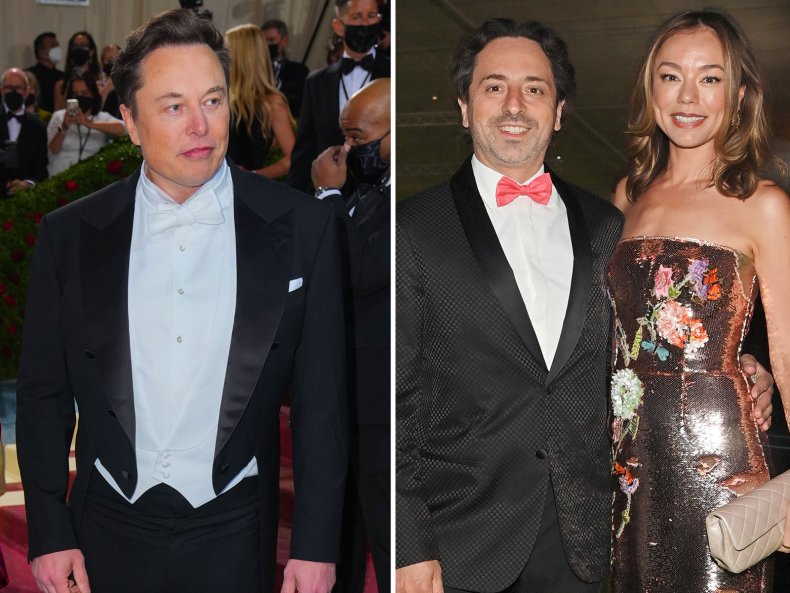 Who Is Nicole Shanahan?
She is a Silicon Valley entrepreneur and an attorney. She met Brin at a yoga retreat in 2015, and after two years of dating the couple got married.
Shanahan is also the founder of tech company ClearAccessIP, which uses artificial intelligence to run patents. The California-based entrepreneur also founded Bia-Echo Foundation, which is a philanthropic organization that encourages criminal justice reform and funds research on fertility for women in their mid- to late-30s.
Update 7/25/22 6:38 a.m. EDT. This article was updated with a new video.