What Is Emerdata? As Cambridge Analytica Shuts, Directors Surface in New Firm
London's Canary Wharf was bustling on the morning of May 3, 2018, but at the office buildings where SCL Group and Cambridge Analytica—as well as its apparent successor, Emerdata—are registered, staff had heard nothing of the three companies.
A receptionist who told Newsweek she had worked in the building for "three to four years" was unable to locate a member of staff from any of the companies. The address—1 Westferry Circus—is home to Lyca Health, Crossrail and Chevron. It emerged that the link to SCL was not actually a physical base of operations, but a financial services firm: PKF Littlejohn.
And so the web of intrigue surrounding SCL Group and its various offshoots continues. This week, the private limited company which has a formal office space based in Yarmouth Place, Mayfair, suddenly decided to shut down both Cambridge Analytica and SCL Elections after an investigation was launched in the U.K., probing the alleged abuse of an estimated 87 million Facebook accounts.
"The siege of media coverage has driven away virtually all of the company's customers and suppliers," Cambridge Analytica said in a release on Tuesday, adding: "As a result, it has been determined that it is no longer viable to continue operating the business." News of the closure was first reported by Gizmodo.
But almost immediately, attention turned to another company—called Emerdata—which had seemingly arisen from the ashes of the doomed political firm whose bosses once boasted of helping Donald Trump win the race to the White House. The overlap of executives and financial backers was significant, it became clear.
Per the Companies House filing, staff includes Rebekah Mercer, the conservative donor and daughter of billionaire hedge fund manager Robert Mercer who listed her correspondence address as the New York office space of Cambridge Analytica.
Others were named Jennifer Mercer, Ahmad Ashraf Hosny Al Khatib, Johnson Chun Shun Ko and Cheng Peng. The company was incorporated on 11 August last year, listing its proposed address as 16 Great Queen Street, London. A Google search shows that is home to the offices of Fladgate LLP and Blick Rothenberg.
In a statement of capital filed on 9 November last year, David Baverstock from Fladgate, a legal firm, was named as a presenter of information.
A separate filing shows that Emerdata later registered a change of address with Companies House on February 13. It altered the official record from 16 Great Queen Street to PKF Littlejohn, 1 Westferry Circus, the same location as SCL Group.
In a statement to Newsweek, PKF Littlejohn confirmed that it has provided a registered office service to some U.K. companies within the SCL Group.
A spokesperson said: "A registered office address is a legal requirement of all limited companies incorporated in the UK. Its purpose is to provide Companies House, HMRC and other relevant government bodies with an official address for delivering statutory mail and legal notices. It is not unusual for a company to choose an accountancy or legal firm to do this. These companies do not operate from our premises, neither do we provide any work space for them."
A Companies House spokesperson clarified: "When a company files notice of its registered office address, once the notice is registered, that address is the registered office address for all legal purposes. Companies do not have to operate their business activities from their registered office."
The Guardian reported in February 2017 that Robert Mercer, a supporter of U.S. president Trump, had invested more than $10 million into Cambridge Analytica.
A Tangled Web
Dr. Alexander Tayler, Cambridge Analytica's acting CEO who took over from former chief Alexander Nix, is listed as Emerdata's director with an address at the non-existent SCL Canary Wharf offices. Joining him is Julian Wheatland, an executive who is also listed as a director of SCL Group.
According to Gizmodo, Wheatland led the conference call announcing this week's closures. Nix was appointed as an Emerdata director on January 23 but had seemingly resigned by March 28.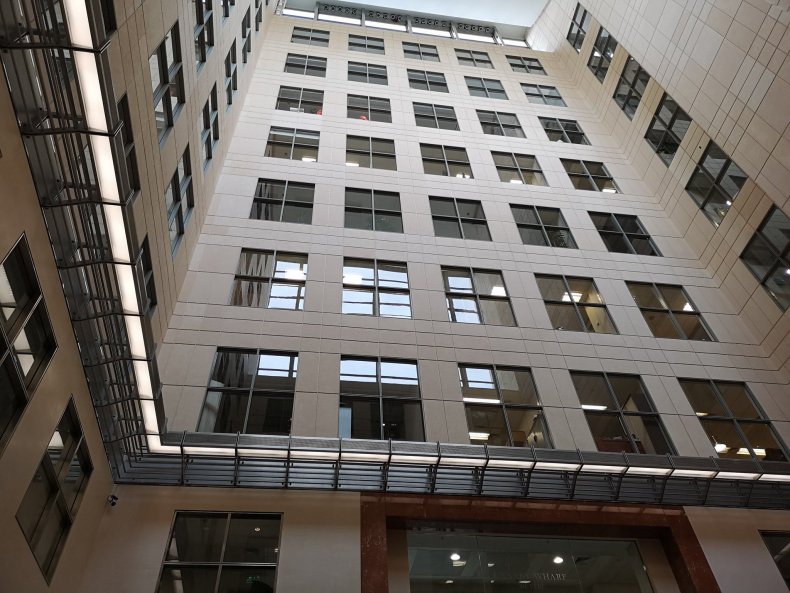 The Cambridge Analytica board of directors announced that Nix had been suspended from the company eight days earlier, March 20, after he was recorded by reporters from Channel 4 discussing clandestine propaganda techniques.
"It is not surprising to see Cambridge Analytica/SCL go down, and we all watch with interest as to whether the new firm, Emerdata, represents a continuation of Cambridge Analytica's recent ethos and techniques," Sven Hughes, a former SCL employee who is now CEO of marketing company Verbalisation, told Newsweek.
Attempts to reach SCL Group via phone were unsuccessful, with calls forwarded to a voicemail each time. The Wall Street Journal reported that SCL Group will also be impacted by the closures and employees are expected to be made redundant.
The chairman of a British committee probing "fake news" has pledged to continue the investigation despite the insolvency process. "Cambridge Analytica and SCL group cannot be allowed to delete their data history by closing," tweeted Damian Collins MP. "The investigations into their work are vital," he added.
Emerdata was first discovered by independent journalist Wendy Siegelman, who covered the new company back in March in a detailed blog post on Medium. Siegelman told Newsweek that the SCL Group had a "very complex corporate structure that on many levels seems designed to be opaque and confusing."
"I had heard the report on Channel 4 News in late March that [SCL Group director] Nigel Oakes said it was his understanding that Emerdata was set up to acquire all of SCL and Cambridge Analytica but hadn't expected a mass closure," she added.
The press contact page for SCL Group was unavailable at the time of writing.