What to Expect in the First Public Impeachment Hearing as Democrats and Republicans Prepare to Square Off
This week, Congress will undergo public impeachment hearings of a United States president for the first time in two decades.
Americans tuning in at home and the select few who get to observe in person will see Democrats and Republicans on Wednesday seek to bolster their respective impeachment narratives with the witness testimonies of two top State Department officials: William Taylor, the top diplomat in Ukraine; and George Kent, the deputy assistant secretary of state handling European and Eurasian affairs.
Democrats believe the two men are crucial to the inquiry and their belief President Donald Trump has committed impeachable offenses.
Through their private depositions to impeachment investigators, Taylor corroborated claims of a quid pro quo by saying Trump was withholding U.S. military aid from Ukraine until the country would agree to investigate the Bidens and a 2016 election interference conspiracy involving the foreign state. Taylor and Kent detailed the role of Rudy Giuliani, Trump's personal attorney, in pushing for the investigations and his role in reshaping the administration's relationship with Ukraine.
Ousted U.S. Ambassador to Ukraine Maria Yovanovitch will testify Friday about the alleged smear campaign that Giuliani and others around Trump orchestrated that caused the president to sour on her serving as ambassador.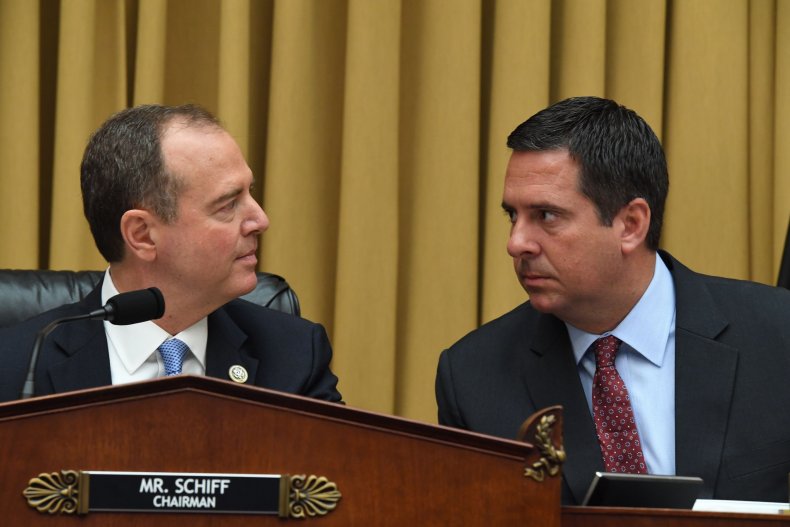 Lawmakers' Arguments
Expect lawmakers to recede into their respective corners when questioning witnesses. Democrats seek to paint a narrative that Trump abused his powers while Republicans try to quash the notion there was a quid pro quo and that Taylor and Kent are relying too heavily on hearsay information.
A memo circulated among House Republicans on Tuesday highlighted some of the flaws in GOP members' strategy to defend Trump. The document showed they planned to center their defense on, among other things, the idea that a quid pro quo could not exist because Ukraine was unaware for some time that aid was being withheld.
"Over and over we've seen a consistent theme through witness interviews, from the people who actually talked to @realDonaldTrump all say," Rep. Mark Meadows (R-NC), a Trump ally who's consistently attended the closed-door depositions, wrote on Twitter. "[T]here was NO link between aid to Ukraine and political investigations. The Democrats do not have a serious case. This is a fantasy."
But Taylor and Kent are expected to undercut that argument. Taylor previously testified that Ukrainians eventually became aware the aid was tied to opening investigations while Kent detailed Giuliani's "campaign of slander" against Yovanovitch and his role in trying to assure Ukraine would conduct said probes. A Politico story was also published before the aid was eventually released.
"I think it was becoming clear to the Ukrainians that, in order to get this meeting that they wanted, they would have to commit to pursuing these investigations," Taylor said.
Via a memo of their own that they circulated internally and was obtained by Newsweek, Democrats "debunked" Republicans' arguments point-by-point.
Hearing Format
The House Intelligence Committee will gavel into session at 10 a.m. ET and will shortly thereafter be followed by the opening remarks of the chairman, ranking member and witnesses. The format of questioning will be as follows:
The chairman, Rep. Adam Schiff (D-Calif.) and the ranking member Rep. Devin Nunes (R-Calif.) will each have 45 minutes to question the witnesses. Schiff and Nunes can either ask questions themselves or delegate some or all of their time to committee staff members to ask questions, a move that often allows former professional prosecutors to more efficiently shape their respective party's narrative.
At the discretion of Schiff, additional rounds of questions may take place.
Following Schiff and Nunes, the rest of the panel's members will each have five minutes for questioning.
Taylor and Kent will testify concurrently, and the hearing is expected to conclude sometime between 2:30 to 4:30 p.m. ET.
In a memo to committee members, Schiff warned against revealing the name of the whistleblower, a nod to House Republicans, who mentioned the alleged person's name during a closed-door witness deposition and caused it to appear in a publicly released transcript. The chairman suggested that anyone who attempts to out the whistleblower would be referred to the House Ethics Committee for violating the chamber's rules.
"The Committee has a long, proud, and bipartisan history of protecting whistleblowers—including from efforts to threaten, intimidate, retaliate against, or undermine the confidentiality of whistleblowers," Schiff said.