Polls show Republican Senator Lindsey Graham narrowly ahead of Democrat Jaime Harrison as one of the tightest races for the U.S. Senate draws to a close Tuesday in South Carolina.
Graham, who has served as senator since 2003, faces a tough re-election. Harrison, a former Democratic National Committee official, gained national attention and increasing popularity in the historically red state. Polling data site Real Clear Politics changed its forecast of the race from "leans GOP" to "toss-up" on September 27.
The latest poll, conducted by Data for Progress from October 27 to November 1, found Graham with a three-point lead over Harrison, 49 to 46 percent. The Republican saw his chances increase since the prior week's poll, which showed the two candidates as tied, both receiving 46 percent of voters' support.
A Morning Consult survey conducted between October 22 and October 31 found Graham leading by a narrow margin, as 46 percent of voters said they would support him compared to the 44 percent who chose Harrison. A poll conducted by East Carolina University on October 24 and 25 also showed Graham ahead by two points, receiving 49 percent of voters' support compared to Harrison's 47 percent.
Polls close at 7 p.m. on Election Day in South Carolina. More than 1.3 million residents have already mailed in their ballots, according to the U.S. Elections Project.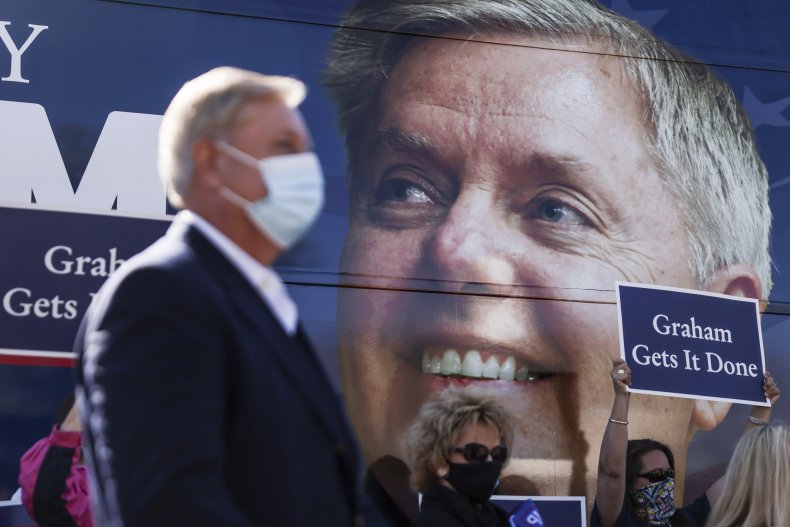 Harrison has fought hard in his attempt to unseat Graham, raising a record-breaking $131 million for his campaign as of October 14. At that point, Graham had raised only $78 million. Donators increasingly poured money into Harrison's campaign as the possibility of South Carolina flipping Democrat grew.
Graham appeared to have noticed, as he has recently taken to publicly begging supporters for more cash while making television appearances. During an October 27 interview with Fox News' Laura Ingraham, Graham appealed to viewers for donations twice, once at the beginning and again as the interview wrapped up.
"The left is going nuts," Graham told Ingraham. "You need to get on the internet right now. My opponent has raised more money than anybody in the entire history of the United States Senate because I've been with Kavanaugh, Barrett and I'm helping Trump."
As Ingraham signed off the interview, Graham tried again asking the audience for help, but was cut off mid-sentence as he started to give out his website address.
His campaign has repeatedly accused Harrison of trying to buy the election using out-of-state donations. Graham's campaign communications director, T.W. Arrighi, alleged in an October 22 tweet that Harrison "burned through $60 million trying to buy a Senate seat from his basement last quarter."