If Jaime Harrison Loses to Lindsey Graham, It Will Be The Most Expensive Senate Race Defeat in U.S. History
More some $183 million has flowed into South Carolina's Senate race featuring Republican Senator Lindsey Graham and Democratic challenger Jaime Harrison.
If the Democratic National Committee official and former state party chairman is successful in ousting the Trump-ally, it will place Democrats one step closer to retaking control of Congress' upper chamber.
But if Harrison loses, the race will go down as one the most expensive Senate loss in history, outpacing that of Texas Democrat Beto O'Rourke's 2018 Senate bid.
As of October 14, Harrison raised nearly $109 million compared to Graham's $74 million. In 2018, O'Rourke outraised Senator Ted Cruz nearly 2:1 with $80 million compared to Cruz's $45 million. Still, O'Rourke lost by 2.6 points.
If Democrats hope to win back the Senate majority, they'll need a net gain of at least three seats. If President Donald Trump is reelected, Democrats would need to gain four seats.
Even a loss at the ballot box for Harrison would still be a win for the state party, argued South Carolina Democratic Strategist Laurin Manning Gandy.
"We'll probably never see investment like this in our state party for the rest of our lives," Gandy told Newsweek. "The South is trending blue, and South Carolina is no exception. We may be a few paces behind our neighbors, but we're moving in the same direction."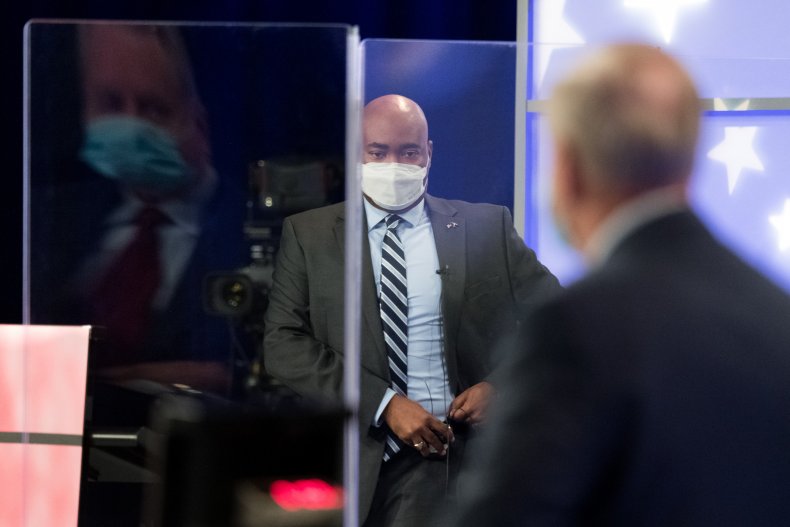 Over the weekend on the campaign trail, Graham spoke of his hand in confirming Supreme Court Justice Amy Coney Barrett and said women voters can also enjoy such success—so long as they "follow traditional family structure."
"I want every young woman to know there's a place for you in America if you are pro-life, if you embrace your religion and you follow traditional family structure," Graham said. "That you can go anywhere, young lady."
Like Texas was in 2018, flipping a Senate seat in South Carolina is a long shot for Democrats. But Harrison has seen an influx of support, outpacing Graham by $35 million this cycle as polls have suggested the seat is within reach for Democrats.
Election forecasters are equally as split. FiveThirtyEight tilts the scale for Graham while the Cook Political Report considers the contest a "toss-up." South Carolina political strategists from both sides of the aisle have been less optimistic about an upset victory with Graham coming out on the losing end.
Even so, the GOP incumbent has been sounding the alarm for more cash. For months, Graham has begged supporters for donations while highlighting his Democratic opponent's successful fundraising campaign.
A loss for Harrison, said South Carolina GOP Strategist Walter Whetsell, would be partly to blame on the campaign's spending tactics in the final days of the election, such as using their cash advantage to push conservative voters to back third-party candidate Bill Bledsoe, who is no longer running.
"Harrison had so much money to play with, he got too cute pushing voters to Bledsoe," Whetsell told Newsweek.
In addition, Whetsell said Graham and his allies responded correctly by wrapping the more than $100 million "around Harrison's neck like a millstone" by saying the money was coming from everywhere but South Carolina.
"That was an effective and believable hit since voters here literally couldn't turn the T.V. on, open their Spotify playlist, log on to Facebook or play Candy Crush on their phone without having to endure a Jaime Harrison ad," Whetsell said.
The record amount of money flowing into the South Carolina Senate race isn't the only one to exceed that of O'Rourke's high-profile bid: Arizona and Kentucky have also seen mountains of campaign cash poured into those states' respective Senate races.
In Arizona, Democrat Mark Kelly has raked in nearly $90 million as of October 14 compared to GOP Senator Martha McSally's almost $57 million. And in Kentucky, the numbers are nearly identical: Democrat Amy McGrath has raised $90 million to Senate Majority Leader Mitch McConnell's $57 million.
This year's political ad spending has also shattered records. About $6 billion was spent during the 2016 election with 2020 topping $8 billion last week, according to the firm Advertising Analytics. Roughly $2 billion has been spent on Senate races, which is about double the spending in 2018.
That number is even more significant given the fact that more expensive Senate races like those in Florida and California are not up this cycle.
"This is not what you would traditionally think of as a huge Senate year," Advertising Analytics account manager Ben Taber said last week in an analysis of ad spending for the 2020 election cycle. "They're not really in what you usually see as super expensive states."