President Donald Trump backed Florida Governor Rick Scott's claim that Democrats were trying to steal the Senate race from him.
Scott holds a wafer-thin lead in the Senate race ahead of Democratic candidate Bill Nelson, but late vote tallies from Broward and Palm Beach counties have shrunk his lead, raising the prospect of a recount.
Additional ballots counted over the past two days in Broward and Palm Beach cut Scott's lead by more than half, to about 15,000 votes out of more than 8.1 million cast.
The additional votes also narrowed Republican Ron DeSantis's lead over Democrat Andrew Gillum in the Florida governor's race to about 36,000, USA Today reported.
If candidates are within 0.5 points of each other, it triggers an automatic machine recount, while a margin of 0.25 points or less requires a hand recount.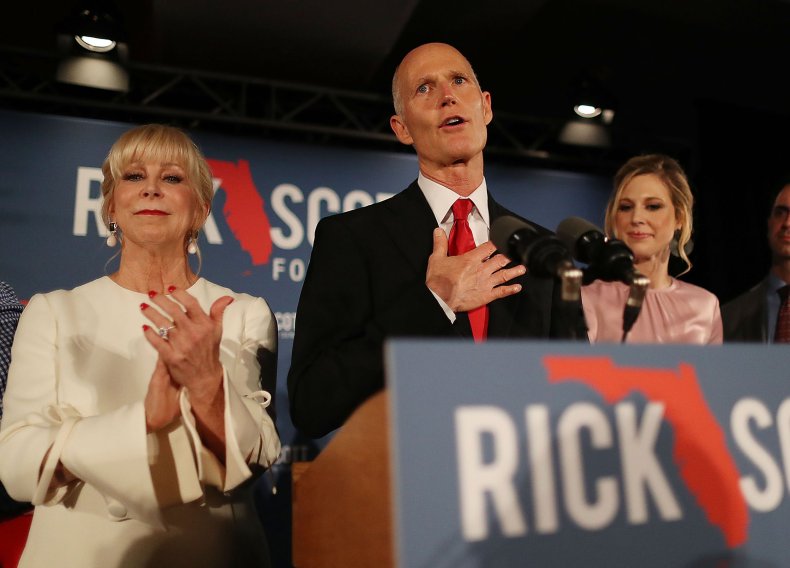 Scott filed a lawsuit alleging wrongdoing by Broward County elections supervisor Brenda Snipes, claiming she had withheld information about how many people had voted, as well as the number of uncounted ballots.
In a news conference outside the governor's mansion in Tallahassee, Scott accused "unethical liberals" of trying to steal the election from the people of Florida.
Scott said, "The people of Florida deserve fairness and transparency. Every Floridian should be concerned there may be rampant fraud happening in Palm Beach and Broward counties, and the Broward supervisor of elections Brenda Snipes has a history of acting in bad faith."
Trump tweeted his support for Scott shortly after he filed the lawsuit, saying: "Law Enforcement is looking into another big corruption scandal having to do with Election Fraud in #Broward and Palm Beach. Florida voted for Rick Scott!"
The Florida Department of Law Enforcement has confirmed it would investigate voter fraud in Palm Beach and Broward counties, The Hill reported.
Nelson spokesman Dan McLaughlin said Scott's claim showed he was afraid of losing the election. "The goal here is to see that all the votes in Florida are counted and counted accurately. Rick Scott's action appears to be politically motivated and borne out of desperation," said McLaughlin, according to USA Today.