What The French Laundry Has to Do With Gavin Newsom's Recall Election
As California Governor Gavin Newsom works to defend his seat in next week's gubernatorial recall election, one dinner he attended with friends last fall amid restrictions put in place due to the coronavirus pandemic has continued to fuel those who want the Democrat removed from office.
More than a month before the first COVID-19 vaccine received emergency use approval from the U.S. Food and Drug Administration (FDA), California was battling a rising wave of new COVID-19 infections with health experts predicting additional increases during the holiday weeks that were still to come.
As the leader of the state, Newsom had widely discouraged Californians from gathering in close proximity with people outside their households as a way to protect their families and prevent further spread of the virus. But one night in early November, Newsom was found to be in violation of his own recommended virus precautions when he attended a friend's birthday dinner at The French Laundry, a three-star Michelin restaurant located within Napa County in Yountville.
In mid-November, the Los Angeles-based news station KTTV shared photos that showed a maskless Newsom at the restaurant celebrating the 50th birthday of Jason Kinney, a lobbyist and friend of Newsom's. Kinney's attendance fueled further speculation about the dinner, with The Los Angeles Times later publishing an article that explored in detail Kinney's years-long history with Newsom.
On November 16, Newsom apologized during a virtual news conference and said attending the dinner was "a bad mistake."
"As soon as I sat down at a larger table, I realized it was a little larger group than I had anticipated," Newsom said of his arrival to the restaurant. "Instead of sitting down, I should have stood up and walked back, got in my car and drove back to my house. Instead, I chose to sit there with my wife and a number of other couples that were outside the household."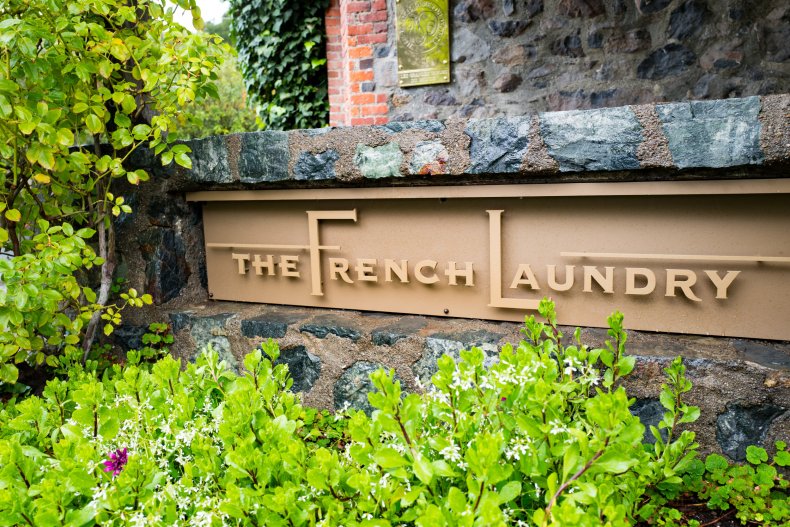 The governor said "we all fall short sometimes" but added he needed to better follow the advice he gave others as the virus remained a threat in the state.
"The spirit of what I'm preaching all the time was contradicted, and I've got to own that," he said.
Despite Newsom's apology, news of his dinner at The French Laundry quickly spread and outraged many people already frustrated with the pandemic restrictions Californians had faced for months. The dinner prompted many people to sign a Recall Gavin Newsom petition that was circulating at the time—the same petition that later qualified for a ballot.
Randy Economy, a former spokesperson for Recall Gavin Newsom, told Newsweek in late December the dinner was like a "tidal wave" for the recall effort. First approved for circulation in June 2020, the petition received a deadline extension due to the pandemic, giving recall organizers until mid-March 2021 to collect signatures for their petition. The petition's original deadline was November 17, 2020—just days after the dinner Newsom attended.
As news of the dinner spread, support for the recall effort began rising and it appeared increasingly likely in the early weeks of 2021 that the petition would qualify for a ballot. Recall organizers were ultimately successful in gathering at least 1,495,709 verified signatures by their final March 17 deadline. That minimum signature number is equivalent to 12 percent of the total votes cast in the gubernatorial election Newsom won in 2018, per the state's recall election rules.
Though the initial recall petition launched months before Newsom's French Laundry dinner, the recall website includes the dinner at the top of its list of reasons to recall Newsom with a description that says, "Rules for Thee, but Not for He = French Laundry Indoor Dining, No Mask, 22 guests." While recall organizers have also credited pandemic-related restrictions and business closures for fueling their efforts, the Recall Gavin Newsom website additionally identifies Newsom's policy positions on gun rights, homelessness, immigration and more as reasons for recall supporters to back the petition.
Those behind Recall Gavin Newsom have kept the French Laundry dinner in the conversation about the recall in part through a "Friday Night at the French Laundry" radio program launched in January and through continued references to the dinner during interviews and on social media. Many of the top-polling recall candidates running to replace Newsom if he is recalled next week have also continued to remind their social media followers about the French Laundry dinner.
Conservative radio host Larry Elder, who is widely considered to be the frontrunner among the 46 candidates who appear on the recall ballot, contrasted the restrictions Newsom put in place during the pandemic with Newsom's November 2020 outing in an August 31 tweet.
"Gavin Newsom infringed on Californians' basic freedoms, demanding that we close our schools, shutter small businesses, and avoid houses of worship — causing enormous harm to millions of students, business owners, workers, and families. Meanwhile, he dined at the French Laundry," Elder tweeted.
Citing an investigative report by the Sacramento-based news station KXTV, Republican and former San Diego Mayor Kevin Faulconer tweeted on August 14 that Newsom "brokered a bankruptcy plan that prioritized PG&E and 'French Laundry' friend's clients over California fire victims."
John Cox, a businessman who lost the gubernatorial race to Newsom in 2018, said in May he would "make the beastly changes that will put hard working California farmers ahead of Newsom's French Laundry lobbyist buddies." Reality TV star Caitlyn Jenner called the dinner, as well as Newsom's decision to send his children to private schools for in-person instruction while many other schools operated remotely an "example of the hypocrisy."State lawmaker Kevin Kiley, another candidate, alleged earlier this month most of the money Newsom raised to battle the recall effort was "from lobbyists like his French laundry tablemates."
Less than one week remains until California voters decide if Newsom will remain in office for the rest of his term or be removed early. If more than 50 percent of voters cast their ballots in favor of removing Newsom, he will be replaced by the recall candidate who receives the greatest number of votes. That replacement governor would then complete Newsom's current term, which is set to end on January 2, 2023. Voters will during the 2022 midterm elections select someone to fill the office's next full term regardless of the outcome of the September 14 special election.